Hi oh my, oh my!! It has been a while since my last post bet the come back is with this absolutely divine pork medallions with steamed grains and seasonal vegetable dish which is finally here.
Phew, I feel like I've almost disconnected myself a little from the blog but that's purely because of so many things to do especially in the summer holiday time with nice long walks in the parks, many activities to do with the children and so much to do! All exciting holiday stuff, I promise! 😉
Summer, summer, I love summer...
This is why I love summer so much. It really keeps me super busy which is exactly how I like it. Busy bee, buzzing around. Yes, I do feel guilty a little bit for disappearing for a few weeks but here I am. I have taken a little step back but not for too long, I hope.
Overall, it has been a very busy last five weeks with work, my volunteering, having guests, kids holiday, tax returns paperwork to be finalised in addition to a course on mental health that I have now finalised and so pleased to say I have successfully passed it 😉 - which I've enjoyed tremendously but yeah, in conclusion, it was all a bit of hard work but nevertheless well worth it.
Summer in general for me it's so energising, I live it at full so I make sure I fully charge my batteries for the winter period when I go into an almost hibernation mode but I am sure this winter coming will be the time when probably buckets full with recipes will get finalised.
Coming back to this pork medallions recipe
I now feel obliged to concentrate on recipes writing because I cannot begin to tell you how many exciting recipes are there on the pipeline. Truly exciting recipes that I'm sure you will enjoy as much as I did.. Oh my, eating all that food....yummy.
Here is this wholesome, hearty dish packed with goodness, a splendid dish that will always fulfil anyone's taste buds to the maximum with the nuttiness from all that amazingly healthy grains and the packed full with vitamins veggies, not to mention the medallions how good those are and give that finishing taste to the dish.
If pork is not really your meat, this can be replaced this with some delicious lamb chops, even fish or a nice flavoursome pan-cooked tofu if want to keep it a vegan version. I have also tried it with boiled eggs, just imagine that oozing out egg yolk running all over those grains... oh, the taste is amazing. Very satisfying indeed!
Tips
What grains I have used in this recipe ...
Well, I've used quinoa, barley, red quinoa, wheat grains (bulgur), red rice, brown rice and millet. Quantities are pretty equal - approximately 50 g each.
I have steamed them separately so, I have mixed the barley, red and brown rice together and steamed for 45 min and all the rest the quinoa, bulgur and millet steamed them together for about 20 min. I have had them steamed from the day before but you can simply boil them instead of steaming, here's how.
How to cook plain grains:
Cooking most grains is very similar to cooking rice.
You can choose to mix those grains that have similar cooking time and cooking time for grains varies depending on the type of the grain, its age, the variety, and what pans you use to cook them in.
Length of time will be down to you so, you decide when grains are tender sufficiently to satisfy the taste and texture that you want. I love them al dente and nothing else but they're done when you decide they are.
If the grain is not as tender as you like it to be when time is up you can simply add more water (boiling water only) and continue cooking and/or if you are happy with the texture and you think it's ready but there is still some liquid left, simply drain the excess.
A little secret on cooking grains 
The true secret to cooking the grains including rice, I always find, is that you should cook it covered and once the water starts to boil it's imperative that the heat gets turned down to very low and continue cooking covered to the very end.
This way the grains will absorb some of the water and the little water left will be sufficient to steam the grains slowly whereas if the heat is high it will quickly evaporate the water and the grains will remain uncooked and will even burn.
In terms of water quantities, I normally use one quantity of grains and the same quantity of water plus 1/4 extra and always use the same container for measuring the grains and the water - it's always the easiest.
Cutting cooking time, no cutting corners ...
If you want to cook grains quicker, let them soak in the allotted water amount for as many hours as you can remember to soak them before cooking. Just before needing them, add extra water if necessary and then cook as mentioned above. Covered and on low heat. You will find that cooking time will get much shorter with this pre-soaking technique.
...  if you really fancy cutting some corners...
We all do, don't we? necessity not laziness necessary ;-).....just go for it and cook whole grains in bigger batches.
Grains, in general, will happily keep 3-4 days in your fridge or 3-4 weeks on your freezer and guess what, it actually takes only minutes to warm up with a little added boiling water or broth.
I won't stop here with cutting the corners and will go further cutting even more as this comes really handy, I do it sometimes as it helps significantly with timing because you know what, the availability of all types of pre-cooked grains on the markets and supermarkets is magnificent- you only need to cook them briefly in the microwave (I don't use one but I know many people do) or simply warm them through by tossing them in a pan.
Grains in our diet...
You could easily also use any grains leftovers for cold grain salads. Oh, how I love those salads... they make me rock!! - all you need to do is just toss with some chopped veggies, make a dressing that you love the most, and anything else that suits your fancy in that very instant moment.
You could add some to your soup so just add a handful at the end as they are already cooked all you need to do is to warm them up a little.
You can add whole grains to your meals without even cooking but simply by choosing breads, breakfast cereals, and other prepared whole-grain foods.
Grains can also be cooked in a rice cooker.
Here's the recipe for this gorgeous pork medallions dish which I know you will greatly enjoy.
Pork medallions with steamed seven grains and seasonal vegetables
This pork dish with seven steamed grains and seasonal vegetables is simply awesome!
Print
Pin
Rate
Ingredients
500

g

tenderloin

cut into medallions

320

g

mixed grains

see notes

1/3

medium

red cabbage

1

small

leek

150

g

soybeans

no shells I used frozen

2

large

pepper

red, orange, yellow or green

1/2

tsp

salt

1/4

tsp

black pepper

freshly ground

1/4

tsp

Cayenne pepper

optional

2-3

tbsp

sticky balsamic vinegar

to drizzle - optional

1

tbsp

coconut oil

or butter
Instructions
Cook the grains (preferably steamed) or as per pack instructions. ( See recipe tips).

Cut the pork fillet into 1cm thick medallions. Season with salt, pepper and set aside.

Wash and shred the veggies.

In a deeper frying pan add a tiny knob of butter or 1 tsp coconut oil. Add the chunkily cut peppers and the shredded red cabbage. Cook for 4 min tossing occasionally. Add the leek and cook for 2 min. Keep tossing like a real pro.

Add the frozen soya beans, season well with salt and pepper, add the Cayenne pepper (if using), toss more and cook for a further 3 min.

Mix the grains in and stir.

Cook the pork medallions by adding some butter and coconut oil to a frying pan or skillet over high heat. Cook each medallion for 4 minutes on each side.

Depending on the size of your frying pan or skillet and the number of medallions you wish to cook, you may need to do this in batches to avoid overcrowding the pan. I only cook 4 medallions in one pan. Use two pans to do simultaneous cooking or you will need to transfer them to a warm plate.

Assemble the dish by transferring the grains and the veggies to a plate and adding the pork medallions over.

Drizzle some sticky balsamic vinegar over and serve. Enjoy it. Simply magnificent, to say the least.
Notes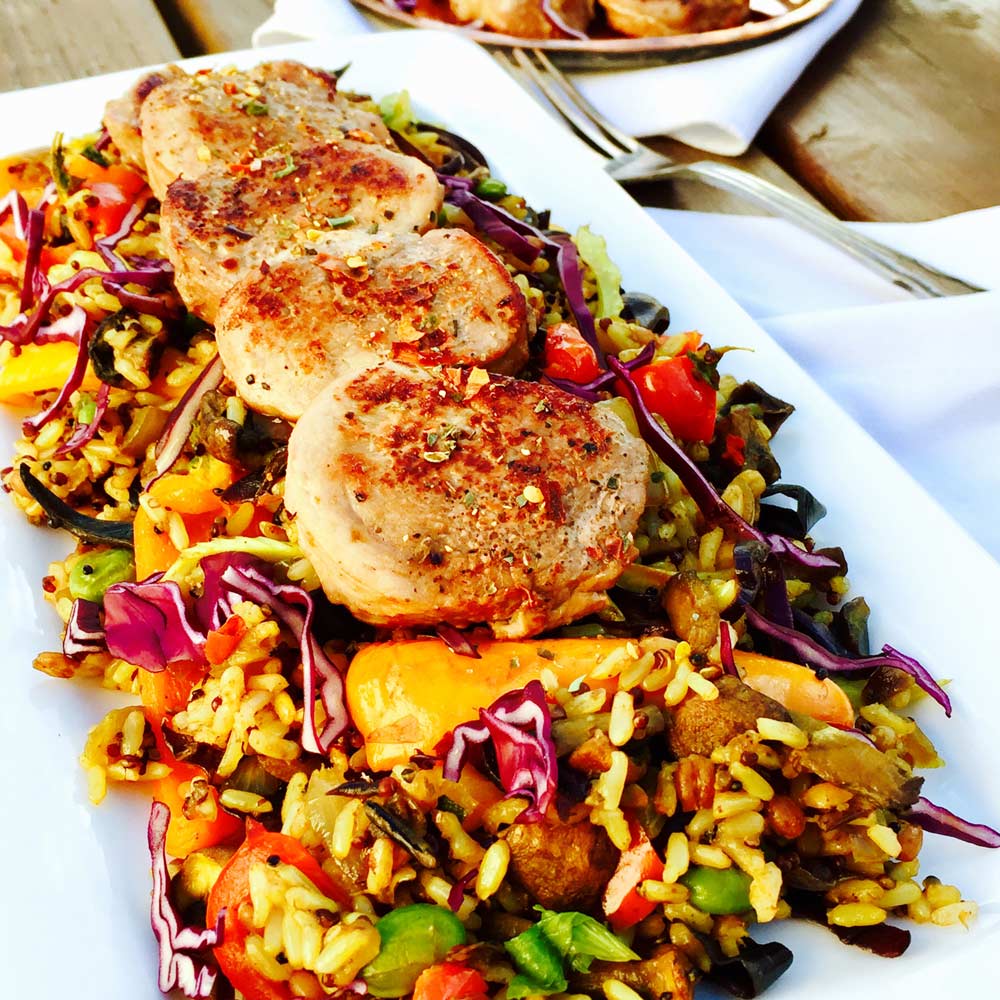 Nutrition
Calories:
609
kcal
|
Carbohydrates:
74
g
|
Protein:
47
g
|
Fat:
15
g
|
Saturated Fat:
6
g
|
Cholesterol:
80
mg
|
Sodium:
479
mg
|
Potassium:
1196
mg
|
Fiber:
9
g
|
Sugar:
8
g
|
Vitamin A:
1213
IU
|
Vitamin C:
43
mg
|
Calcium:
127
mg
|
Iron:
7
mg