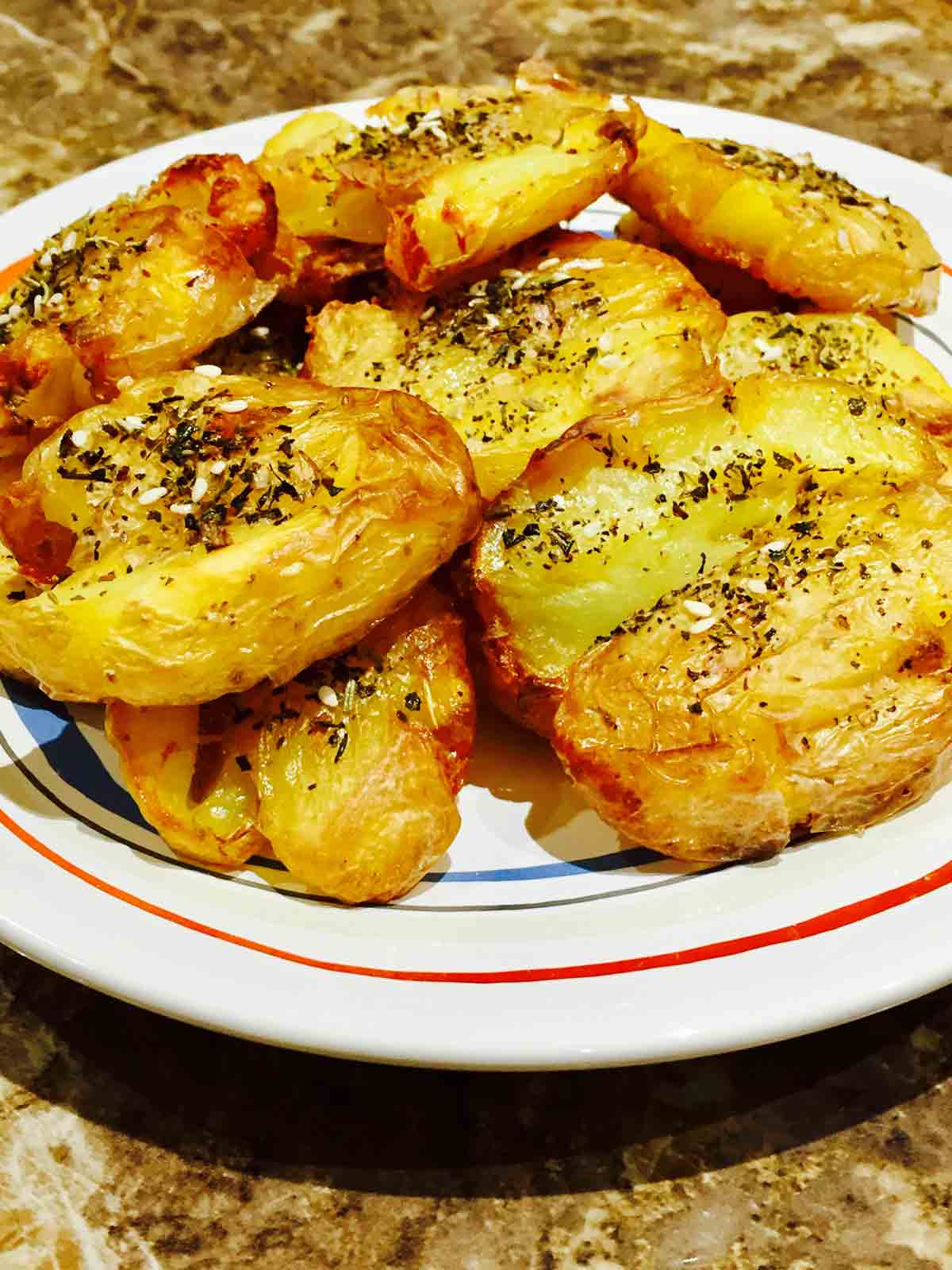 To experience the deliciousness of this side dish, you will only have to make those crushed and crusty potato spuds! They are absolutely superb!
I prepare those as a side dish that breaks the 'boredom' of having just a plain baked or boiled potato on the plate.
Those spuds are really nice, nutty and crispy. Next to a roast lamb and some nicely baked veggies, they are just divine. I do tend to like baked veggied in general more than boiled but that's me.
Every time I prepare them, I put some extra as I like to snatch a couple (at least) before they make it to the table ;-). Only because I cannot possibly control myself when I see them coming out of the oven. They are way too tempting.
As I was saying these make a gorgeous side to any steak, roast or fried meat, but they can be fab with a deep like a houmous or any yoghurt deep. I personally like to drawn them with a garlic sauce poured over just before having them on my plate. I really love having raw garlic. I deal with the breath after, ha ha, but could not skip certain pleasures in life and this is definitely one of them, garlic with potato, what a combo!! If you do not like raw garlic, use garlic butter or garlic infused olive oil.
I also alternate the herbs between Italian mixed herbs and the ones that I normally buy contain sesame seeds (delicious), thyme, rosemary or simple oregano or fresh parley crushed with garlic. Oh!!
Again, I'd always only choose organic potatoes because they do taste a lot better, they have a nicer texture (find non organic ones a lot more watery) and if you ask me, the organic version are better in every way, but…. this is a personal choice and opinion and I know many people don't share this exact thoughts on organic produce but since I so strongly believe organic produce is better I somehow feel obliged I need to mention it.
Here is this simple spuds recipe.
Crusty potato spuds
These crusty crushed potatoes with oil, butter or garlic (if you choose using) are simply divine.
Ingredients
16

small

salad potatoes

or 12 medium ones (skin on)

2

tbps

olive oil

or melted coconut oil, or garlic butter

1

tsp

salt

(for boiling)

1

tbsp

Italian herbs

(mixed)

1/2

tsp

Sesame seeds

1

tsp

sea salt crystals

pepper

(freshly crushed) or cayenne pepper, to taste
Instructions
Preheat the oven at 190 C, 475 F, Gas Mark 5.

Place a pot with 1l water on medium to high heat. Add the salt and allow to boil.

Meanwhile wash the potatoes thoroughly and place in the pot when water is almost at boiling point.

Boil them for 5 min from boiling point.

While the potatoes are boiling, prepare an oven tray by laying a sheet of parchment paper and drizzling some olive oil.

When the potatoes have been boiling for 5 min, remove the pot from heat, pour out the water or remove the potatoes from water. Whatever you prefer and find easier.

Gently and carefully handle the spuds while they are still hot and this is the secret for a great taste and fab crispness. They should go in the oven while still pretty warm from boiling.

Place each potato on a chopping board and slightly squash with a potato masher. Apply pressure little by little until the potato flattens slightly.

Remove with a spatula and place nicely in the tray.

Drizzle a small amount of oil, garlic infused oil or melted garlic butter on each potato, sprinkle some coarse sea salt, a tiny pinch of dried herbs (my mix contains some sesame seeds too which is lovely ;-)), some black or cayenne pepper and place them in the oven.

Bake for 30 min and mid-time you can take the tray out of the oven, drizzle or brush the spuds with a touch more oil, then place it back in.

Take the tray with the little crusties out of the oven as soon as they look beautifully golden brown.

Serve immediately and fully ENJOY those little splendours.
Notes
Try using organic potatoes if you can. They are tastier and healthier.
The oil choice: olive, coconut or avocado oil, or simply use either butter or duck/goose fat. I do sometimes use those flavoured oils like a rosemary and garlic which I make myself by simply adding a few cloves of garlic and one or two springs of rosemary to a small bottle of olive oil.
I sometimes fancy them with cheese on top, any cheese that melts well or one you like in particular. I love them with guyere cheese or cheddar or grated mozarella.
When crushing the potatoes you need to be really gentle and apply force little by little. If they don't crush well they are either over or under boiled. I suggest you choose the potatoes to be of very similar sizes and before starting to crush them, try one first to see they are not still hard, they might need a little extra boiling.
Try using a slightly greased parchment to crush the potatoes (one by one) on and remove them with a cake serving knife or an icing spreader.  Alternatively, crush them straight away on the greased parchment paper and tray that they will bake on.
Enjoy every mouthful!  They are truly gorgeous. 
We would also love to see you like us on
Facebook
 for updates on latest recipes and visualise a lot of other recipe ideas!
Thank you for stopping by and I do hope you'll check my blog again to see what's new, all amazing cooking ideas and easy delightful family recipes.
Have a wonderful and blessed day!
Enjoy!
Nutrition
Serving:
100
g
|
Calories:
125
kcal
|
Carbohydrates:
16
g
|
Protein:
2
g
|
Fat:
5
g
|
Saturated Fat:
2
g
|
Sodium:
1161
mg
|
Potassium:
33
mg
|
Vitamin A:
20
IU
|
Vitamin C:
0.3
mg
|
Calcium:
20
mg
|
Iron:
0.5
mg