This Sri Lankan inspired vegetarian recipe of potato and cauliflower samosa is a super delicious pie-like snack or it can make a beautiful meal on its own. It is simply a potato and cauliflower curry in filo. Niiice n' tastyyyy!
We have it with a nice touch of lime or mango pickle but it goes very well with a yoghurt sauce. It is jolly good if you like those pickles which I must say I did not like in the beginning when I first tried them, a good 20 years or more ago but love these now.
I must mention that my kids love this potato and cauliflower samosa but they do not like the pickle though, not yet.
Vegetables or meat variations
Every time I make it, it comes out different and that is mainly because I always change the ingredients but one thing is certain every time - it comes out truly tasty.
The filling can be made mixing and using whatever veggies you like most.
I have chosen to go for this vegetarian one as it's one of our favourites and a classic one I suppose. Keep it  vegan by using cocnut milk or vegetarian version if you wish to use milk instead. Both delicious.
I've made this many times as a vegetarian dish combining two or three veg like leeks, potatoes, peas, cauliflower, spinach, spring greens, also lentils or black beans to give it that extra hearty edge.
A meat version is delicious too for those that like meat. We particularly like it with a lamb, chicken or a beef curry. It goes very well with tuna too, almost like a wrapped up fish cake. Try it, any version whether is vegan, vegetarian or a meat version it is out of this world delicious, I promise!!
Last time I made it, it was a lamb and potato and it disappeared in no time. One minute there was these beautiful and yummy looking samosas and minutes later all gone! All vanished. .... I love to see that, it's always a good sign.
Almost a One pot dish....
Another ( quite important) aspect that I really like about this recipe is that filling is made all in one pot and then literally layer on some pastry.  In a few words, it's as easy as pie to put it together.
The idea came a couple of years back when I really fancied samosa and I said I better try and make my own. Then I thought 
 hmmm, I don't really fancy all that deep frying so I've made the triangular ones and baked them - they were great. Last time I've made this I thought of just trying to cut the time and instead of making all those little triangles,  what about trying a giant one. I have made this and it worked perfectly.
It is one of these perfect family dish that can really fulfil anyone's taste buds, it is full with flavour and beautiful texture too. Not to  mention that it is the perfect inexpensive potluck dish to take to a party and please a whole crowd.
I will come up with a meat recipe soon but meanwhile try this vegan or vegetarian one and let me know how you liked it.
If you like anything pastry here are some more pastry dishes ( sweet or savoury) that I am sure you will greatly enjoy.
Here is the recipe, I know you've been waiting for.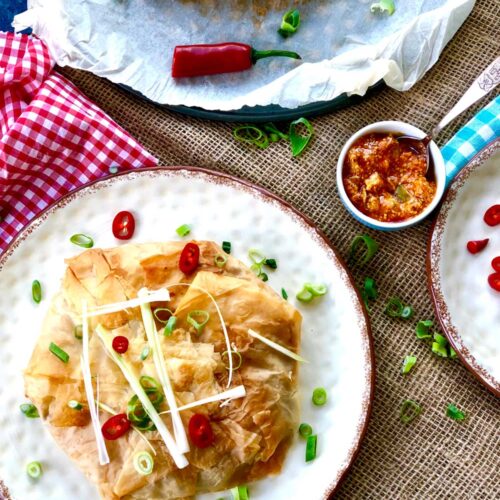 Giant potato and cauliflower filo samosa
This samosa, despite being made almost from scratch is so easy to make and a lot healthier than the regular deep fried samosas, it contains potato and cauliflower and some spices. It is seriously delicious.
Print
Pin
Rate
Ingredients
900

g

organic potatoes

peeled and cubed

15

pastry sheets

ready bought

50

ml

oil

or butter to brush pastry

1

leek

halved and thinly sliced

1/2

cauliflower head

washed and made into small florets

1/2

tsp

ginger

freshly grated

2

cloves

garlic

1/2

tsp

coriander powder *

4

spring onions (scallions)

finely chopped

1/4

tsp

black pepper

freshly ground

1

onion

finely shredded

10

curry leaves

fresh oes are ideal

1

tbsp

curry powder

1/2

tsp

turmeric powder

1 1/2

tsp

salt

Himalayan pink

1-2

chillies

green or red - optional

1/2

tsp

mixed seeds

cumin, mustard, fenugreek and black sesame

2

tbsp

mango pickle

to serve with (optional)
Instructions
Chop onion and the leek and place into a deeper pan with 1 tbsp oil or butter along with the garlic, the mixed seeds and chilli if you choose to use. Cook for 2 min covered stirring occasionally.

Add the curry powder, black pepper, salt, turmeric powder and the cubed potatoes. Stir well and add a drizzle of water, milk or coconut milk. Cook covered for 10 mins stirring from time to time.Add little liquid when it runs out so it does not burn.

Add the cauliflower florets and its green leaves * (see recipe notes) and the curry leaves. Cook for another 6-7 min.

When the potatoes and the cauliflower are relatively soft, it's ready. Grab a fork or a potato musher and partially mush some of the potatoes. You want some chunks for some texture so do not mush it completely.

Preheat the oven at 190*C / 375*F. Place a parchment paper in a tray. I used 2 pizza trays.

Place 7 pastry sheets on the tray lined with parchment paper, brush slightly with a bit of oil or melted butter.

Spoon 1/4 of the potato filling in the centre of the pastry in a shape that you like (I chose a round one this time). Place the other set of 7-8 sheets over this, brush with oil or butter and spoon the other 1/4 of the potato filling in a shape that corresponds to the one underneath and then fold the pastry over (the one from underneath too) forming a pie like round huge samosa. Repeat with the second samosa.

Give both another oil or butter brush over and place both in the preheated oven and bake for approximately 30 min until nice and brown.

When ready, take out of the oven, allow it to cool slightly and serve with some spring onions and chilli sprinkle. I like it with a mango pickle - very nice but it is very nice with some yoghurt mixed with some lemon and cumin powder or seeds.
Notes
This recipe will make two pies.
Do you guys throw away the greens/ leaves from the cauliflower?! Oh, nooo!! Please don't! They're super delicious and such a shame to waste them.
I used them here in this recipe washed thoroughly and chopped. Super tasty * Coriander powder it's super easy to make it at home - by simply roasting the seeds and then putting them in an electric grinder.
Coriander powder is great to have in pantry cupboard as it is a great addition to any soup, in casseroles, stews, curries, and marinades.
Thank you so  much for stopping by! 
Nutrition
Calories:
2683
kcal
|
Carbohydrates:
228
g
|
Protein:
38
g
|
Fat:
182
g
|
Saturated Fat:
45
g
|
Sodium:
1667
mg
|
Potassium:
925
mg
|
Fiber:
12
g
|
Sugar:
6
g
|
Vitamin A:
342
IU
|
Vitamin C:
60
mg
|
Calcium:
112
mg
|
Iron:
16
mg