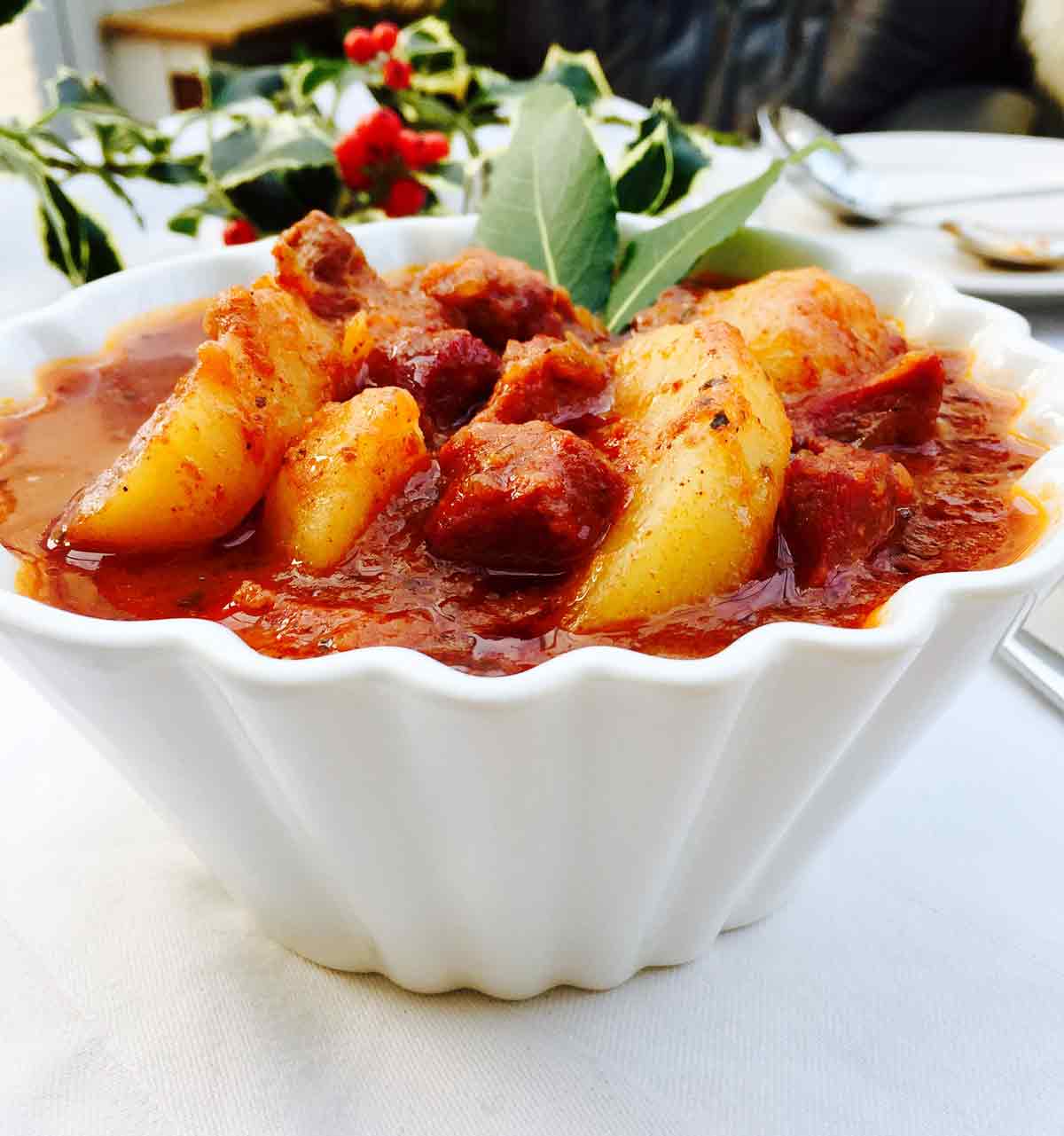 Omg! ? Goulash! One of my all time favourites. Absolutely to die for… and you know what? You actually don't need to travel to Hungary to have an ox tongue goulash, you can just prepare it in your kitchen, right now and with no fancy ingredients whatsoever.
Of course, if you have tried ox tongue before and don't like it, or haven't really tried it (you must now) but think that you may not like it, go for a good stewing beef cut… but to me, tongue is the best for this. I also use brisket which I find superb in any stews or beef soups it is just that needs a lot longer time for cooking.
As far as the tongue is concerned, I would not replace its texture and flavour with any other meat cut in the world. It cooks fast and you won't experience that beef-like chewiness that some cuts have if not cooked for hours.
This recipe is just perfect for me and if you make this you will know exactly what I mean.
Now that ??Christmas ?? is only few days away, a dish like this would be so perfect and satisfying, the exact comfort and truly comforting food that we need to feel perfect over the festive period.
Let's get this tongue goulashed ??, here's the recipe.?
⚠️ Warning: this is seriously good ?
Ingredients
1

ox tongue

(approx 1kg)

2

medium

onions

3

sticks

celery

2

medium

carrots

3

leaves

bay

1

tsp

salt

1/2

tsp

thyme

(fresh or dry)

1

tbsp

paprika powder

2

tbsp

tomato paste

(or tomato purée)

1/3

tsp

red chili flakes

1/4

tsp

coriander powder

4

medium

potatoes

1/6

tsp

nutmeg

(freshly grated)

1

pinch

cayenne pepper

1

tsp

italian herbs

(mixed)

1

tsp

beef gravy powder

(a heaped spoon)
Instructions
Cut the cleaned tongue into desired size chunks. Place in the electric pressure cooker with approx. 500ml water and the chopped vegetables (onion, celery stalks and the carrot). Add all the other ingredients (herbs, salt, Paprika, coriander powder, chilli flakes, tomato purée, cayenne pepper, nutmeg, bay leaves, thyme). I wasn't joking when I said all ingredients ? you see, well, all apart from the potatoes.

Set the pressure cooker for 15 min cooking if electric. Cook the goulash covered. Allow for the pressure to ease so you can take lid off. This normally takes about 15-20 min after stopping the cooking. I normally don't have the patience to wait so I release the pressure manually by unlocking the whistling knob into whistling position from the locked one. Just be careful. You really need to be used to the cooker do you know exactly what you are doing. If you don't have a pressure cooker just cook the goulash for approximately 40 min from boiling point and has to be covered.

After the initial cooking period, add the sliced or cubed potatoes and cook uncovered for a further 25 min uncovered on lower fire if cooked conventionally or pressure cooker. Allow for the sauce to reduce down and in the last 5 mins of cooking, pick up a ladle full with juice and in a plate just dissolve the gravy powder. If there isn't sufficient goulash juice use around 150 ml hot water. Cook for the last 5 minutes and then take away/turn power off.

Serve either as it comes or with some rice or bread. On its own this is absolutely gorgeous too. Enjoy every mouth full - delicious!
Notes
When cooking with pressure cookers be careful and follow the instructions thoroughly as those can be dangerous if used inappropriately and this mainly consists on the content level which should be strictly respected.
If you use picante Paprika powder, then be wary on cayenne and chilli ? powder as you want it a little picante, not too spicy, unless you want it a curry. ?
I cook this ox tongue goulash in my pressure cooker so it is ready in a flash.
There are three ways of preparing your tongue for cooking:
1. Prepare the tongue by washing and peeling the external layer by using a sharp knife.
2. If you buy it from a butcher ask them to clean it.
3. Wash it thoroughly scrape it with a knife and slice it. Cook it and then remove the outer layer.
SaveSave
SaveSave