How good are the traditional stuffed cabbage rolls? Exceptionally good, I know but the question and the reality is that we don't always have that time in hands to roll those beauties. For this reason only, I make this dish as a quick version yet, as tasty.

I could easily say that this dish is a D-constructed version of the cabbage rolls or in other words (perhaps not so brutal) never rolled cabbage rolls. Ha ha. Oh yeaasss!! Bring this on!

Big time-saving but still soo yummy. I was tempted to call this a lazy version but will not do this because it's not lazy at all, it's just a time-saver and a life saviour which we really need from time to time when we fancy eating something but don't quite have all that time in hands.

Stuffed cabbage rolls is one of those dishes that has grown hugely over the years in my family, starting with my children and my husband not being such fans of it initially to nowadays asking for it if I don't make it in a while.
Lucky for them, I do make them almost, almost whenever we fancy them. Cabbage is not always everybody's cup of tea but trust you me, this dish will be loved even by those that are on the fence with madame cabbage. It is a dish packed with goodness, vitamins and minerals, loads of fiber and it's delicious too. Winner!

Convinced'ish'? Want to give give it a try and a go? Come on, go for it!
Oh , that added bacon, the smokiness, the fresh herbs added makes this dish such a desirable one.
Sour/pickled or fresh cabbage?….
Well, in terms of cabbage type, you can go for fresh, sour/pickled one, depending on what you like. Use the one you know best, not to say that you should try it both ways. Wish fresh or pickled. It's equally delicious and worth a try to see which one you may like best.
I am a big fan of cabbage and I particularly like cabbage casserole dish – a little on the spicy side. In other words and the reality, fairly spicy. Just make it your way, use whatever spices or herbs you have in hand or like.
I have to mention that particularly around winter time this cabbage casserole with mince and rice is a real warming, comforting dish. We love it served with polenta on the side and a dollop of creme fraiche. Oh, soo good!
Cabbage casserole with beef mince and fresh herbs
This cabbage casserole with ground/minced beef and fresh herbs is a shortcut to the traditional stuffed cabbage rolls. Easy and quicker to prepare, yet super delicious.
Total Time
1
hour
5
minutes
Ingredients
1

medium cabbage

fresh or sour -roughly chopped

400

g

mince beef *

200

g

lardons or smoked bacon

2

onions

1

carrot

1

celery stick

2

tbsp

olive oil *

optional

2-3

cloves

garlic finely chopped

1

tbsp

tomato paste

dissolved into 150ml lukewarm water

120

g

rice

well rinsed/washed

1

tin chopped tomato

2

bay leaves

1 1/2

tbsp

salt *

1/2

tsp

freshly ground black pepper

1/2

lemon squeezed *

3-4

tbsp

creme fraîche

10

springs fresh parsley

2

tbsp

fresh thyme

1/2

tsp

cayenne pepper *
Instructions
Preheat the oven at 180°C or 375F. Prepare a 28x28cm ovenproof ceramic dish.

If using fresh cabbage start by chopping the cabbage roughly and blanch it in boiling water for about 5 to 10 minutes with 1 tbsp of salt for extra taste. (please see recipe notes for more tips) * I like it crunchier so I only blanch it for 5 min.

In a deep pan placed over a medium heat add the bacon or lardons, chopped onions, carrot, celery, pepper and the bay leaves. Cook for about 2-3 min.

And the ground/mince beef and cook for a further 2 minutes stirring occasionally until the beef is no longer pink. Add the rice and cook for a further 5 minutes. Add some water as needed, approximately 250ml/2 cups).

Add the garlic tomato paste, chopped tomatoes, 1/2 of the fresh or dry thyme, season well and cook for a further 4-5 minutes.

Mix in the blanched cabbage, cayenne pepper, parsley and remaining thyme, mix well and transfer it into the oven dish. Try and fish out the bay leaves now. They would have given their bit of flavour by now.

Bake in the oven for about 30 minutes at 190°C /375F. When you're ready take out and enjoy with a drizzle of lemon juice over for some crème fraîche. Enjoy!
Notes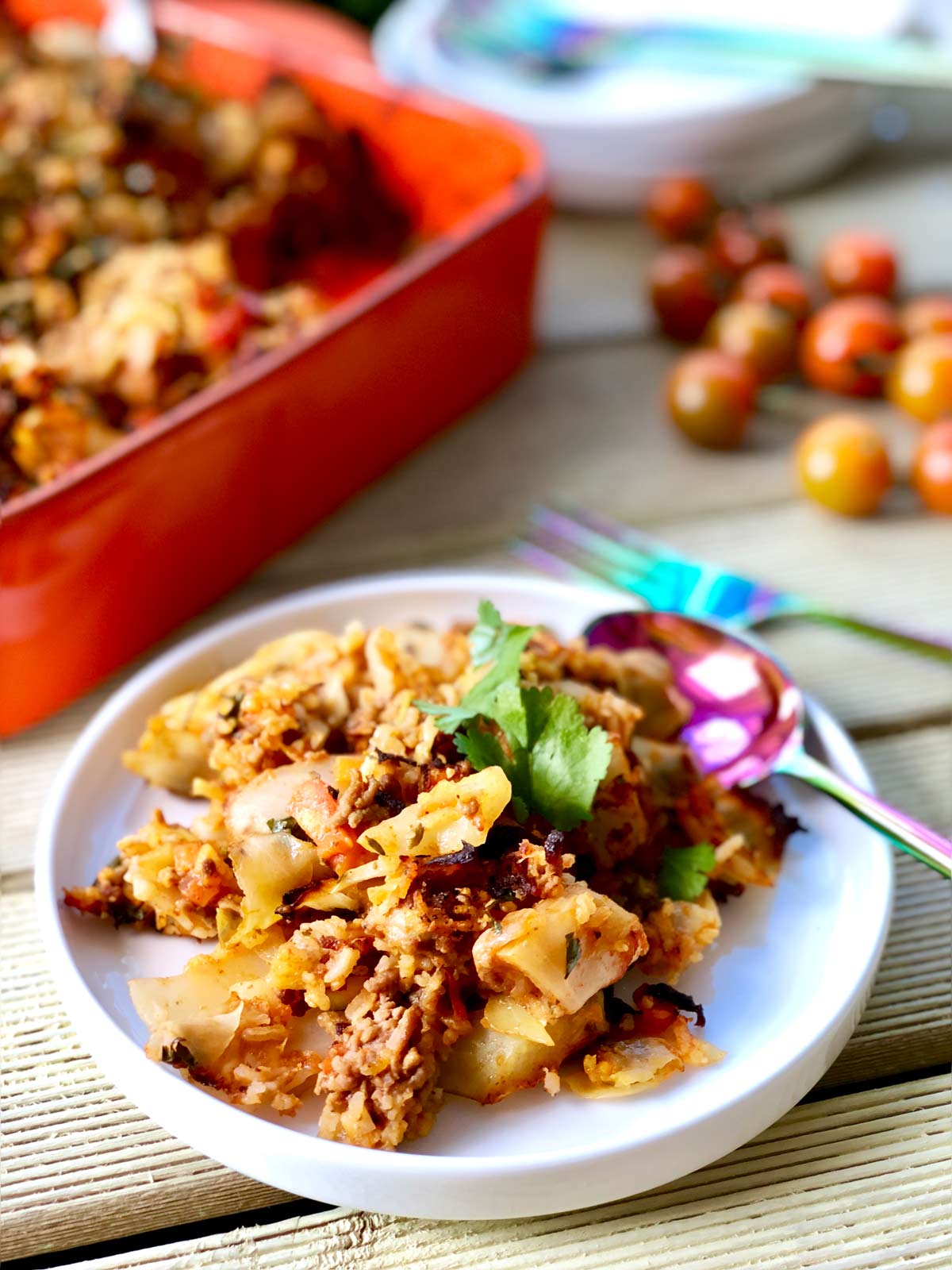 I only use oil if the meat is really lean, but if the beef has a fat content of anything more than 5% then I don't use any oil at all. 
I have mentioned a decent amount of cayenne pepper which is half a teaspoon but you can go for more or a lot less depending on your palette, spiciness tolerance and threshold.
If you're using fresh cabbage do go-ahead and squeeze half a lemon or even one lemon over it towards the end, but if you use sour cabbage there is no need for lemon juice.
Same with the salt- if you are using fresh cabbage you will need to season and add plenty of salt when blanching the cabbage but if you are using sour cabbage you might have to roughly chop it and put this into cold water for a good 1/2h to 1h prior to cooking it in order to de-salt it as this tends to be quite salty.
Feel free to add more vegetables to this dish if you like, anything seasonal, anything you'd like, anything in hand, anything you fancy. I sometimes add parsnip, sometimes courgettes or even aubergines that have been shallow fried priorly, these all add a really nice and different taste and flavours to the dish. 
Thank you for stopping by and I do hope you'll check my blog again to see what's new, all amazing cooking ideas and easy delightful family recipes.
Have a wonderful and blessed day!
Enjoy!
Nutrition
Calories:
524
kcal
|
Carbohydrates:
34
g
|
Protein:
20
g
|
Fat:
34
g
|
Saturated Fat:
12
g
|
Cholesterol:
79
mg
|
Sodium:
2169
mg
|
Potassium:
791
mg
|
Fiber:
6
g
|
Sugar:
8
g
|
Vitamin A:
2405
IU
|
Vitamin C:
72.8
mg
|
Calcium:
130
mg
|
Iron:
3.7
mg