This quince jam it's the perfect jam to make at home, it is easy to make and so full of flavour! It only requires 3 ingredients. The quince, sugar or honey and lemon. The best jam in the world if you ask me.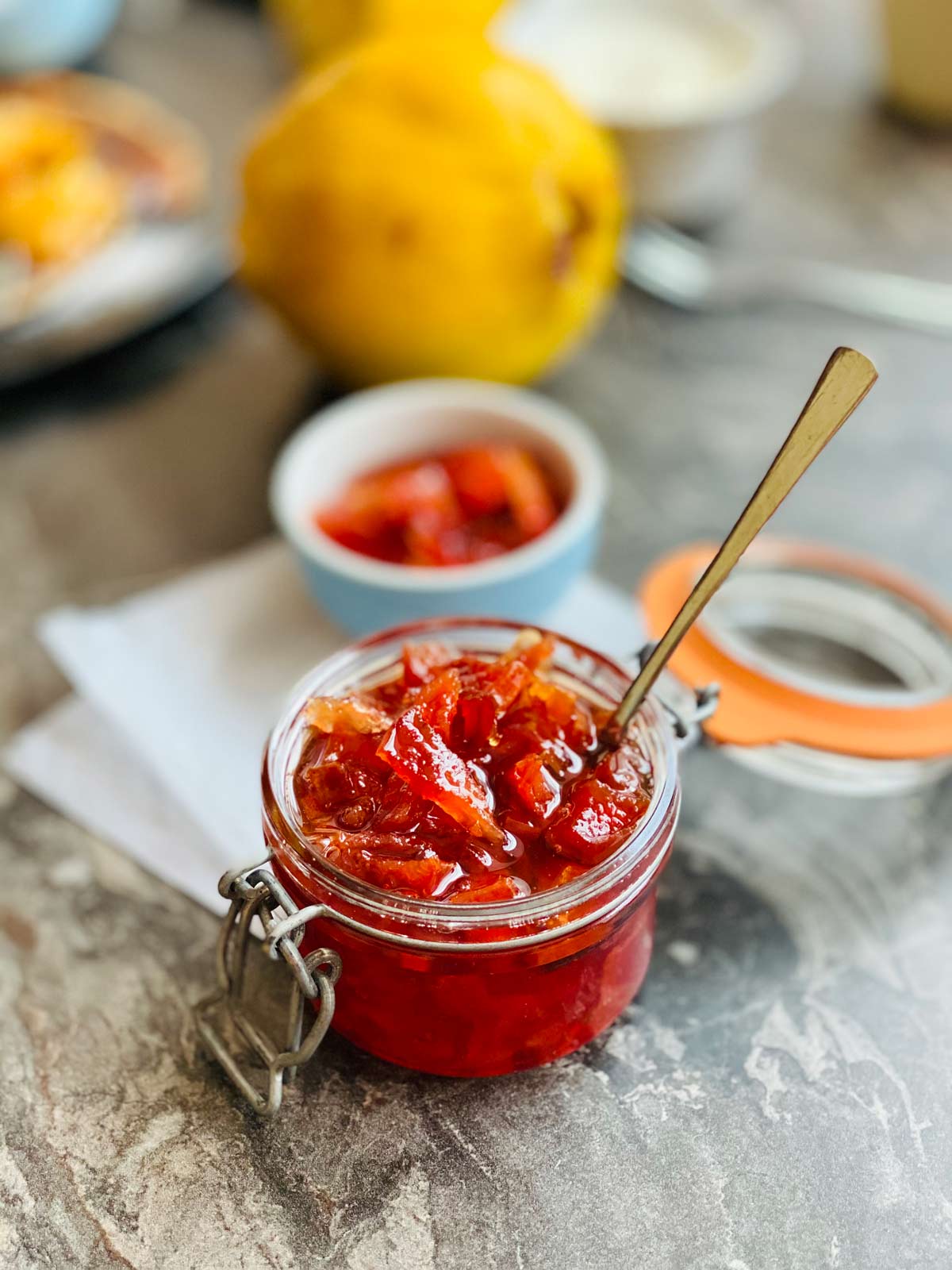 It all began with eating raw quince as a kid and my daughter can and likes it too. Not everyone can have raw quince since it is not the easiest fruit to eat. Thin slices are best to approach, and chunks are only ok if you are used to it. A glass of whatever nearby might come in handy.
I love quince in any way shape or form whether that's raw, lightly baked, boiled and made into a compote or chopped or grated and made into a quince jam (dulceata de gutui as we call it) - like this one.
Quince is a bit of a strange fruit that, if you have never eaten before, you will get pleasantly surprised. It's a little like apple sauce but with an earthy flavour of its own.
Since I grew up eating this fruit jam, I can easily say that this and the fresh or green walnuts jam or preserve are my two top favourites ever preserves that I would never turn down.
Healthy quince jam
I'm making them a little healthier (sorry mum) in the sense that I chose to use healthier sugars, or honey as opposed to caster sugar which was the only sugar available when I was a kid. I also reduce the sugar amount significantly since I make small batches (one or two fruits at a time).
If you have not had quince jam, quince jelly or quince preserve before, make this jam as part of an exploration into the world of food preservation that has been on the rise in recent years.
Preservation and homecooked food, make-your-own-everything, from scratch to know what you are eating exactly. Supermarket preserves are convenient but are not to be compared and don't even come close to homemade ones.
A good organic quality jam or preserving it is very pricey too.
Quince jam It's not too sweet (well, this one at least) and this is how I like it. It pairs well with cheese or toast for breakfast or tea time, or just by itself.
I did choose to cut the quince, this is how I generally make my quince jam but if I am in a hurry or I am not in the mood for all that chopping, I grate it, it is super easy. I do like some chunks though so I cut them or I make it mixed, diced and grated.
Ingredients needed
Just three ingredients will be needed in this recipe ( Quince fruit, Sugar or Honey and Lemon)
Quince - no need to peel the quince, just remove the core and scoop out the seeds too, they are pectin rich and help to jellify the jam and they give great flavour too.
Sugar - I remember my grandma and my mum adding kilo for kilo ( 1Kg of sugar for 1 Kg of fruit). It was lovely do not get me wrong but sooo sweet. Way too sweet for my taste now. As a kid, I did not mind it but now I would find it so sweet that I almost cannot taste the lovely flavours.
Lemon - zest and juice one lemon and cut into slices the second one - I absolutely love the lemon slices in the jam, they are delishhh.
How to make quince jam?
There are two ways of making this quince jam. The traditional used by most people and my way of doing it.
There are four simple steps when it comes to making this flavoursome jam:
The traditional way to making quince jam
Step 1
Prepare and chop or grate the quince fruit:
If cutting it: Wash and cut the quince into slices, then strips and then little pieces cubed or thin rectangularly shaped pieces.
If grating: Wash and cut the fruit in half. Grate (using a cheese grater- bigger holes) and work around the core. Grate the quince flesh until you get to the hard woody texture by the core.
Using a knife (it does not have to be a sharp one) or a pointier teaspoon, scoop out all the seeds you can find inside the core cavities/ compartments. These are super high in pectin helping with setting the juices later on.
Step 2
Simmer the chopped or grated fruit in water containing lemon juice:
Choose a wide-bottomed pan also double/thick bottom saucepan - it helps with water evaporating faster due to the large surface and the double bottom to avoid burning.
Put the needed water quantity (see recipe card for exact amount) in the saucepan and bring to a boil. Add the quince and the lemon juice. Reduce the heat and simmer until the quince gets soft (about 10-12 minutes if grated and 15 if chunkier).
Step 3
Bring in the sugar and simmer on reduced fire until thickened:
Add the sugar and bring to a boil again, stir well until all of the sugar has dissolved, lower the heat to medium.
Continue to cook (uncovered) keeping an eye and stirring seldomly until the quince jam turns into a nice pink/orange colour and the juices have thickens to aspired consistency. It will take approximately 40 minutes.
Step 4
Jarring the jam:
Ladle into sterilized preserving jars and seal.
For my method/technique see the recipe card below.
I like the traditional method, however, I find that the fruit (especially if grated) gets overcooked.
My method reduces the cooking time for the fruit saving it from losing vitamins. See recipe card to learn all about the way I am doing it and this is how I make pretty much all my jams these days.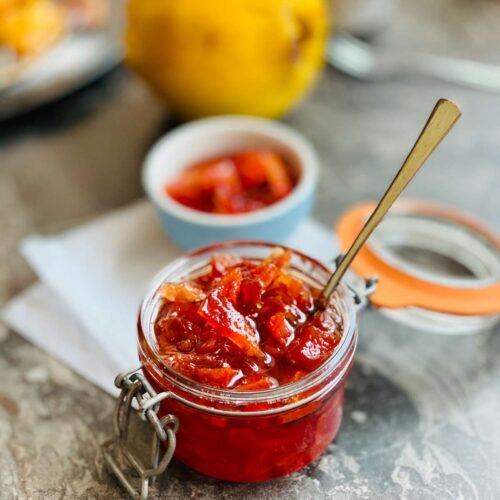 Perfect quince jam
Recipe for a simply perfect quince jam made with just three ingredients, grated and diced fresh quince, sugar or honey and lemon juice. A great addition to your breakfast or snack with a cracker and some cheese. Perrrrfection!
Print
Pin
Rate
Equipment
pot (double base)

jars

grater (optional)
Ingredients
1

kg

quince (2.2 lb)

cut around the core (do not peel)

500

g

cane sugar (2.5 cups)

or 2 cups honey *

230

ml

water (1 cup)

2

med

lemons juice and rind

* see recipe notes
Instructions
Wash, wipe and sterilise the jars - see notes in the recipe on how to sterilise jars and the lids.

Start by preparing the syrup. Add the water and the sugar to a pot and boil until the liquid becomes thicker. Boil for approximately 15 min on medium fire. Add the lemon juice and zest (from 1 lemon) as well as the quince seeds/peeps. Cut the other lemon into slices (halves or quarters) and add to the syrup too. Reduce the fire to a minimum.

Wash the quince and cut big chunks around the core. Chop or grate the fruit and add to the syrup as you cut or grate the fruit. You can add to a bowl but you will need to be pretty swift as they do oxidate fairly fast getting a brownish flesh.

Increase the heat or put the heat back on set to medium and boil the jam for 15-20 min stirring often to make sure it does not stick to the bottom.

This also helps to have a feel and know when the syrup consistency is right. If you are not sure, take some syrup out on a super cool (ideally kept in the freezer) plate.

Give it a few minutes to cool completely and draw a line in the middle of the syrup patch. If the patch remains separated, your jam is ready. If it reunites - it will have to boil the jam for longer.

When ready ladle the jam into the sterilised jars, seal and place all jars in a corner somewhere where you will be able to cover all with a blanket. Keep this way until they have completely cooled.
Notes
Syrup - making the water and sugar syrup and then adding the fruit will not only save some of the vitamins but the jam will remain a beautiful vivid colour too. 
Sugar - feel free to add more sugar if you wish especially if you make big batches and you will need to keep for longer than 7-8 months. 
Yield - this recipe will yield approximately 6 jars 200g or half a pint 
Honey - Replace the sugar with honey which you can add and cook at a simmer point - do not get it to boiling point - it will be a runner jam. 
Grated vs chopped - If you chop the quince (like I did) it will take a little longer but I like it this way - grated is my kid's favourite ( also a great version to use or add to cakes).
Nutrition
Calories:
42
kcal
|
Carbohydrates:
11
g
|
Protein:
1
g
|
Fat:
1
g
|
Saturated Fat:
1
g
|
Sodium:
1
mg
|
Potassium:
33
mg
|
Fiber:
1
g
|
Sugar:
8
g
|
Vitamin A:
7
IU
|
Vitamin C:
3
mg
|
Calcium:
2
mg
|
Iron:
1
mg
How to sterilise the jars and the lids
Sterilising the jars and the lids:
Rinse those, place them upside down on a clean towel, allow them to dry and then place them in the oven for 10-15 min at 65°C or 200°F.
Before applying the lids and sealing the jam, those also need sterilising. The way I do it, I place them in a bowl and pour boiling water over them. Leave them in the hot water for 2 min and then pick them up with tongs and place them on a clean towel (face down for the water to drain. Place on a tray in the oven too.
Make sure to wipe clean the rims of the jars before sealing the jars with the lids.
Variations for quince jam
Quince will mix really well with other ingredients so you can make a beautiful quince jam with:
chia seeds
fresh ginger
vanilla
cinnamon
apple
pears
apricot
walnuts
How to serve quince jam
Pairing with cheeses
: any mature but also fresh cheese -such a wonderful marriage- a cheese board is a dream
Appetiser suggestions
:
Bruschetta with quince jam and goats cheese. So easy to prepare and really delicious, perfect with a good old white wine or a good Porto. Quick fix for guests.
Savoury suggestions
:
- pairing it with meats like chicken or turkey, ham or pork roast. Make it a side dish.
Add to cakes or desserts
Cakes with quince jam, cookies, biscuits
tarts
with this sweet quince jam... mmmm, delicious.
Quince desserts
are the best ones if you ask me.
Preparing some
homemade cookies
filled with this quince jam, filling to some
pastry puffs.
What about having it with some
pancakes
?
The perfect jam to use with a slice of cheese on a crusty rustic delicious slice of sourdough bread.
I would honestly be extremely happy to hear from you what other combinations you have used and how you serve your quince jam. Let me know what you think of this recipe.
Have you made it? Mention it @ramonas.cuisine or tag me #ramonascuisine, I would be so happy to hear from you!