If you're looking for a homemade delicious and simple Elderberry Jam recipe with seeds and no pectin added, then you've come to the right place!
Elderberries are one of these late summer offerings and these can make a fab jam, jelly, or syrup. Elderberry jam is one of those jams I grew up with but never fully appreciated until adulthood.
I love seasonal food and how wonderful that each season has something nice to offer us. Take a bag or a basket and go foraging. My favorite activity ever. We certainly need to exploit that and embrace what nature has got to offer.
I love this wonderful shrub because it treats us twice a year, once in the spring and once in the summer (end of August time). How generous!
My mum used to always push us to eat some as it's good for immunity and keeps colds away etc., etc. We never really listened to or believed any of it. It was not our favorite jam then but it definitely is now. I am really glad my kids like it. She always used to make Easy Elderflower Cordial so she made sure to make the most of this plant and its offerings.
Jump to:
💭 How to pick and prepare the elderberries?
It is generally an easy process, however, there are a few things that are good to know before going foraging.
How to pick the elderberries?
Since the elderberry tree grows quite a bit and can reach heights of 6-7m (20 feet), it can be quite handy to have a telescopic lopper with you. Dark clothes, gloves and a bag that stays open or a bucket will be very handy and a great idea too.
Simply get the clusters cut off and that is all you need to pick.
How to prepare the elderberries?
The easiest and probably the quickest way to remove elderberries from the stem is by running a fork through them. It takes me about 10 minutes to do this for this quantity of berries.
If your clusters of elderberries contain totally ripe berries you are lucky and the process will be much easier.
However, if there are unripe brighter red or green berries you'll need to remove these before you run a fork over, it is just easier.
You then need to rinse and drain the berries a few times. Be sure to pick out any raw berries, stems, or leaf bits. It can be a bit of a laborious affair but make it relaxing and fun, get the kids to help if patience isn't your thing.
🤷🏻‍♀️ What are elderberries?
Elderberries are clever little berries as I always said to my kids and they loved the idea, haha. They grow in clusters of dark purple/black berries on an Elderberry Tree (known as Sambucas nigra), appear early-mid August, and last until the end of September or even October. Prior to the berries come elderflowers which are sweet and fragrant.
💚 Benefits of elderberries
Elderberry is a super powerful little berry, jam-packed with antioxidants, and well known for its protective effects against viruses. A very smart little berry indeed since the flavonoids contained in these trick flu viruses by binding to the proteins on their viral envelopes. Those agile proteins are the ones that viruses use to bind to our cells and cause infection. Once these get successfully deceived, the viruses are deactivated from reproducing in the body and get effortlessly flushed out by our body's natural immune defenses. Clever berries, right?
They also contain tonnes of Vitamin A, Vitamin C, folate, calcium, potassium, and iron. Elderberries are a fabulous source of fiber.
🔪 How to make elderberry jam
Making this jam is easy and it will require a little time and a few steps for preparations like picking the actual berries, washing them and getting them off the stems, sterilizing the jars, and the actual jam making. It is all fun, believe me especially if you team up with your kids, hubby, or some friends that would be interested in a day out.
Rest the berries, ideally overnight with the sugar sprinkled over.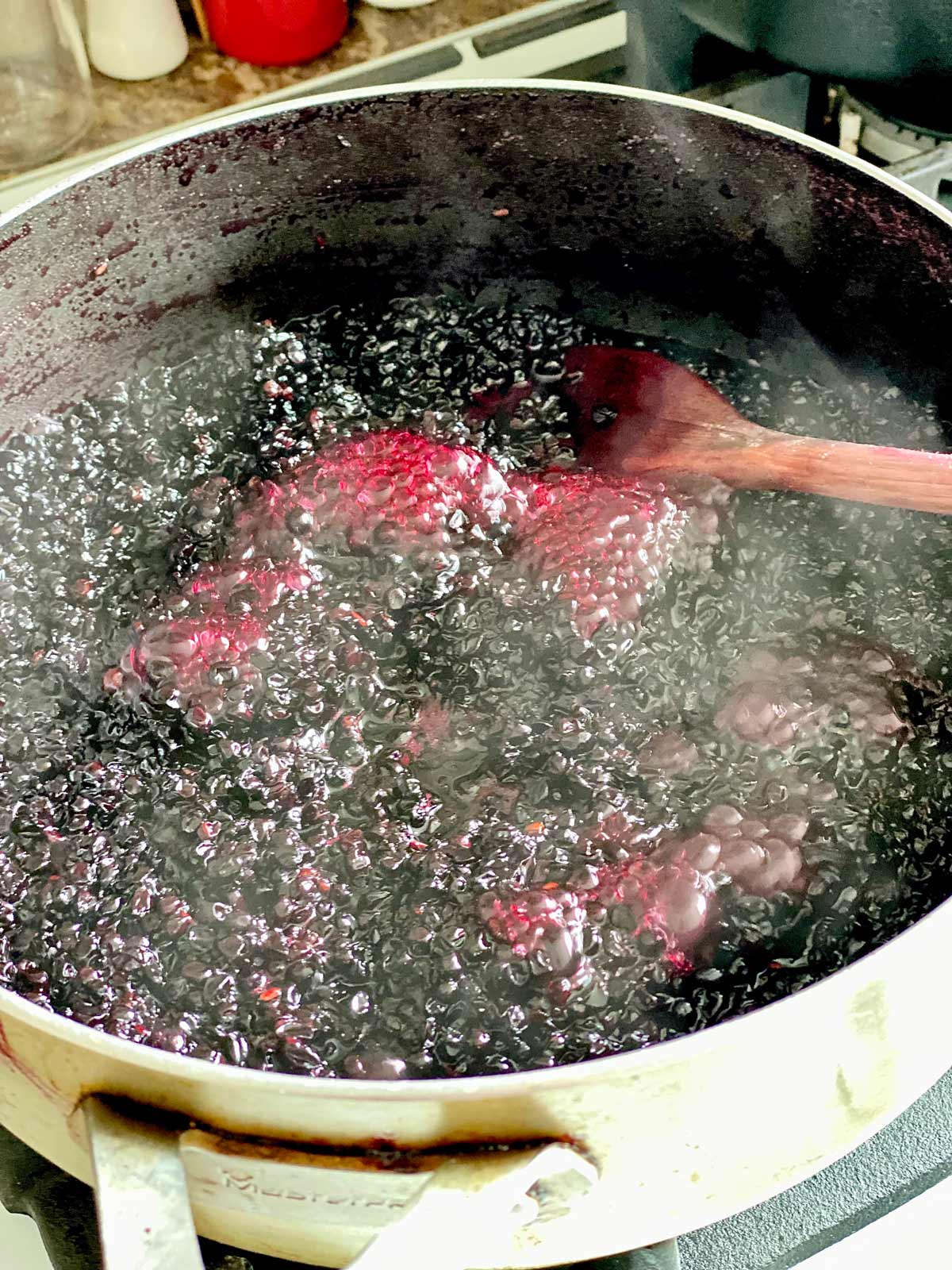 Cook the jam on the stove on medium to high fire for approximately 20 min
🔁 Substitutions
Here is what I do sometimes or I make sure I have a version of these at least. Only for myself since my kids do love their jam made with sugar but I do like alternatives. I particularly love the honey option.
Low-carb - instead of cane sugar use a sweetener of your choice - and I recommend a healthier option such as stevia, sucralose, erythritol, xylitol, or monk fruit sweetener.
Honey - give the fruits a boil for a good 10 min or so drain off any juices (which you may keep to make a jelly or add to a refreshment drink or even a rainbow pancake for color or flavor) and then add the fruit to honey. Keep refrigerated and serve on toast or simply as a treat.
Sugar-free - use stevia and my recommendation is to add 1/2 teaspoon of stevia for every cup of fruit
🤹‍♂️ Variations
Other elderberry combinations can be made:
Elderberry and apple jam - add some chopped peeled apples to the elderberry and cook together in the exact same way this jam is cooked;
elderberry jelly - a very easy way to make and here is a recipe idea
Elderberry and rhubarb - use 50:50 or 25:75, 25% being the rhubarb as it is a lot tarter
These amazing berries can be used in baking too. I make Homemade Tutti-Fruity Jam And Fresh Fruit Tartlets. The jam makes a great addition to this Easy Cinnamon Rolls With Homemade Jam, all delicious stuff.
❗️5 ways to thicken jam
Whether you want to ensure you have a thick jam from the beginning or fix a runny jam, here's what you can do:
1. Add chia seeds to the recipe. This will require no cooking. Just add one or two tablespoons of chia seeds for every 300g jam (a larger jar). The chia seeds soak up the juice and moisture and give a thick texture effect to the jam without using heat or added sugar or pectin. Think of it as a chia seed pudding made with fruit and not milk.
2. Use cornstarch. Cornstarch is a common thickening agent for jams, sauces, soups, and glazes. This will make the jam a little cloudy but will not alter the taste. Mix cornstarch with water to create a slurry, then add it to the jam mixture right at the end and bring it to a boil. The jam should thicken very quickly.
3. Commercial pectin. Elderberries are low-pectin fruits so adding a little pectin will help the jam set and keep a nice clear and vibrant color. Pectin normally comes in powder or liquid form, the liquid being the most common.
For the powdered pectin - add this to the fruit before heating the jam. Bring the jam to a rolling or hard boil which means you can't stir down the bubbles. This will need to be done over high heat and then add the additional sugar.
For liquid pectin- bring the fruit to a boil first and then add the liquid pectin.
4. Use gelatin - this comes in sheets or powder form. The easiest method is to soften sheets of gelatin in hot water and then add them to the jam as it cooks. Alternatively, dissolve powdered gelatin in warm water and add it to the cooking jam.
5. Reduce it on the stovetop. It is my preferred option and if you use regular sugar, I normally reduce the sugar and water to a thick syrup and then add the fruit and cook it until the jam starts to reduce.
📦 Storage
Once the jam is completely cool, store it in a cool dark place like a pantry cupboard or cellar. Once opened, store in the fridge and eat within a few months.
Jam is best if eaten in the first year but will last for many, many years. It also depends on how much sugar you add and if the lid has hermetically closed and it's not a faulty one. I always check my jam by looking to see if no air has gone in. How do I know air has gone in? You will see fungi on top after a while which means that the jar has to be opened, cleaned by removing a good layer from the top, and taken for consumption.
❓FAQs
Can I use dried elderberries?

Absolutely. You may need to soak these overnight for the best results. Adding water, elderberry juice, or any natural juice ideally homemade or freshly squeezed is also an option and you may need to cook the jam for a little longer. I would think an extra 10 minutes should suffice.
Can I freeze elderberries for jam?

Yes, this is a possibility but you might want to add a thickener as you will have more water than the fresh fruit. A nice thickener I recommend is kudzu which is a root starch and it works fab.
What does elderberry taste like?

If you are familiar with elderflower at all you will kind of get the idea as to what to expect but if you are not, I would say that it tastes similar to blackcurrant missing the tartness and the sharpness of blackcurrant jam with a similar texture.
We really love the flavor but if you're not a fan of seeds, similarly to raspberry jam, you're better off making jelly.
Can we eat raw elderberries?

No, you do not want to do this for two reasons.
1. Elderberries, their stems, leaves as well as bark, all contain a toxic substance that can cause nausea, vomiting, and diarrhea.
2. They do not taste good anyway.
Therefore, elderberries should always be cooked before eating.
What sugar is the best to use for making jam?

• Coarse-grain granulated sugar is the best choice for making jam, but a slightly better option (a healthier option) is cane sugar.
• Jam sugar is a good option too but be aware that it may contain pectin.
• Avoid fine-grained sugars because this will dissolve inconsistently and may spoil the jam.


🧂Best sugar options to use when making jam
| | |
| --- | --- |
| Type of Sugar | Good To Use For Making Jam? |
| Coarse Granulated Sugar | YES - the best option |
| Splenda | YES but best used in low-pectin jam recipes |
| Unprocessed Cane Sugar | YES |
| Brown Sugar | YES |
| Fine Granulated Sugar | NO |
| Truvia | NO 'Baking Blend' only |
| Powdered Sugar | NO |
Best Sugar Options vs Sugars To Avoid
📌 Cook's tips
This recipe for homemade jam is so easy to make that it's pretty much impossible to fail, however, here are three tips to make it the perfect consistency.
Stirring - use constant heat and stir occasionally (you do not have to stir it constantly);
Use the right pot - the pot used is very important - a thin-bottomed pot may lead to burning fast, use a wide pot ideally double bottomed one;
Sterilizing the jars and lids -you will need to sterilize the jars and the lids and the simplest way to do this is

to wash the preserving jars with a clean sponge or cloth using washing-up liquid, Rince very well and thoroughly then place all the jars on an oven tray and put them in a preheated oven at 60°C for 15 min. Turn off the oven and allow them to cool
dip the (new/unused) lids into boiling water and then place them on a clean towel, face down or transfer those to the oven. They need to be perfectly dry when canning the jam.

Readiness test and jarring the jam - The readiness test step is a must-do since this jam is super easy to overcook and gives no clear signs when it is ready. Around minute 7 or 8 take the jam off the fire, and spoon a spoonful of jam juices on a cold saucer (I place a saucer in the fridge prior to the test). Run a line through the middle of the jam juice with the wooden spoon or even your finger and if there is a clear path left behind that is not immediately disappearing, the jam is ready.
Jarring the jam - Place the jam back on low fire bring it to the bubbling point, remove the scum and turn the heat off. Use a ladle and a jam funnel if you can and have them as these will make the process swift, super clean with no sticky spillages, and super easy. Put the lid on every jar straight away once filled.
Cooling the jam - again, I have a ritual here as my mum taught me - cooling needs to happen slowly and the best way is to have a blanket readily arranged in a corner of the room or on your worktop - place the jars there and cover as soon as the lid goes on. Do not worry if they are a little messy or if any spillage - you can clean this after when they are cool and ready to go in the dark cellar.
👪 Serving suggestions:
📋 Other recipes to consider…
Please leave a 5-star 🌟🌟🌟🌟🌟 rating in the recipe card below and/or a review in the comment section further down the page. Thanks for stopping by!
🫐 Simple Elderberry Jam (3 Ingredients)
My Superb Elderberry Jam recipe is made with only 3 ingredients, it contains no added pectin nor jam or preserving sugar. Bursting with natural goodness, it's the perfect way to enjoy your foraged elderberries!
Print
Pin
Rate
Equipment
bowl

fork

pot

preserve jars

knife

chopping board

colander

wooden spoon

baking tray
Ingredients
1

kg

elderberries

freshly picked, washed and well cleaned

400

g

cane sugar

see notes

1

large

lemon

see notes for extra tips

1

pinch

salt

optional but I recommend it
Instructions
Prepare the preserving jars ahead and have them ready in the oven cooling once you start making the jam as those need to be easy to handle and not too hot when the jam gets to the jarring stage. See the notes above on how to sterilize the jars.

Prepare your elderberries by removing them from stems with a fork (or you can use your fingers too). Discard any red or green ones.

Submerge the elderberries in water and rinse several times until the water runs clear. Do this until there is no debris left. Pick out any stems or unripe berries, if you spot any.

Place the elderberries in a preserving pan and add the sugar on top. You can do this a good few hours ahead or even overnight to get some much-needed juices released. (See notes for more details)

Place the elderberries in the pan on medium to low fire and cook until the sugar has completely melted. Simmer and cook gently for 10-15 minutes with no lid on. Stir occasionally using a wooden or silicone spoon/spatula. Remove with a clean spoon the foam if any is forming.

Add the lemon slices, turn the heat up and cook for a further 6-7 minutes. This time you need to stir almost constantly.

Add the lemon juice at the last minute or two of cooking. Carry out the readiness test (see in the notes below) and get the jam jarred as soon as it is ready. If your jam hasn't passed the test very well and it is still a bit too quick to close the path (runny) then boil for another 2 minutes and repeat the test until ready.

This jam recipe will fill up approximately 6 x 200ml sterilized jars.
Notes
Resting time - If you do not have the time to leave the berries with the sugar for a good 4-5hours or overnight, add 100 ml (3 oz) of water or crash a few berries with a potato masher, for some juice that you will need to get the cooking started. 
Sugar - add as much as you like - anything from 200g to 1 kg of sugar per kg of fruit- this depends on how you like it and how long it is likely to last. The more sugar you add the longer it will last obviously but I make small batches and it is never a long-lasting jam - it goes fast once a jar gets out for consumption. If you make big batches add the sugar amount to match the fruit amount, i.e. 2kg fruit-2kg. This is important to avoid botulism. 
Lemon - wash it well and make sure it is unwaxed - cut it in half, juice it but not totally add the juice to the jam and slice the lemon into half circles add these to the jam too. It adds a lovely flavor and zing to the jam. I do this with every jam I make.
Salt - I know you may ask: 'salt into jam?' Yes, please trust me it's what many jams are missing. It is the 'Je ne sais quoi' and a of any jam.
Nutrition
Calories:
115
kcal
|
Carbohydrates:
30
g
|
Protein:
0.4
g
|
Fat:
0.3
g
|
Saturated Fat:
0.01
g
|
Polyunsaturated Fat:
0.1
g
|
Monounsaturated Fat:
0.04
g
|
Sodium:
5
mg
|
Potassium:
148
mg
|
Fiber:
4
g
|
Sugar:
20
g
|
Vitamin A:
301
IU
|
Vitamin C:
21
mg
|
Calcium:
21
mg
|
Iron:
1
mg