This pilau rice, pilaf, pulao with wild garlic and stinging nettles is more of a spring dish but the wild garlic and nettles can be substituted by spinach and spring onion, scallions. This one-pot dish is definitely a versatile ideal midweek meal.
This is the second time this year we have had this pilau rice with wild garlic and nettles. I have added some organic black lentils also known as beluga to make it even more hearty and packed with goodness. Olives were also present because this is how my mum used to make it and I love it.

A truly beautiful vegan dish. It's one of those dishes which takes me back a few decades reminding me vividly of those days when I was going into my favourite local forest to pick the nettles.

I did grow up eating very well, organic, locally grown produce, always tasty and super fresh. I'm not that old, please don't think that a few decades can be many more than they really are, haha - just 2 or 3 you know ;-). Time flies anyways so a decade is not that long nowadays ;-).
How to get fresh nettles and when
The very first nettle shoots are how nettles should be picked. The young ones are definitely the best.
Stinging nettles can be picked actually up to the point of flowering but not later than that. If the nettles are older just pick the tips, just the tip, approximately the top 10cm.
Here's how they look when they're at their best times and size to get picked...

Just in case you wonder, yes I did get stung quite badly and suffered a good few days after picking them. That is because we never planned to go nettle picking so obviously we were neither prepared nor equipped for nettle picking.
We used scissors (especially hubby) we didn't have gloves or anything to protect our fingers. I picked them up in the barest and most natural way by snapping them with my bare fingers. I am beginning to feel the stinging again only by thinking and talking about it.
A little more about these little nasty stinging nettles….
Stinging nettle is have been used for many hundreds of years to treat muscles and joint aches, eczema, lower back pain, anaemia, arthritis and gout. Great ingredient, I know! It is what I thought too.
Stinging Nettle Benefits:
Nettles have been linked to some health benefits, they contain many nutrients such as:
• Vitamins - A, C and K and a few B vitamins);
• Minerals - Ca (Calcium), Fe (Iron), Mg (Magnesium), Ph (Phosphorus), K (Potassium) and Na(Sodium)- I'm sure you know your symbols. I wanted to test myself to see if I remember them, and to my surprise, I still do! My chemistry teacher would be quite proud of it.
• Amino acids - all the essential ones (wow, I know!). Our bodies need 20 amino acids to grow and then function properly but just 9 are considered to be essential.
Amino acids cannot be made by our bodies and therefore they have to be obtained from our food.
• They also contain fats, polyphenols and pigments, many of which act as antioxidants- we all know how great they are for us.
• Nettles are believed to help reduce inflammation which is why they were used in arthritis.
When, where, how to pick stinging nettles ….
• Nettles are a spring thing only.
• As I mentioned they need to be picked when they are young and if they get picked a little later into the spring you'll only need to pick the tips, I would say 3 inches maximum.

• They do prefer the cooler parts of the world. I'm not sure about the hot countries but I know they can be found all throughout Europe, New Zealand and the cooler parts of the US. Do you guys have them where you are?
• Always try to wear gloves when picking them. I like using scissors especially if I don't have gloves and sometimes I use a pair of tongs.

• Cut with the scissors and pick them using the tongs and put them in a bag. Easy. Caution! They can sting through the gloves too, haha, so use my technique if you want to stay 'sting-free'.
Wild garlic...
I did buy mine this time but while being out on my walks with hubby, wandering around a nice park in Finchley, we discovered a sea full of wild garlic. At first, I did not even realise it was actually wild garlic. Wow, I will never buy mine again but go and pick it freshly from the beautiful and generous nature.
A few years back my mum brought me some wild garlic and sadly I ended up throwing most of it away because I never really cooked with it before. I did not know what to do with so much wild garlic! Haha. She was the one to open up my eyes and lighten up my brain. I now try and cook it as soon as it appears which is always around April/May.
FAQs
Don't have nettles or wild garlic?
Not to worry at all if you have neither nettles nor wild garlic. These can be substituted by spinach, chives, kale, cavolo nero or any spring greens. Any greens you may like will deserve a try. Surprise me here please but make sure you let me know what that was. What have you replaced the nettles or the wild garlic with? Supplies!! 😉
What is special about this pilau rice
Coming back to this delicious and totally vegan pilau rice or pilaf, it is packed with goodness, it is easy to make and pretty versatile too.
I grew up eating this but I have to say that I never appreciated it as much as I do now.
We do forage the nettles as soon as they pop their heads out, nice and young are the best.
I am going to reveal the recipe for this beautiful pilau rice dish so, let's put the apron on and get cooking, shall we?
But before that here are some more rice recipes you might like to try like this one-pan curried rice, truffle and mushrooms pilaf, or this sweet and super delicious rice and mung beans pudding. You may also like this vegan nettle and chickpea salad recipe. Yum, yum.
Pilau rice with wild garlic and stinging nettles
This vegan pilau dish bursts with flavour and it contains only a few ingredients like rice, wild garlic, nettles and olives. The perfect dish for any rice lover but not only.
Print
Pin
Rate
Equipment
skillet

wooden spoon

chopping board
Ingredients
500

ml

stock vegetable

300

g

rice

150

g

black lentils (beluga lentilorganic

2

onions

2

carrots

70

g

wild garlic fresh

120

g

nettles fresh or frozen

1-2

pinch

red chilli dry and crushed

40

g

black olives

pits on

1/2

tsp

Black pepper to taste

1

tsp

Salt pink Himalayan

1

tbsp

fried onions

optional

2

tbsp

pine nuts

2

tbsp

olive oil
Instructions
Place the pan on medium heat, add the 2 tbsp of olive oil, chopped or sliced onions, sliced or cubed carrots, finely chopped garlic, a pinch of salt and a pinch of black pepper. Cook for 2-3 min stirring a few times.

Add the stock and bring to boil. When this starts to simmer, add the rice, the black lentils and allow to cook (covered) on low heat for about 7-9 minutes.

Remove the lid, add the chopped nettles and chopped wild garlic. Add more stock if needed. Season with more salt and pepper (remember that olives are salty too). Give it a good mix. Add the olives, stir those in and cook for a further 5-7 min on low heat.

Turn off the heat, sprinkle some chilli flakes pinenuts and serve. Enjoy!
Notes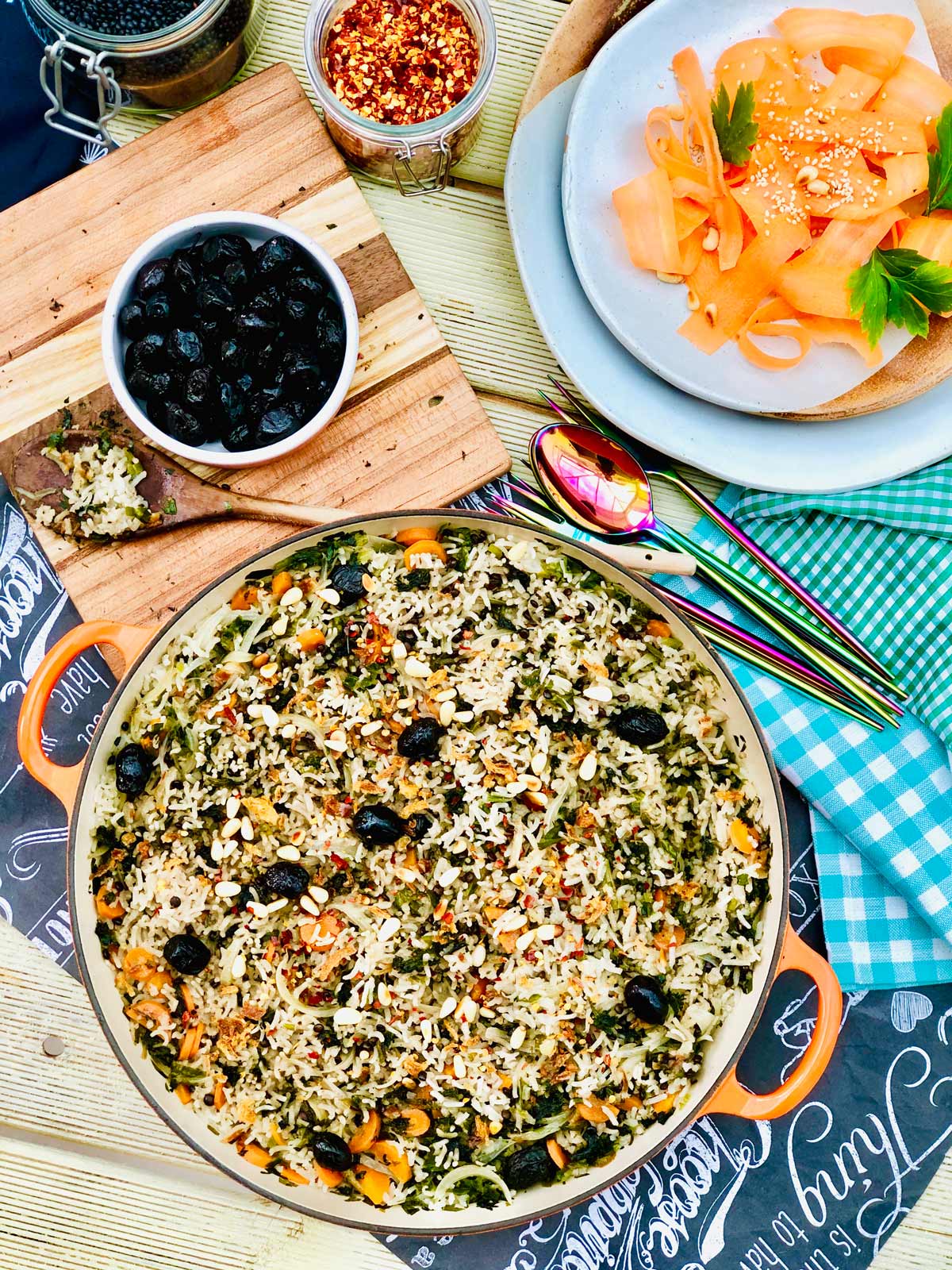 Sprinkle a spoonful or two of Parmesan cheese over for extra flavour and creaminess if you wish or vegetarian cheese to keep it a vegan option.
To wash the nettles use plenty of water in a big bowl and use a pair of tongs or thick gloves to pick them up.
Rinse them very well quite a few times changing the water every time.
Storing nettles:
They do store very well in the fridge for a few days but if you want to store them for a long-term wash them, drain well and freeze. This way nettles can last for a good few months.
It's a good way to have nettles throughout the year. Also dried they are pretty good although they do not taste quite the same.
I prefer the taste of fresh or frozen if you ask me. I do use dry nettles quite a bit too especially for salads and smoothies. Here's one recipe that uses dry nettles you might like.
Cooking the nettles:
They are good in any dish that you would cook with spinach and they cook pretty much like spinach.
Let me know, do you have nettles where you are? Have you ever cooked them?
If you made it and really loved this recipe… 
Share it with your loved ones, they might like it too! It will only show you care! 
Thank you for stopping by and I do hope you'll check my blog again to see what's new, all amazing cooking ideas and easy delightful family recipes. 
Have a wonderful day! 
Enjoy!
Nutrition
Calories:
568
kcal
|
Carbohydrates:
95
g
|
Protein:
17
g
|
Fat:
13
g
|
Saturated Fat:
2
g
|
Sodium:
1275
mg
|
Potassium:
394
mg
|
Fiber:
13
g
|
Sugar:
6
g
|
Vitamin A:
6300
IU
|
Vitamin C:
9.6
mg
|
Calcium:
226
mg
|
Iron:
4.8
mg