Oh, what can be nicer than a super delicious red lentil curry, also known as dhal, dal or daal. I have to admit that if I did not try Asian food I would have been the biggest loser.
I am considering myself very lucky for having the courage to try new foods, new ingredients, new dishes that come from all different cuisines but I have to say that the whole Asian spectre just blew me away. It was love at first taste! ❤️ ??
At home, I cook a lot of Asian dishes, in particular Sri Lankan ones (since my husband is the nicest Sri Lankan man you could meet), so for me was, first the food that I have 'met' and then him. What else or what more could I wish for? Not much.
I am very lucky since I have been surrounded by a small circle of Sri Lankan friends (who introduced this amazing cuisine to me) who are just amazing cooks but one in particular (if he reads my post he will know exactly it is him I am referring to and talking about here - and his cooking is to die for) from whom in fact I have learned a lot and have to thank him dearly. Thank you P! (he is rather shy, so I won't name him).
I have to say that along time I have made a few changes and adapted to my own style which is that I do not fry anything (haven't been frying anything for almost 2 decades) so all my recipes (if you have noticed), have no frying involved and also contain minimal amounts of oil. I do not find frying necessary and if you can ditch it, just ditch it!
Although my recipes aren't the most authentic ones (no frying involved and most of the time no oil added) they still taste fabulous apparently (so I am told) which makes me happy but I think is the ultimate outcome that everyone would be looking to achieve when preparing a meal- healthy and tasty. Of course, feel free to fry and add oil if you wish but for me, this does it perfectly this way. I think you could fully trust me on this and go with my recipe, you will simply love it.
Who said lentil is a boring ingredient?…hmmm., really…?, Well, I definitely cannot have enough of it and I have to say that a nice and creamy dhal (spiced up with a lot of super, super healthy spices and ingredients such as mustard seeds, fenugreek, cinnamon, black freshly crushed peppercorns, garlic, tiny freshly ground ginger, chillies - if you wish, coconut milk, fresh or dry curry leaves, is simply the best!!
So, let's get cooking then!
Red split lentil curry (dhal)
Experience Asian cuisine with this delicious dhal, a tantalizing red split lentil curry your taste buds will never forget.
Print
Pin
Rate
Ingredients
300

g

red lentil

(split) (organic) masoor dal

300-400

ml

water

3-4

shallots

(organic) chopped

1/4

tsp

fenugreek seeds

6-7

black peppercorns

(organic) whole

1/4

tsp

mustard seeds

1

red chilli

dried

1/2

tsp

turmeric powder

(organic)

3-4

cloves

garlic

(organic)

10

leaves

curry

(fresh, dried or frozen)

1

stick

cinnamon

whole (2 cm / 1 inch long)

1

tsp

salt

150

ml

coconut milk

1

tsp

ginger

(organic) freshly grated

2

tbsp

lemon juice

(added right at the end)
Instructions
Begin with thoroughly rinsing the red lentils until the water runs clear.

Place the roughly chopped shallots/red onion, 3 garlic cloves, peppercorns and 5 curry leaves in a mortar. Crush slightly with the pestle, enough to just roughly crush them rather than making them a paste.

Place a pot on medium fire, add the lentils with about 200 ml water,1 clove of garlic crushed and finely chopped, 1/2 amount of curry leaves and all the seeds. Reduce the heat as soon as the lentils start boiling.

Cook the lentils (partially covered) for about 10-12 minutes.

Remove the lid, add the crushed ingredients from the mortar mix, add more water and the coconut milk and salt. Cook for a further 10-12 minutes stirring occasionally and add more water if needed. It can stick very quickly so keep an eye and a hand on it.

When almost finished cooking, add the ginger and stir again. Cook for 3 minutes and remove from the heat.

Drizzle the lemon juice, mix for the last time.

Garnish with some more red chili flakes if you want some extra heat, or some coriander leaves if you prefer.

Serve on rice, with crackers or with a nice flat bread. A true treat!
Notes
Shallots can be replaced by 2 small or 1 medium/large red onion.
Tomatoes (about 2 medium ones) chopped roughly could be added, I sometimes (for variation) add one handful of butternut squashed- chopped or 1 carrot also chopped into chunkier chunks.
Instead of coconut milk, you can add dairy milk (full fat) and a bit of double cream at the end. Superb!!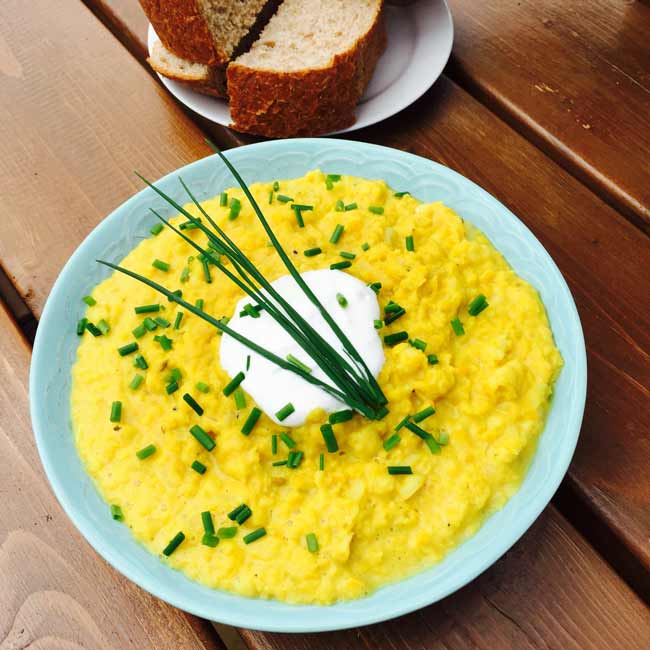 As I said, you can fry the onions/shallots (if you wish) with the chilli and the seeds and add at the end. It is very tasty indeed.
The secret to a good dal is the low heat that should be cooked on and if you happen to have a mud pot to cook it in, it would be even better. 
Nutrition
Calories:
370
kcal
|
Carbohydrates:
53
g
|
Protein:
21
g
|
Fat:
9
g
|
Saturated Fat:
7
g
|
Sodium:
599
mg
|
Potassium:
907
mg
|
Fiber:
24
g
|
Sugar:
4
g
|
Vitamin A:
530
IU
|
Vitamin C:
25
mg
|
Calcium:
72
mg
|
Iron:
8
mg