Worldcup ⚽ is in full swing. Sweden is through hooray, England is playing today Columbia. Come on England! Simona Halep is doing great at Wimbledon. Go on Simona! ? Bring on the food, please, bring on the quick n' yummy cream cheese and pesto bruschetta! Go on and make as many as you can gobble, they are soo delish! Glorious stuff!
I usually have this delicious bruschetta topped with pesto and something else. I have chosen to share the creme cheese and pan-fried tomatoes version which makes a perfect breakfast but who says it cannot make an amazing snack or even a superb lunch?!
Are you a breakfast person?
Talking about breakfast, this is quite an important meal for many of us, I'm one of those that breakfast makes my day. Literally. I start my day rushed with a no matter what I can grab for breakfast and I'll be in a bad mood and grumpy pretty much all day. A breakfast like this cream cheese and pesto sauce bruschetta will always make my day a happy one. Sometimes it is creamed cheese ( blend my own fat-free or low fat cottage cheese), sometimes is homemade hummus, some other time can be tzatziki it really depends on what I fancy.
We are living in the 21st-century meaning running every day with loads to do, with even more and more to do each day but breakfast should be that meal in the day that remains uncompromised when you start the day right whenever possible with sitting down having a cuppa and get it all balanced and right.
As far as what to eat for breakfast is concerned here is a suggestion that will definitely make you happy, give you that nice kickstart to a long summer, spring, autumn or winter day.
What about lunch?
I aim to have a good lunch every day but I must say that if I'm okay with messing up with a meal that'd be lunch. It is generally the hardest time in the day to keep a regular meal coming other than a grab and go.
When I'm in the office, not a problem, but only on a day off or when I work from home, it's when I often get it all messed up. I could easily live with two meals a day which is breakfast and an early dinner, that's, in fact, my ideal. The trouble is the actual snacking and the sugar cravings. Arghhhh? sometimes if I could only have that magic happen? and all these cravings go away or get an instantaneous idea of a healthier snack like this bruschetta .... but hey, sweets are soo good, mmm.... no, ⛔ not really and should stay far away from any sweets.
A continuous battle in my head 😉 Not always possible to stay away from sweets and come on you tell me now, how can you start a bar of chocolate, have one piece and forget about the rest, is that possible? NO! Not for me!! Haha. That leftover chocolate bar will be talking, calling and shouting at me all day long till it's no longer there and my head knows it.
I have learned that making a list of super quick n' healthy snack ideas and stick on the fridge door to refer to when running out of ideas it's a brilliant one. It is good for variety too.
Whenever cravings kick in just quickly put something together and for me, it really has to be a quick snack so by the time I reach the sweet jar area the snack is ready, haha otherwise it's a lost battle, the sweets always win!
It's almost the same with breakfasts - if no plans from the night before will fall into a pattern of quickly grabbing the easiest ingredients which almost always without a fail will be eggs, porridge, cereals or..... nothing.
I concluded that meal plans are the way forward despite being quite reticent to the idea for quite some time for some odd reason, but I can think and plan ahead especially at busy or hot summer times like now when cooking can be a little burden.
Well, will give it a try and then see but I know it helps with overbuying ingredients that, in the end, will be thrown away because we will never get to use. I'd really hate to have to do that. My worst nightmare from a food ethics perspective as we really live on the premise that food should never be thrown away.
Okey dokey! Let's get back to this cream cheese and homemade pesto toast with pan-fried tomatoes -such a simple recipe so I'll continue to keep it very simple ?.
Cream cheese and pesto bruschetta with fresh basil flowers
A crispy bruschetta topped with cream cheese, pesto and pan fried tomato is a great starter and always such a breakfast winner.
Print
Pin
Rate
Ingredients
3

tbsp

pesto sauce

homemade

8

slices

nice and crusty bruschetta

or 4 slices of wholemeal bread (I used both)

4

tbsp

cream cheese

any that you like *

2

tomatoes cut into quarters

or 8 cherry tomatoes halved

2

tsp

olive oil

Fresh Basil flowers or basil leaves to garnish

2

tbsp

pine nuts or sunflower seeds toasted

optional
Instructions
Wash and cut each tomato into quarters. Place in a pan with a tiny drizzle of olive oil. Allow to cook covered on medium heat for 1 min. Turn the tomatoes and cook for 1 min on each side. Drizzle more oil if you find it necessary. Cook until the tomatoes begin to soften but don't over cook them. Once ready, set aside.

Toast the bread in toaster or oven if you are making more than two people.

Spread the creme cheese equally between the slices.

Add a layer of pesto sauce over the creme cheese topped by 2 pieces of tomatoes.

Garnish with some freshly chopped basil leaves or some basil flowers, some lightly toasted pinenuts or simply some toasted sunflower seeds. Enjoy
Notes
There is also a super nice and easy-to-make classic and creamy Genovese pesto sauce ideal for this delicious recipe.
For the creme cheese I normally use Philadelphia light or original but a nice creamy Greek style yoghurt is also very nice.
Whenever I make my pesto sauce I always make some extra and keep it in an airtight jar in the fridge - it can last for a good few days. You could freeze it too but I personally don't like that. I love it fresh, fresh fresh.
My love for pesto sauce originates a good while back and I love it because it is super delicious, healthy and soo versatile since it can be served with so many dishes, in so many ways and at any time in the day. I mean it. Throw a poached egg on and ... oh, la la! Perfect breakfast or even lunch, right?
Kids and hubby love this recipe and unanimously said to make it again and again but also said I should put it up on Ramona's Cuisine, so it is now fully accredited ;-). I obeyed as always and listened to their wishes, so here it is.
Oh, but they is so right though , this cream cheese and pesto with those beautifully pan cooked tomatoes served on a nice and crispy toasted homemade bread or a sourdough is .... ahh ?? just pure perfection.
I am so sure you will throughly enjoy this simple but yet so pestolicious recipe!
Thank you so much for stopping by!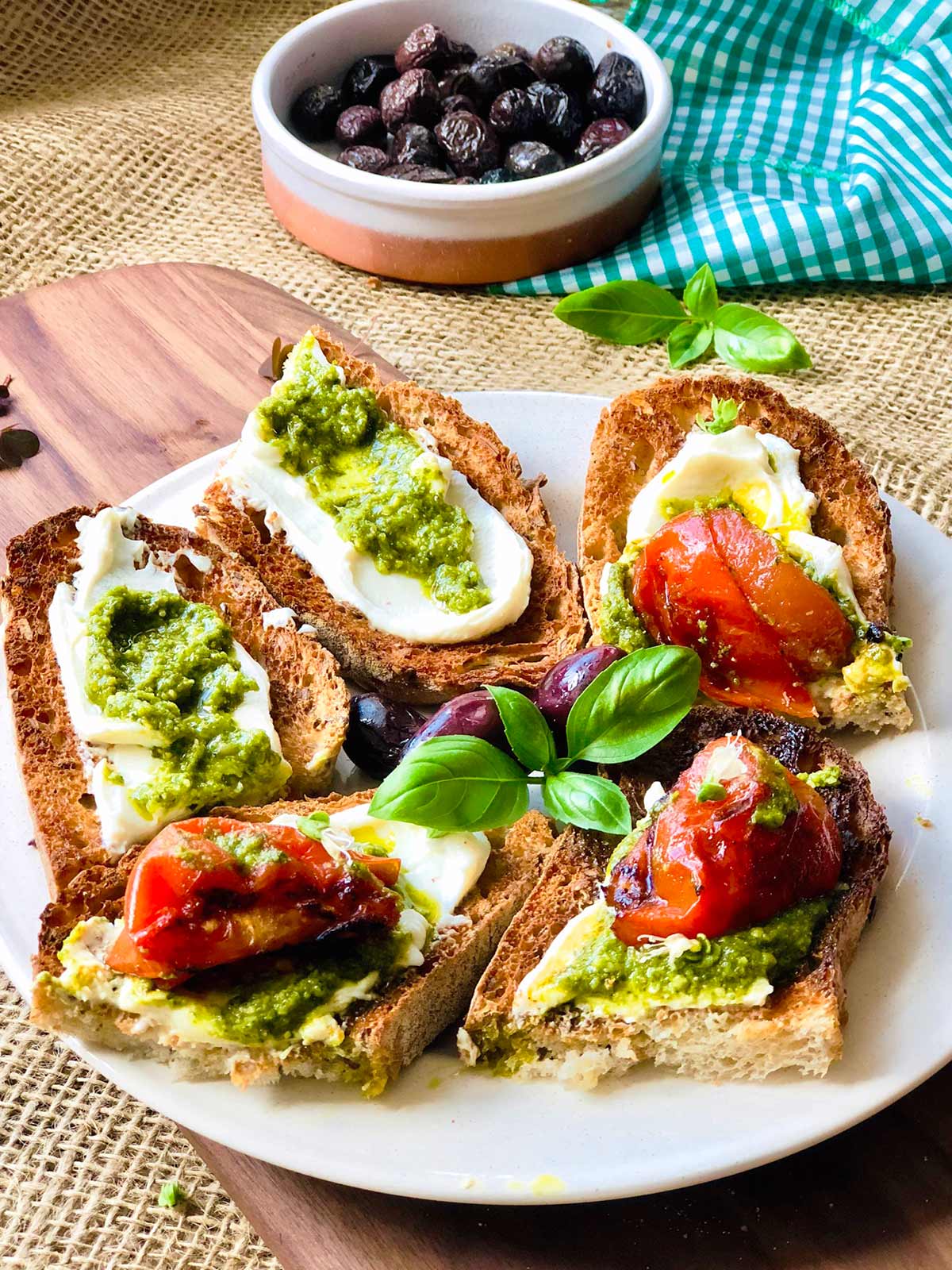 Nutrition
Calories:
160
kcal
|
Carbohydrates:
5
g
|
Protein:
3
g
|
Fat:
15
g
|
Saturated Fat:
4
g
|
Cholesterol:
17
mg
|
Sodium:
163
mg
|
Potassium:
123
mg
|
Fiber:
1
g
|
Sugar:
2
g
|
Vitamin A:
680
IU
|
Vitamin C:
4
mg
|
Calcium:
35
mg
|
Iron:
1
mg
SaveSave