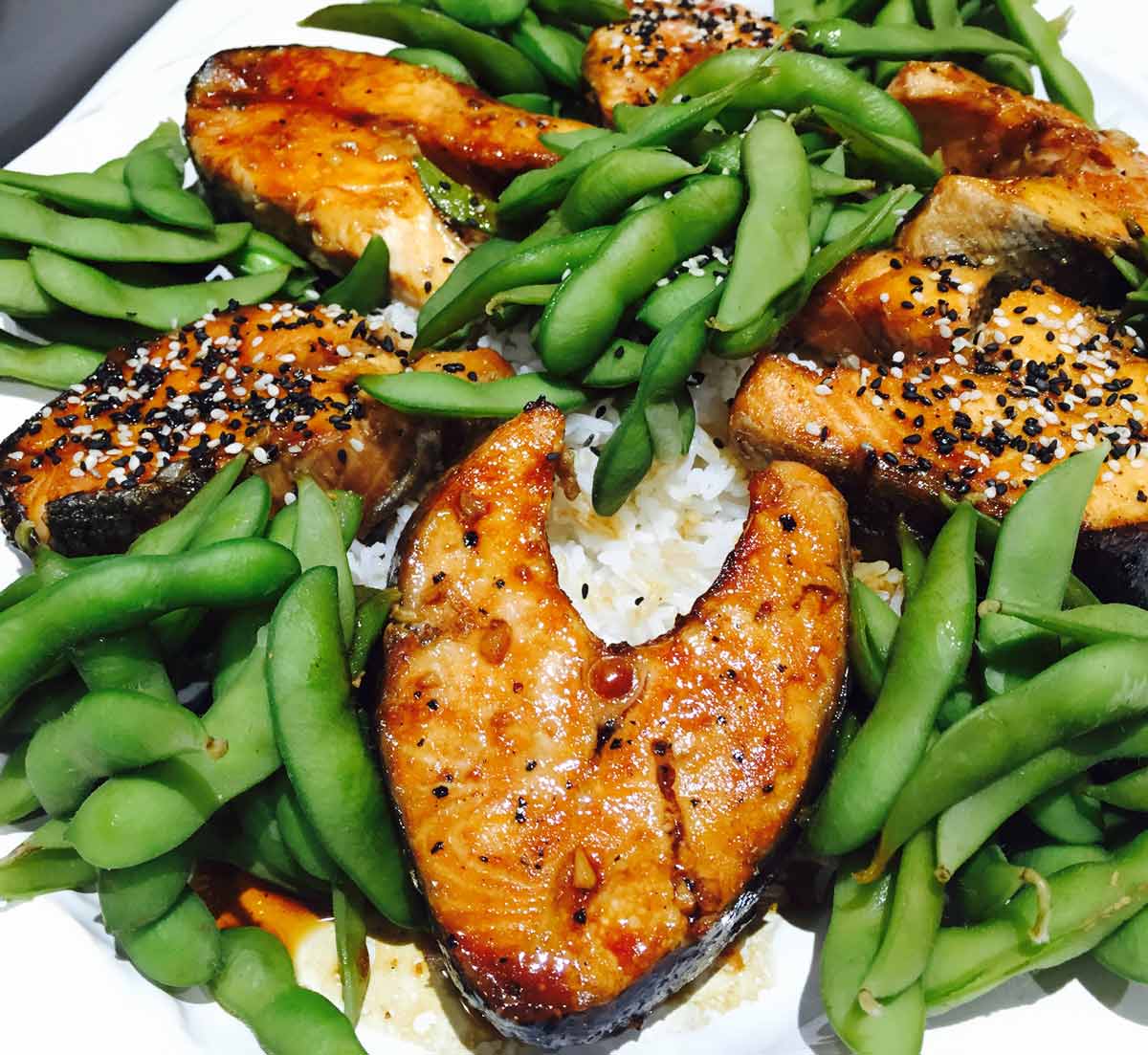 I am quite excited to share this dish with you and I cannot really recommend this Salmon teriyaki with edamame and rice dish enough as it is really fragrant and so truly yummy. In fact it's so yummy that you might end up eating too much. You will see the way it disappears! Gine in 60 seconds or even  less ??
Try as much as you possibly can and use jasmine rice specifically as it is amazingly tasty and no rice can beat its unique taste.
I love simple food and this dish is one of those that is really simple but it tastes absolutely divine.
Sesame seeds are really good flavoursome addition to this dish and are also very good for us. I was reading something about the black sesame seeds the other day and I was amazed to find out how healthy they really are. I like sesame seeds a lot and use them quite a bit but I will definitely use them more often now that I know how miraculous they could be.
Try this dish and if you make it once it will be a regular, I promise you. GONE in a blink of an eye
Only give this a try it and you will see how moreish this is. Oh La La!
Enjoy, enjoy, enjoy!!!
Salmon teriyaki with edamame and rice
Ingredients
300

g

thai jasmine rice

6

salmon fillets

or slices

450

g

edamame

frozen

4

tbsp

teriyaki sauce

3

tbsp

red wine

1

tbsp

balsamic vinegar

(organic)

2

tbsp

honey

1/4

tsp

ginger

(organic, optional) grated

5

tbsp

tamari soy sauce

(organic)

1-2

tsp

Sesame seeds

1

tbsp

Sesame oil
Instructions
Wash, salt the fish and set aside for a while.

In a cooking pan put the honey and the Tamari (soya) sauce on a medium heat. When it begins to simmer add the red wine, balsamic vinegar sesame oil and cook for 3-4 minutes. Switch off the heat and add the grated ginger if you chose to put in. It is healthy so if you don't mind ginger don't think twice!

Meanwhile get the oven dish ready, pour some of the sauce in, arrange the fish and spoon the remainder of the sauce over the salmon. The dish should not be a lot larger than just accommodating all the fish in. The sauce will evaporate very quickly otherwise. I used a 20 cm dish for 6 medium salmon slices.

Place the fish in the oven and cook at 190 C for about 15 min. Take out, turn over and and place back in the oven for a further 15 minutes.

Cook the rice according to instructions on its package. try and stick with the reccommended rice as it is sooooo delicious!!! I would never try this dish with any other rice.

Place a pot with 750 -1000 ml water on high fire. When the water is beginning to boil then add the frozen edamame and cook for 5-7 min.

Serve all on a plate and the sauce left from cooking the salmon take out on a little ramekin or simply sprinkle all over the fish and the rice and serve.

It is simply .... moreish