This stuffed peppers dish is one of my childhood favorites. Yes, yet another one of those. When my mum or my grandmother were cooking it, the whole house smelled amazing. It could be me but I really adore the cooked peppers smell, whether they're boiled or fried. Oh! Just divine. And these smell just out of this world. That combo of peppers, meat and the herbs, when cooking it, fulfills my heart with joyful memories.
I don't know what else to say but there is such a marriage between the peppers and the meat mixture that it's unbelievable.
I know loads of my dear friends will ❤️ to see this recipe posted here black on white, as they have enjoyed eating these peppers a few times at my dinners before and they loved them.
I make this recipe quite often because it is delicious, quick and very easy to make and, of course, it is healthy too. Superb stuffed stuff I would say? !
The recipe might seem complicated (an extensive wall of text), but that's me making it a little more complicated than it actually is. ?
Just kidding, of course. I only want to make sure the recipe is easy to follow and clear, and I really hope I have managed to deliver that. Give me a shout if I didn't.
So here it is this yummy stuffed peppers and stuffed tomatoes recipe, folks! ? ?
Bon appetit!
Ingredients
400

g

mince beef

(5-10% fat)

200

g

mince turkey

(or lean pork)

8

red peppers

(whole)

4-6

beef tomatoes

70

g

rice

2

onions

(finely chopped)

2

carrots

(grated)

2

stalks

celery

(grated)

1

courgette

(grated)

2

tsp

salt

1/4

tsp

pepper

(freshly ground)

1

bunch

parsley

(fresh)

10

springs

dill

(fresh)

2

cans

tomatoes

(chopped)

2

leaves

bay

1-2

springs

thyme

(fresh or dry)
Instructions
Wash the veggies including the tomatoes, the peppers and the fresh herbs.

Set a deeper frying pan on medium heat, add the finely chopped onion with a 100 ml water. Cook for 5 min with 1/2 tsp salt.

Add the grated carrot, courgette and parsnip along with 1/2 the dry or fresh thyme. If you use the fresh one chop very finely. Cook all covered for 5 min.

Add the rice and cook for a further 3 min.

Add the chopped tomato can mix all very well and cook for another 2-3 minutes.

Turn the heat off and set aside. This mixture has to be cool when combined with the meat so prepare slightly in advance.

Meanwhile prepare the peppers by either cutting the tops about 3/4 cm (7-8 mm) or just remove the core by carefully pressing down around the woody/green bit and pulling it out. This can be more difficult if you haven't done it before. This is how my mum is doing it and this is how I've always done it but only recently I have tried with cutting its top and keep as cover, it is easier and a lot quicker I have to say. Do the same with the tomatoes and scoop the inside flesh with a help of a spoon. I chop the tomato flesh and use in the sauce. I will mention this later when needed to be used exactly.

Finely chop the herbs. Keep aside 2-3 springs of parsley, 1 of thyme, the bay leaves and 1-2 springs of dill.

In a larger bowl place the mince meats. Freshly grind some pepper (be generous), add 1 tsp salt, the chopped herbs and the vegetable mixture when it is totally cooled. If you add it hot, it spoils the meat.

With the help of a nice wooden spoon/fork or your hand, give the meat and veggies a good old mix until all meat lumps dispersed and totally disappeared into the veg mixture.

Fill the peppers with the mixture and place them in the cooking dish by adding their tops once filled. Put their hats on. 🙂 arrange/ squeeze them all nicely at the bottom of the pot and if needed go for staking them up on a second layer. Put both peppers and tomatoes together. For the oven cooking I use a nice big cast iron casserole dish, a 6l so it all fits in well. I nowadays use a 6l stainless steel pressure cooker which is absolutely brilliant. It cuts the cooking time to a quarter of the oven. I ❤️ it!

In a larger bowl, put the other chopped tomatoes tin, herbs, bay leaves 1 tsp salt pepper and another can of water. Mix and pour over the stuffed peppers.

Cook it for a 30 minute duration (programmed in the pressure cooker settings) or for about 2.5 hrs in the oven.

Serve hot with a nice dollop of crème fraiche and a few spoons of the juice from the cooking.
Notes
If you have noticed I mentioned earlier that cooking time differs from 20 min to 2.5 hrs. Oh, well.... yes, depending on how and where you will be cooking those.
40 mins will be if you have one of those magic pressure cookers that I do happen to have and, 2.5 hrs if you choose the oven.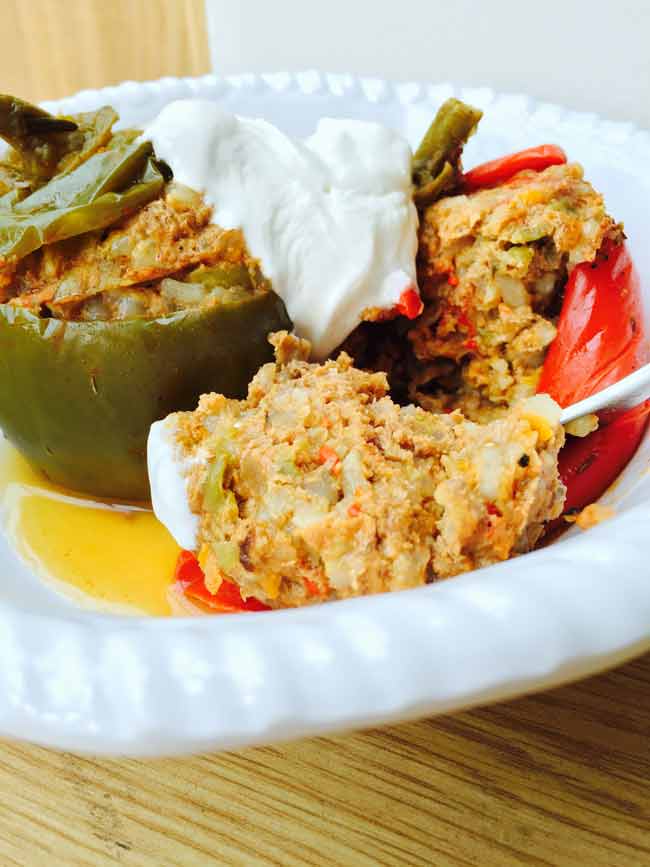 The taste.... absolutely and divinely the same so I chose the first option lately.
Used to use the oven but no point overcooking them just to keep the traditional. There are gadgets nowadays to use and save consuming unnecessary electricity. I'm sure you'd agree with me on this one. ?
Salt and pepper is subjective. This amount will do for me but you might find it insufficiently salty, so feel free to add more, to your taste. There is a fair amount of meat, veg and rice, so feel free to add more salt. You can always add later than making it too salty.
Nutrition
Calories:
388
kcal
|
Carbohydrates:
35
g
|
Protein:
23
g
|
Fat:
17
g
|
Saturated Fat:
6
g
|
Cholesterol:
72
mg
|
Sodium:
896
mg
|
Potassium:
1439
mg
|
Fiber:
8
g
|
Sugar:
16
g
|
Vitamin A:
11350
IU
|
Vitamin C:
258.3
mg
|
Calcium:
101
mg
|
Iron:
4.2
mg