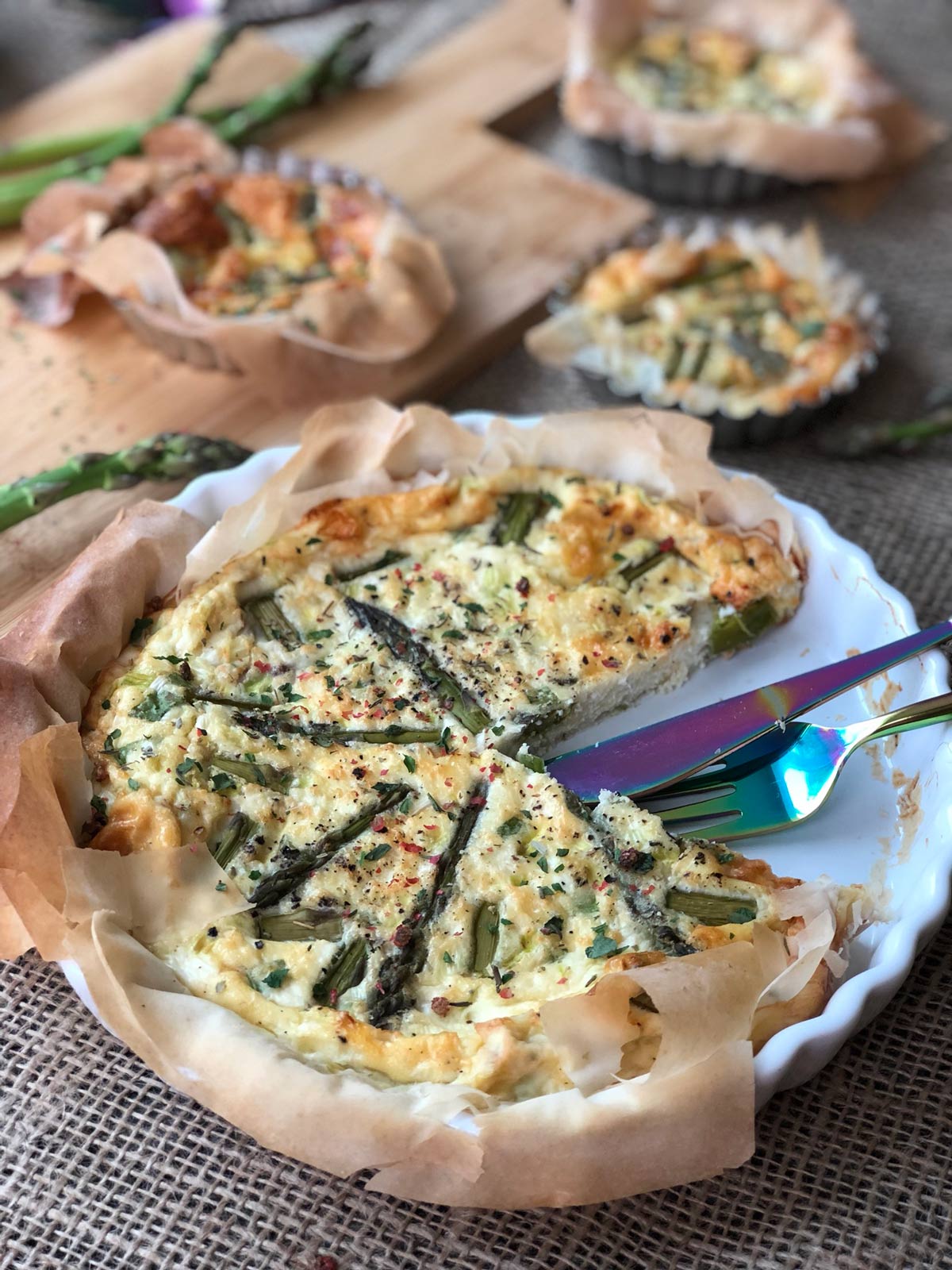 Isn't it this asparagus quiche one of the easiest meals ever to make? Well, I think it is and if you didn't think so I believe it's time for you to rethink it, give it a go and see what I'm talking about.
Asparagus is currently in full season and splendour so, let's eat as much asparagus as possible. Here in England, its season is relatively short-lived starting around the end of April ending around late in June so it is fairly short, thus really need to enjoy while it lasts, after all, it tastes better and a lot sweeter when eaten in season.
Asparagus is such an amazing veggie, for me ticks all the boxes and I can declare it easily as being my favourite spring vegetable. Immediately after making this declaration I have to make a confession too, we love egg bakes to the point of addiction
or if not quite there yet, definitely on the edge of becoming egg addicts
Anything with eggs and loads of eggs will do. Well, to my defence .... eggs are good for us, right?
I have to say I've never dared or even thought of adding halloumi cheese in a quiche before till not so long ago when I thought of trying it and guess what, it came out so nice. A treat.
My most critic judges have passed it raising quite a few thumbs up, the max number they could have raised, four smaller and two bigger which was very pleasing to see.
We do eat a lot of egg and I also make these cute quiches type cupcake omelette or these baked broccoli and cheese omelettes for breakfast quite often especially at the weekends when and if we have a little more time in hand, whenever that happens but truthfully, the only time you need to make this quiche is quite a short one to prepare as the rest it is the oven that does all the work.
I often prepare the ingredients the evening before and make the quiche in the morning- the truth is....I go to work a happy person, I can tell you that to the extent of being asked what I am on and my answer is short and easy .... EGGS!
The addition of sesame seeds is such a great one here and that was an instantaneous decision - very happy with that. It gives it that 'Je-ne-sais-quoi' but now you know what it is.
Yes, occasionally I use a pastry crust but most of the times I try and cut some calories that I find they come as an unnecessary addition to my diet so it really depends on the occasion and how we feel at that time whenever we fancy a quiche, whether has a proper crust, a little filo like this or no crust and no filo at all. Whatever the ....weather and how the wind blows haha.
Have you seen the crust-in delicious quiche recipe? That is soo yummy and slightly different, check it out.
Can this asparagus quiche be made ahead?
Oh, absolutely! You will need to bake it, allow it to cool well and refrigerate. It will be made a couple of days ahead as this makes a beautiful snack, take away lunch and can be served both hot or cold.
Can I freeze this quiche?
It freezes very well but make sure you thaw it in the freezer overnight or bake at 180C/350F for 20 minutes from frozen.
Cook's Tips
* The salt amount added should be very small since the Halloumi cheese is already salty and provides almost all needed salt. A salty quiche is not nice.
*  I really like the oregano addition and the nutmeg but the nutmeg should not be more than a pinch. It has a strong flavour and will overpower.
Variations or alternatives
You don't like asparagus? Not an issue, you can replace it with broccoli or broccolini florets, spinach, Swiss chard, spring greens, cherry tomatoes, peppers or any veggies you may like.
Other alternatives in the event that you do not want it a vegetarian option are by adding chorizo, bacon, sausages, lardons, gammon, smoked salmon but also you can add any cheese you may like - I particularly like it with gruyere (the pinnacle of any traditional Swiss cheeses or a few crumbs of Stilton which for me is the queen of English cheeses- it is wow!
The weirdest ingredient I have ever added to a quiche is....have a guess...... walnuts!  Pure deliciousness! Dare and try!
Let's get cooking this yummy asparagus quiche with halloumi cheese in filo base now which I am sure it is a recipe you will fall in love with instantaneously.
Oh Yesss!
Halloumi and asparagus quiche in filo base
Try this ultimate asparagus quiche, a seasonal and so delicious expression of spring, with halloumi cheese in a light filo base
Print
Pin
Rate
Equipment
ovenproof dish

Whisker

Large glass bowl

chopping board

knife
Ingredients
5

eggs

4

eggwhites

120

g

Halloumi cheese grated

100

ml

creme fraiche or single cream

8

stems

asparagus stems

3

spring onions

scallions

1

pinch

salt

1

tbsp

sesame seeds

1

pinch

freshly grated nutmeg

1

pinch

freshly ground black pepper or red chilli flakes

3-4

sheets

filo pastry

1

tbsp

knob butter for greasing

or 1 tbsp oil

1/2

tsp

dry oregano
Instructions
Preheat the oven at 200°C/400°F and prepare an approximately 10inch (24cm)baking dish.

Into a larger bowl, break the eggs, add the egg whites as well as the creme fraiche or the single cream. Whisk vigorously for 1 min.

It's time to season this well by adding some salt* pepper, sesame seeds, the dry oregano and the nutmeg and the grated Halloumi. Give it a further whisk.

Throw in the finely chopped spring onions and the chopped asparagus leaving the tops to place on top for a nice final aspect. Asparagus tops look so nice, don't they?

Place the filo sheets on the slightly oiled or buttered oven dish.

Pour the mixture into the dish and bake for an initial 15min at 200°C or 400°F and after reduce to 180°C or 350°F and bake for another 30 min or until the mid quiche feels firm to push.

Take it out of the oven and allow it to cool for 10-15 min before serving it. The cooler it is the better it cuts.
Notes
Thank you so much for stopping by!
Nutrition
Calories:
445
kcal
|
Carbohydrates:
12
g
|
Protein:
23
g
|
Fat:
34
g
|
Saturated Fat:
16
g
|
Cholesterol:
815
mg
|
Sodium:
653
mg
|
Potassium:
308
mg
|
Fiber:
1
g
|
Sugar:
2
g
|
Vitamin A:
1151
IU
|
Vitamin C:
2
mg
|
Calcium:
405
mg
|
Iron:
4
mg
SaveSave
SaveSave
SaveSave
SaveSave
SaveSave
SaveSave