Just like many people do feel, I do feel a lot more mentally relaxed at weekends and this can bring along a good level of creativeness with it; this is how this quail eggs, mushrooms and bacon as well as many of my very original recipes and ideas are originating and getting created. Yes, I am being very modest here...
I truly love ❤️, love ❤️ love weekends and I always look forward to reaching the end of Fridays. This could perhaps be the reason why I always feel like time just flies ... with that constant wait for Friday every week.?
Despite being pretty busy most weekends, they still are my mental battery chargers and the only one thing that would top my weekends is, of course, holidays, which I always look forward to having, as many as possible (20+/year if possible)
I woke up a Saturday a few weeks back and I thought, let me just come up with something nice. A nice, easy breakfast that will taste and look a real treat. That spontaneous sparkle of creativity delivered this. And, this is how this recipe was born.
It contains these adorable cute quail eggs and I find those really fun to cook with. Apart from their cuteness, they are apparently really healthy and good for us too!!
Are Quail Eggs Good For Us?
I was mentioning about the quail eggs how good those are for us. Apparently those help with improving metabolism due to higher B vitamin levels as well as vision due to high levels of Vit A, they boost energy levels, stimulate growth and repair because of antioxidant content, reduce blood pressure because they are high in potassium (much higher than chick eggs); help with reducing allergies, help with increasing the good cholesterol levels. How amazing are those cute little eggs, hey? I was quite surprised to hear that they actually contain more protein than the regular chicken egg.
Starting my day with a nice breakfast makes me happy and it gives me that positive energy that I need for the day to keep me going especially during the week, so a breakfast like this would definitely cheer me up.
This dish's pretty easy to make even during the week and not only at the weekends.  A good idea to perhaps help and make it even easier would be to even prepare the ingredients the night before, like cooking them and in the morning just add the eggs and put it in the oven for a few minutes just for the eggs to cook.
A dish like this is pretty consistent and healthy to have at any point in the day as I truly believe this can be served as breakfast lunch or dinner. Why not and who says we couldn't?
How To Prepare Quail Eggs?
There is no difference in how you would prepare quail eggs to regular eggs. The only difference is the time. These cook in literally no time. 
Boiling time varies from literally 1 minute for soft - literally put them in water and take out one minute after the water starts to boil. Drop them in water with ice and allow them to cool. Peel them and serve. 2.5 min for medium and 4 min for hard-boiled.
Pan-fried or baked in the oven are also delicious options.
Peeling these quail eggs can be a fiddly business ( especially if you want them soft boiled) haha, I get you but a little patience will deliver great results. No doubt!
Variations and Serving Suggestions: 
*** Or serve this warm with a nice red cabbage and carrot salad or a cucumber, broccoli and radish sprouts salad.
In terms of mozzarella cheese try and use the hard one that normally is found grated or in big chunks but you can use any hard cheese that you may like. Ultimately, any cheese will do including the soft mozzarella.
I do sometimes add peppers as those give a really nice taste. Add whatever veg you like - add celery, add spinach, or any other green leaves such a kale or winter greens.
Enjoy this divine dish which could be your breakfast, lunch or a lighter dinner. ?
Quail eggs, mushrooms and bacon breakfast
A protein-packed breakfast consisting of quail eggs, bacon mushrooms and sausages baked in the oven in no time. Absolutely delicious!
Print
Pin
Rate
Ingredients
2

red onions

3

spring

onions / scallions

300

g

chestnut mushrooms/cremini mushrooms(10.58 oz)

400

g

sausages (14.11 oz)

200

g

lardons ( 7.05 oz)

or Nitrate free bacon

8

quail eggs

10

sprigs

parsley

100

g

mozzarella cheese (3.53 oz)

(soft or hard)

1

pinch

salt

(to taste)

1

pinch

black pepper

(to taste)

thyme

300

g

polenta (optional)

leftover ( cut into cubes)
Instructions
Pre-heat the oven at 180 C. Make the skillet available/ready.

Start by chopping the onions the mushrooms and cutting the sausages into small chunks.

Place the onions into a frying pan along with the chopped mushrooms, the lardons and the fresh sausages. Cook for 5 minutes and then add the spring onions. Cook on medium fire for further 3-4 min. Turn heat off and set aside. I did not think this dish needs any oil as the sausages and the lardons will release more than sufficient. Add the polenta cubes now if you choose to add these.

Chop the parsley and cut or grate the mozzarella cheese.

Place everything in the skillet.

Sprinkle the parsley, the cubed/grated cheese salt and pepper to taste along with a little fresh or dry thyme.

Break the quail eggs and place them one by one scattered around on top.

Place in the preheated oven and bake for 5 -7 minutes, longer if you are using regular size eggs.

Take out when ready and serve pretty much straight away. ***
Notes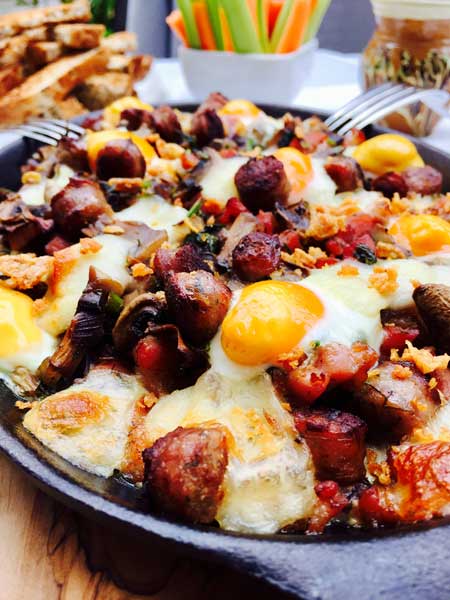 Nutrition
Calories:
896
kcal
|
Carbohydrates:
9
g
|
Protein:
26
g
|
Fat:
84
g
|
Saturated Fat:
32
g
|
Cholesterol:
291
mg
|
Sodium:
901
mg
|
Potassium:
721
mg
|
Fiber:
1
g
|
Sugar:
4
g
|
Vitamin A:
552
IU
|
Vitamin C:
8
mg
|
Calcium:
176
mg
|
Iron:
2
mg