Are you looking forward to feast on the flavors of the holiday seasons as soon as the first autumn leaf falls? Think about sumptuous breakfast and brunch, hearty salads and soups, warm casseroles and pasta, and not to mention that mouth-watering desserts to satisfy your cravings for sweets. No matter what time and day of the week, these 25 Most Desired Recipes to Cook or Bake This December - Something for Everyone to try and will leave you, your family, and friends wanting for more.
#1 – Curried Brussels Sprouts With Chicken And Cavolo Nero
Everybody's all time favorite, chicken, mixed with an explosion flavors. Here you have a colorful, nutritious and yummy before, during, and post holiday dish for everyone to enjoy. You can even mix in your favorite meat or vegetables. But as it is, this is a must-have recipe.
#2 - Roast Pork in a Bath of Beer and a Bed of Mixed Onions
Beer on pork, anyone? Melts-in-your-mouth pork roast is a staple dish during autumn festivities that is so easy to prepare yet oozes with flavors brought about by hours of slow cooking. Check the recipe and enjoy a game or two with family while the pot is roasting.
#3 - Shakshura, Egg Breakfast with a Twist
We want you to transform and enjoy your already satisfying breakfast into an extraordinary experience! Prepare freshly toasted bread on the side of this Mediterranean dish of eggs in tomato sauce and a little dash and pinch of not-so-secret ingredients-a tinge of sweetness from Indonesian soy sauce, teriyaki sauce and a hint of spiciness of Sriracha…your lunch or dinner is complete. Here's how!
#4 - Banana, Dates and Rum Loaf
A savory brunch or snack and loaded with fiber and energy may just as well be the kids favorite in your home. Enjoy a hint of banana and rum with loads of dates in a slice. You can have a complete meal already with just a slice (or two, let's be honest) with bacon and eggs with homemade jam or yoghurt on top. Try this rummy and nutty loaf.
#5 - Apple and Cranberry Super Breakfast (A weekend breakfast must-have!)
An aroma of healthy and appetizing breakfast on a weekend will make you want to leave the bed immediately. Welcome the day with a slice of this apple and cranberry pie and yogurt on top with a cup of freshly brewed coffee or a glass of warm milk and you have a satisfying breakfast already (but don't be surprised if someone asks for it as a regular weekend treat).Share the recipe.
#6 - Pasta Shells Filled with Spinach and Ricotta Cheese
Go vegetarian while still enjoying a taste of an all-time favorite Italian pasta. Healthy comfort dish on a cool, brisk, and breezy day guaranteed with golden brown melted cheese on top and spinach and ricotta cheese inside pasta shells. See why this recipe is definitely not going to be exclusive for autumn.
#7 - Truffle, Mushroom, Rice And Mountain Lentil Pilaf
Mushroom, truffle, lentils, and rice- makes a lunch or dinner oh so nice! Your choice of steaks-lamb or beef-, roasted chicken, or pork dish is now complete with this side dish. Without any meat, any vegetarian can simply add pickles and enjoy the meal. Try this versatile dish now.
#8 - Best Ever Quail Eggs, Potato and Mushrooms Brunch
Easter in winter? Kids at home will love this vitamin and nutrients laden food at brunch. The best thing about this recipe is you can prepare it ahead of time. Another non-meat dish for Christmas awaits your dinner table. Click here for the recipe.
#9 - Delicious and Super Healthy Lamb Curry
Add this hearty dish of Lamb in a heap of healthy herb and spices without oil or frying. Cook this authentic appealing color, aromatic, and flavorful traditional Asian dish for on a chilly winter night. Look for the recipe here.
#10 - Chunky Beef Frankfurters, Vegetables, and Kalamata Olives Linguini
Frankfurters without a bun? Pasta, vegetables, and your favorite beef frankfurters combined in one dish is a new treat for your palate. Prepare this energy-packed goodness for lunch or dinner to keep everyone energetic. Not even the picky eater can resist to get this recipe and to tuck in.
#11 - Delicious Duck on Soba Buckwheat Noodles
What's up duck? Nothing but a heavenly fusion of duck, noodles, and spices of Asian cuisine goodness! In less than 45 minutes, we assure you that this flavorful and colorful dish will be a standout on the dinner table. I recommend this dish.
#12 - Potato, Olives and Feta Cheese Salad
You wouldn't let a hard day's work or a busy schedule gets in the way of a healthy green family dinner, would you? Toss these simple ingredients about and voila! Dinner is ready. Here is a winter night dish saver!
#13 - Eat them All Chocolate Chip Cookies
Photo:dishesdelish.com
Chocolate chips cookies, who could resist? Unlike any other cookies, this recipe contains lesser sugar content but still bursting with that chocolate chips goodness. Bake a batch or two to fill up the cookie jars as you see your family devour it in no time. Try it out!
#14 - Superb Salmon Pesto and Asparagus Bake
Omega 3, vitamin K, folate, Vitamins B1, B2, C, and E, and unsaturated fats in one meal? This easy bake recipe of salmon and asparagus in pesto sauce is a healthy and light escape from all the meat dishes on the table. Try it right now.
#15 - Quick 'N' Yummy Apple Strudel
Whether you bake it or eat it freshly picked, there's something about apples that makes you addicted. Apple pie is the most common treat using apples, so try this dish for a change. Add this recipe for your apple desserts.
#16 - Pasta Al Forno – Baked Pasta the Italian Way
Photo:the-pasta-project.com
No table is without a touch of Italian dish on almost all festivities. Bake like the Italians do with this pasta al forno from https://www.the-pasta-project.com which is perfect for Christmas gathering. Children and adults will look forward to sitting in your table if you keep this traditional pasta in "ragu" or meat sauce as an exclusive menu for the holidays.
#17 – Banana, Ginger, and Walnut Cake
Treat your palate with a slice of fruity and nutty cake with a hint of ginger for breakfast, snack, and your afternoon tea. You can adjust how much ingredients you will use for flavoring but this is a definite alternate on eating a banana and walnut on Christmas. Bake this banana sweet treat.
#18 - Perfectly Delectable Pulled Pork
Photo:dishesdelish.com
Delectable and oh so tender and flavorful pulled pork is perfect for bread or rice any time of the day on Christmas time. The savory meat juice mixed with the spices cooked in perfection with a slow cooker will leave you salivating. Find out what to put in the rub before cooking.
#19 - Zebra poundcake or Cake Marble by Christophe Felder
Photo : casseroleetchocolat.fr
Your version of baked to perfection marble cake or zebra pound cake may get close to a masterpiece by Christophe Felder. This is an easy bake chocolate icing delight your sweet tooth can't resist. Here are a few tips in cooking this marvelous dessert.
Surprise everyone with a tender, buttery, spicy, and flavorful ox tongue cooked in a curry for lunch or dinner. This an indulgence which can be served with rice or basmati or flat bread.Be ready to share this recipe once you prepared this dish.
#21 - Pizzoccheri alla Valtellinese
Photo: the-pasta-project.com
A special healthy dish for a special occasion like Christmas. This vegetarian Italian dish uses pizzoccheri pasta, cheese, and potatoes. Yes, potatoes in pasta, makes this unique and not bland as you would think. Try this recipe to find out.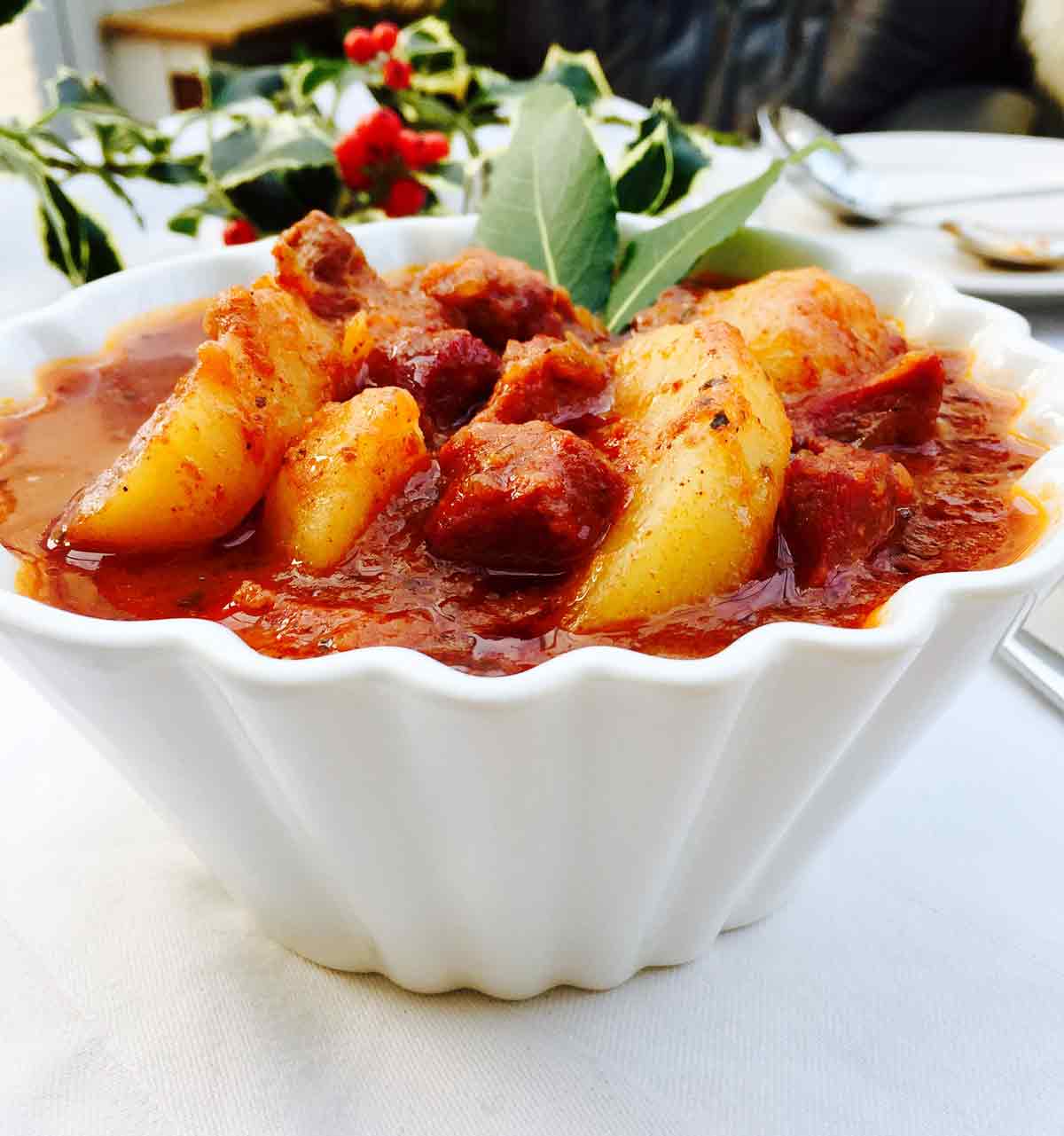 Hungry for a taste of Hungary? We got it covered for you. This Hungarian delicacy, Goulash, is made easy for you to prepare and for your family to instantly love. The subtleness and smoothness of it will just melt into your mouth. If you cannot find an Ox tongue goulash recipe, check the recipe for its alternate ingredients.
#23 - Best Ever Cannellini and Butter Bean Soup
What is a chilly winter night without a warm smooth bean soup? Sprinkle with your favorite herb on top ofthis tempting soup that will satisfy your hunger. Flavorful dinner or midnight snack to warm your belly is easy to prepare. Here's how.
#24 - Apple, Blueberries and Pomegranate Cake
How about a fruity flavor overload breakfast for a change? Apple, Blueberries and Pomegranate Cake is a definite yes for kids and kids at heart. The tanginess, tartness, and sweetness of these fruits combined in a buttery batter mix with fill the air with sweetness one cannot simply resist. Here's the checklist of ingredients.
#25 - Semolina and Ricotta Cheese Soufflé

Light desserts but heavy on goodness! Traditional soufflés never tasted this good. Be versatile as the Ricotta Cheese and whip up this creamy sweetness as your signature dish in from here on. Check out this easy to follow recipe.
Did you enjoy this list of 25 Recipes to Cook or Bake This December? I collected a list of easy, flavorful, and healthy recipes you can prepare for any meal of the day. We would like to hear your thoughts when you do! Please don't forget to give your comments and share this article if you liked it.
Did you make any of these 25 delightful and full of flavour recipes?
Please do let me know how you liked it, did you give any twists by using different ingredients, all in all, how did it turn out for you?  If you liked it why not leave a comment below or even share a picture on Instagram with the hashtag #ramonascuisine. ?
Please do like us on Facebook ?
Thank you so much for stopping by and I do hope you'll check my blog again to see what's new, all amazing cooking ideas and recipes.
Have a wonderful and blessed day!