Are you one of the many who are thinking about the most desired soup recipes to cook on this cold weather? If yes, then you are lucky enough as this article is meant to help you. I have gathered here 13 of my most favourite soup recipes that if you have never made it is time to seriously start thinking that it is about time you gave them a go.
1. Winter Warming Chicken Soup
An absolute staple and a classic recipe for cold winter days this chicken soup will always be an absolute winner. A meal on its own chock-full with seasonal vegetables along side some good old chicken meat and some nice noodles…. mmmm will really give you that comfort hug every time you have it. A perfectly energy booster and super easy to make recipe for a mid-week when coming back from work. Ready in just 40 minutes.
2. Tomato And Polenta Dumplings Soup
Looking for a nice vegan truly delicious soup option? Dip your spoon deep into a bowl of tomato soup with polenta (cornmeal) dumplings. A super healthy bowl packed with juicy vine tomatoes goodness and good nutrients, just what we need in winter period. It is warm, it is nutritious, it is too yummy that you will have so much of it. The polenta makes it extra special and it will help it get more filling. It is a gluten free option too. All the reasons to just think no more and simply go for it.
3. Creamy Fish Soup (The Great Tasting Chowder)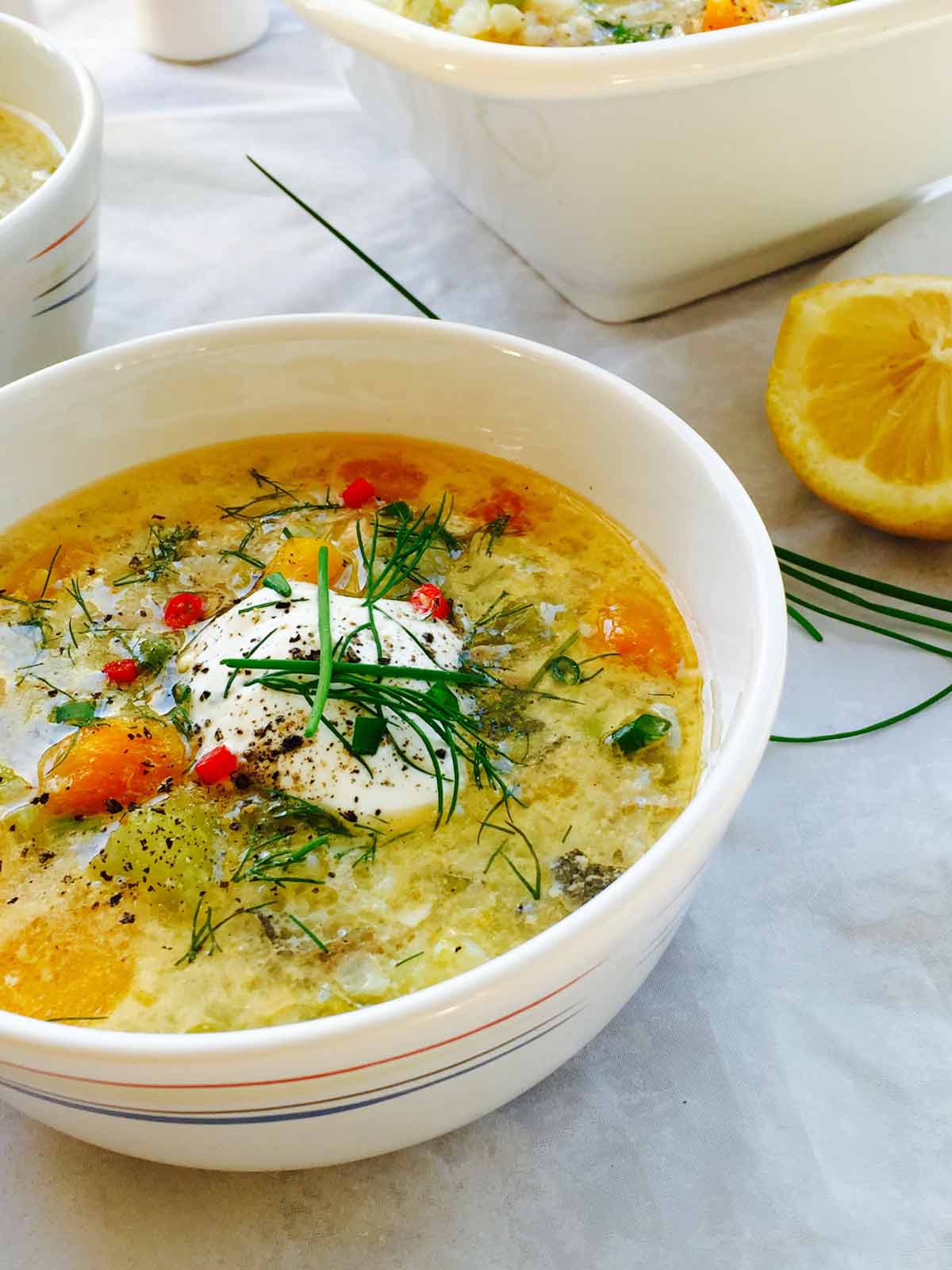 This creamy fish soup recipe is also called the Chowder even though it does not have cream or base milk. A fish soup might not sound immediately like your cup of tea but unless you try it, you will never really know how good this really is. It is so delicious if you ask me that no one should give it a miss. Do you like fish? Then wait no more and give this a try now and you will see exactly what I mean.
4. Ox Tongue Goulash (No Need to Travel to Hungary to Have this!)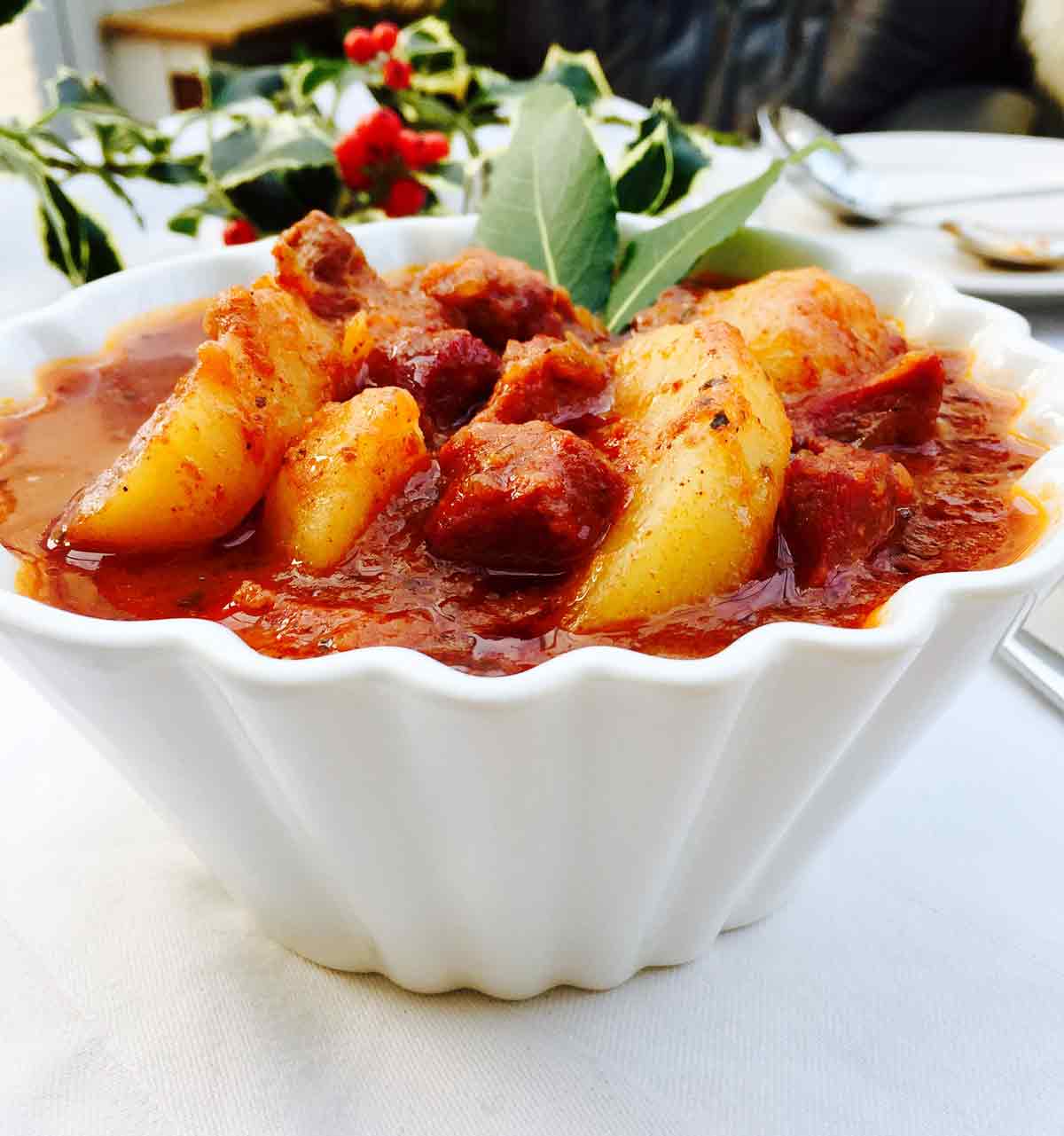 This recipe is one of my favorites and I can say that this is something worth preparing for. You can make it a soupy style or with less juice, I love it more juicy though as I just feel it should never end ;-). If you like Goulash, you do not really need to travel to Hungary any longer. This Hungarian Goulash style soup has come to you right in you kitchen. This recipe is a perfect one for the most delicious Goulash (Ramona's Cuisine style of course) and if you make this, you will definitely know what I mean.
5.Dreamy Roasted Butternut Squash Soup
Photo: inspiredtaste.net
The cold temperatures seem to linger around, so this absolutely beautiful Roasted Butternut Squash Heart-Warming Soup is one of the best soup recipes to cook this winter. Apart from the wonderful experience, this soup will leave behind, it will yield many amazing health benefits too.
6. Best Ever Cannellini & Butter Bean Soup (The Soup You'll Fall in Love With)

I am madly in love with beans so no wonder, this recipe is one of my top, top favorites. Truthfully, I do make this no matter what the weather is like. Whether is cold or hot this soup will be on my table every now and again, a good few times a year. Talking about cold weather now, this is another warming recipe that you can prepare this winter. Even your partner's cuddle might not be enough to give you warmth this winter. Try this cannellini soup to make it just a perfect winter hug.
7. Yellow Lentil Dal ( The Delicious Vegan Soup)
Photo: biancazapatka.com
This is a delicious and super charming vegan recipe that is worth sharing with those looking for the best food to cook this winter season. Having this soup is better than lying under the blanket of your sofa in terms of warming up. A superbly easy and quick to make a hearty soup, ready in as little as 30 minutes meaning that you'll get more time to party ;-). Don't miss the fun this winter and prepare this Yellow Lentil Dal as soon as.
8. Smoky Corn Chowder Recipe (The Easy Yet Delicious Recipe for You)
Photo:sallypasleyvargas.com
By simply preparing ingredients like unsettled butter 2tsbp, one medium and finely chopped onion, 3 stalks finely diced celery, 2 medium potatoes, 5 cups of water, pepper and salt to taste, 8 grilled shrimps and 2 tablespoons of fresh and chopped parsley, you'll have delicious smoky corn chowder, a perfect soup to put on your table this cold winter. Ready in no time.
9. Spicy Butternut Squash & Coconut Soup (Celebrate December the Spicy Way)
Photo:rebelrecipes.com
I cannot recommend this beautiful and super healthy butternut squash and coconut more to you. Can you imagine this beautiful combo? It is to die for and definitely never miss. To me, this recipe which was like a creation to help us celebrate and give us total warmth and hug our souls. The slightly spicy hint makes this soup taste divine. A rich, wholesome, slightly spicy, warming and totally delicious soup. To me, this is another pure perfection that you could never give it a miss.
10. Soured Beef Broth (The Real Comforter and True Hugger)
This beef broth is really such as soul warmer, hugger and comforter. Its slight sour taste make it such a perfect soup for me. Preparation time is 15 minutes and cooking time is 45-55 minutes so for about 1 hour and 10 minutes, you can have this warming and delicious soured beef broth. One of the best things about this recipe is that the vegetables you could use can always change according to what the season offers. What a beautiful and elegant soup this is! Share this with friends and family that you think may love this sublime beef broth.
11. Vegetable Barley Soup (The Ultimate Soup You Can't Resist)
Photo:sallypasleyvargas.com
This is the soup recipe to cook this February that would certainly help you pass time when the snow begins to melt. You can never resist this beautiful warming and super delish soup this time of the year. You can even create variations to make the meal more enjoyable. This can suit both vegetarian and meat so, give it a try without delay.
12. Broccoli and Stilton Cheese Soup (The Soup to Satisfy Your Taste Bud this Holiday Season )

This is yet another great heaty and super tasty soup to cook this winter and if you have never made a broccoli and Stilton soup, it is about time you make this. It is a must have soup at any time. It will not just satisfy your taste buds but will also warm your whole appetite for living. Delay no more and share this with your loved ones.
Photo: rebelrecipes.com
If you are a real foodie and you wanted to be creative in your kitchen this winter, this recipe is perfect for you. A deliciously spiced soup dish highly inspired by African flavors. This soup will surely complete your meal this winter. Ready in just 40 min, you could never go wrong.
So, have you enjoyed this list of most wonderful soup recipes? I really hope you did. There are so many more amazing recipes you can try to cook this February on Ramona's Cuisine but all those beautiful recipes listed above are super-food, super-taste, super-warmers and super-soul-huggers to help us go towards the end the winter season helping to make it a much happier, a colorful a much better way stepping towards my favorite season of all - the lovely and lively SPRING. Yeyyy!  Have a fabulous time cooking those wonderful recipes.
Did you make any of these heavenly tasty soup recipes?
Please do let me know which one(s) did you make, how you liked it/these, and if you gave any a little twist, all in all, how did it turn out for you, why not leave a comment below and even share a picture of your creation on Instagram with the hashtag #ramonascuisine.
Follow me on facebook.com/ramonascuisine/