This creamy fish soup or chowder if you wish is a dish that I ate a lot as a child with the only difference that my mum wasn't cooking salmon but fish that was available at the time occasionally from the Black Sea and the Danube Delta. Really beautiful fish like sea bass or even fish from the sturgeon family (very posh, I know).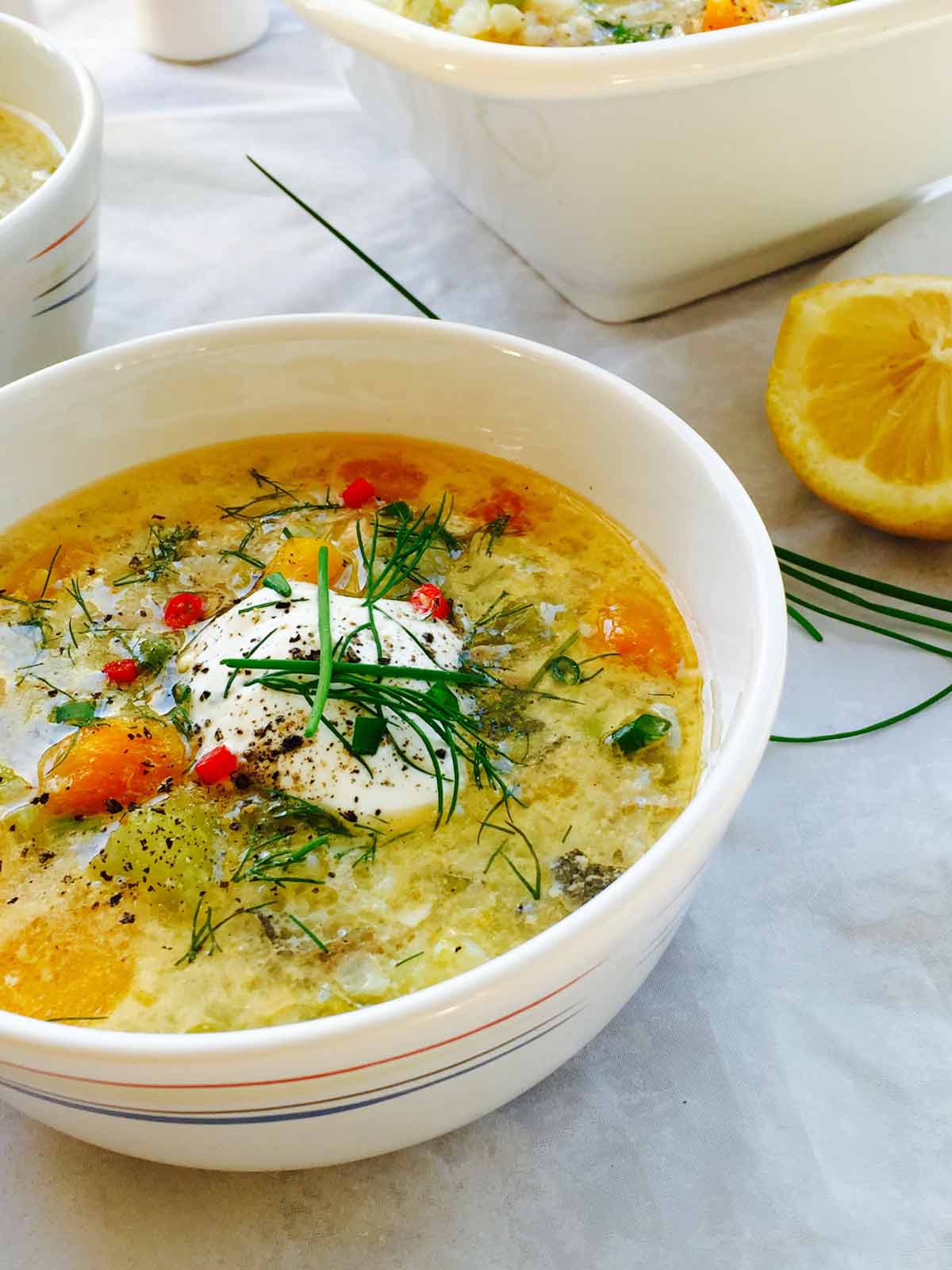 Why creamy fish soup?
I don't really know, it is just a beautiful creamy fish soup that I grew up with. I cannot say I liked it instantaneously but it definitely grew on me as I got older and now I can see the pattern repeats itself with my kids.
What is fish chowder?
This could also be called a chowder although it does not have the cream and milk base so I will call it a fish soup since it is simple and the cream gets added to it.
It is in fact the name that I know and grew up with (in my language there is no name for the chowder dish, but feel totally free to call it a chowder if you wish, I promise to not get upset).?
Fish soup is not often one's 'cup of tea', but you will only have to give this one a try... It can and will become one of your favourite fish soups that you'll be willing to make again and again and I definitely should be making this more often myself. ?
Every so often ( about a couple of times a week) I miss fish, so I get the urge to prepare a quick fish dish and the solution sometimes comes by preparing this delicious soup that oozes with flavours, healthiness, creaminess and pure goodness. Yummy! ??
I usually do use salmon for my soups but it is not always the case. You can definitely use any fish you like and are comfortable with using. Although salmon is an oily fish, I would not recommend using any super, super oily fish. It is very nice to actually mix several types of fish- it will end up being a totally and utterly delicious delicacy.
Why do I usually use salmon? ... well, because I really like salmon - it is the texture in a fish that really does it for me- it holds together quite well. It is a lot firmer than other types of fish when it gets cooked to perfection - not when overcooked surely. All depending on the fish type and size, the cooking times will change slightly, but only just slightly. Another very good reason I do go for salmon it's because it is pretty easy to get the bones out. I use a tweezer which makes it so easy.
What fish or seafood to use when making a creamy fish soup?
Firstly, I would recommend using fleshy fish that has little amount of bones, you can make the stock from bonny fish but frankly, I always use homemade vegetable stock as I do not like the soup to be too fishy.
If you want to make a stunning creamy seafood chowder as that perfect comfort chilly night food dish, pack it with a medley of fish like haddock, mussels, scallops and prawns. It will be a dream come true.
How to make your own vegetable stock?
I do feel a real urge to say something about a good homemade vegetable stock. It will always come in so handy.
Many of us buy a ready-made one from the grocery store or add stock cubes. Not quite sure why, but I guess most likely this happens because we can't really be bothered making our own. This is obviously convenient and okay sometimes to cut corners but seriously think of changing this whenever possible and give it a go making your own stock at home. It is dead-easy and can be made in advance, refrigerated or even frozen. It really is worth a try. Promise you will try?
Other ways to make a fish soup
I sometimes make a tomato base fish soup and add a handful or two of rice in. Other times I add a couple of potatoes or pasta which makes it an amazing yummy soup indeed. So yummy and to be honest it's the version that goes the best with the kiddos. So potato alternated with pasta or rice it's a fabulous idea, it goes really well with this soup and kids love it.
I will have to say that I did eat well as a kid, my parents always made sure I and my twin bro did, but isn't this is one important aspect of what good parenting, is, isn't it?
Tips:
Crème fraîche or a full fat yoghurt (at least 10%) are the best to use (rather than double creme/ heavy cream which is a sweeter version). The soup will be naturally sweet (due to all the vegetables used), so crème fraîche will give it that little sour 'kick'.
Whatever you do, don't use low-fat yoghurts as everything will turn into a curdled disaster.
If you want to keep it dairy-free, you can simply use coconut milk; if you want to make it more exotic, use some Key lime instead of lemon. If you wish to replace the creme fraiche with coconut milk, you will need to cook this so please make sure you add this at the point of putting the fish in.
If you are using salmon, please do remember to remove all the fat trimmings (especially the edges on the belly side) as the soup will be way too oily otherwise. No bad oils, I know, but not a pleasant dish to enjoy if it is excessively oily.
Other fish recipes that you may like:
If you are a fish lover or trying and get more fish into your diet, here are some more fish recipes that you may want to try:
Okay, let's just get cooking now and here's the recipe.
Creamy fish soup (chowder)
There is nothing to compare with a nice creamy fish soup or chowder, packed with goodness like vitamins and omega oils. Delicious!
Print
Pin
Rate
Equipment
pot

wooden spoon

chopping board

knife

bone tweezer
Ingredients
4

salmon filets

medium sized (aprox. 100-120 g each)

1.5

l

fish stock

(or vegetable stock)

1

medium

parsnip

1

medium

carrot

2

celery

stalks

1

large

onion

1

red pepper

1/2

courgette

3-4

potatoes

12

cherry tomatoes

2

cloves

garlic

(finely chopped)

1

tsp

salt

1/3

tsp

turmeric powder

1/4

tsp

pepper

(freshy ground)

1/2

lemon juice

(to garnish)

4-5

sprigs

dill

(for garnishing)

4

tbsp

creme fraiche

(or creamy yogurt) to serve

100

g

rice

optional
Instructions
Wash, peel and chop/cut all vegetables. I usually cut it all in nice little cubes. Keep the potatoes and the tomatoes aside but the rest of the veggies you could just chop and mix together as they are getting chopped - they will all go in together at once.

Place a pot over medium heat. Add the stock with all the finely or roughly chopped vegetables (onion, carrot, parsnip, courgette, red pepper and celery). Add some salt and tiny pepper (one grind or two). How you cut/chop the vegetables, again, it really depends on how you like them in your spoon later when serving the soup. Cook, covered for 10-12 min from boiling point.

When the 10-12 min of boiling has finished, add the fish fillets, the cherry tomatoes (cut into halves) the potatoes (cut into approx 1 cm) or the rice if you decide to put in rice instead of potatoes. Add the turmeric powder too. Cook for a further 15 min.

When finished cooking, add the finely chopped garlic and turn the heat off. Cover and allow to rest for a few minutes.

Just before serving (while still pipping hot) add the creme fraiche and the dill. Taste for salt and add some more if you feel it is needed. Crush some more pepper if you wish.

When serving add some lemon/lime juice and some chilli if you wish to spice it up a little. Go for it! Deliciosso!!
Notes
Enjoy it - it is purely delish!!
Nutrition
Calories:
614
kcal
|
Carbohydrates:
59
g
|
Protein:
49
g
|
Fat:
19
g
|
Saturated Fat:
5
g
|
Cholesterol:
114
mg
|
Sodium:
1897
mg
|
Potassium:
2342
mg
|
Fiber:
8
g
|
Sugar:
7
g
|
Vitamin A:
4160
IU
|
Vitamin C:
85.2
mg
|
Calcium:
237
mg
|
Iron:
8.6
mg