A dear friend of mine mentioned this egg chicken roll to me some time ago and I really had to make it. Egg chicken roll is a super popular Indian street food apparently that is served especially on Calcutta's streets. To me, it instantaneously did sound like a recipe I wanted to make and try as soon as possible. It is one of those homemade chicken recipes that you would want to have over and over again and not feel guilty at all feel no guilt about.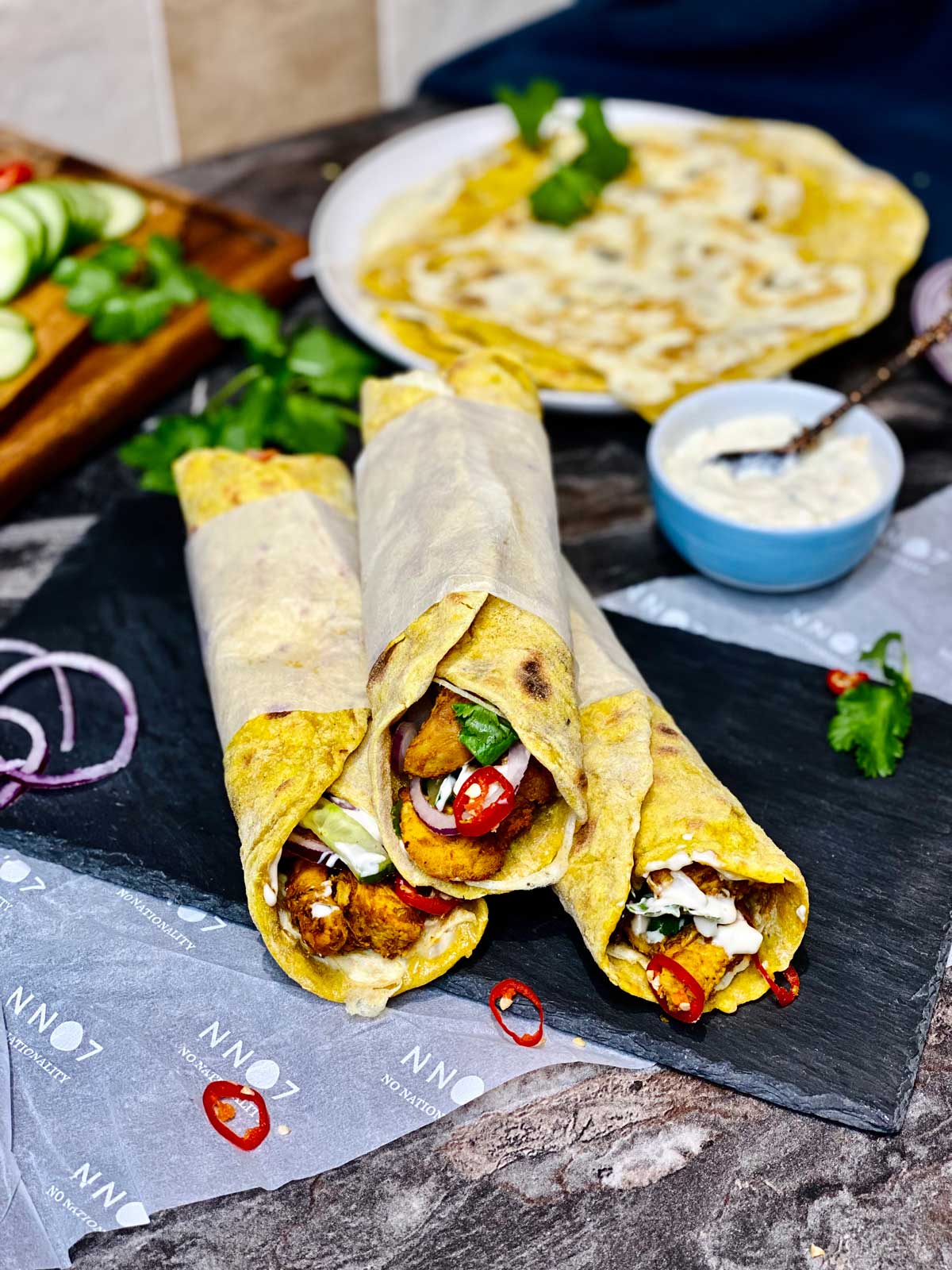 I went out to search for it so I found these served in Camden. We all loved it. Absolutely great for a day out when 30K steps were completed but way too oily for my taste and liking.
I enjoyed it and I wanted to replicate it in my kitchen. At the same time, I wanted to give it a healthier touch so I can enjoy it whenever I want.
What is special about this recipe?
It is one of those recipes that is super easy to put together. It is healthy, delicious, and packed with goodness, especially this homemade version. Made from scratch with well-known ingredients.
Is definitely a great recipe that you can make any time of the day, it makes the perfect brunch, lunch, or dinner. Needless to say, it would make a fantastic work lunch or picnic.
It is packed with healthy protein and vegetables, a very important daily diet, while also tasting super delicious!
It has plenty of room for customization - make it your own and never the same by simply changing the spices but also the protein type.
Ingredients
To make the chicken you will need a few ingredients like spices, and chicken (cut into strips, marinated, and cooked). Homemade parathas or store-bought.
To prepare the chicken:
boneless chicken - chicken breast and thighs are the best options for this recipe
cumin powder
ginger - fresh - freshly grated (paste can also be used)
garlic - fresh - chopped and made into a paste (garlic powder or garlic paste is also an option
coriander powder
turmeric - fresh - freshly grated or powder
chicken garam masala
curry powder
lemon juice and zest
yogurt
salt and pepper to taste
red chili and herbs
cardamom - optional but I love the addition of flavors
fresh red Thai chili to sprinkle when serving (optional)
How to make Egg Chicken Roll?
There are a few ways egg chicken roll or chicken Kathi roll can be prepared.
The stuffing, the flavors, and the spice choice and pairing will make all the difference. If prepared ahead of time it becomes a super quick recipe. It is so delicious that a chicken roll is never enough to satisfy one's craving and starving soul!
This recipe, if made ahead, can make the perfect takeaway lunch for work, a nice picnic choice, or an utter party smasher.
The great news is that you can effortlessly prepare this Egg Chicken Roll or Chicken Kathi Roll Street Style at home with just a little preparation.
It involves 3 steps:
Firstly, the spelt flour and turmeric flatbread or paratha (maida paratha) need to be prepared, cooked, and lined with egg in a cast-iron skillet or griddle pan.
Secondly, the chicken needs preparing and then the stuffing task
Finally, here comes the assembling of your chicken rolls. For this, some thinly sliced cucumber, red onion, Thai red chilies, and chopped cilantro/coriander.
You may want to slather quite a bit of the sauce of your own choice (see recipe notes for recommendations) on your paratha. Add a layer of salad and the sauteed boneless chicken pieces.
Wrap it and fold it with some waxed paper (if preferred) and serve whilst hot as these taste best when served as hot as possible.
There is a little preparation involved but well worth it.
1) Make the paratha
If I make my own parathas (well worth the effort and the little extra time) I always start with making those first.
For this you will need:
flour - I have used equal amounts of spelt flour and wholemeal - you may use all-purpose flour if you do not have any other types
turmeric powder
salt and pepper - yes pepper for extra flavor
water - amount can really vary depending on whether you want a denser flatbread or a smoother batter to make a crepe-like paratha
Mix all ingredients, make the dough, split it into equal amounts and make dough balls.
Set aside and allow to rest whilst you prepare other ingredients and/or steps.
Flatten them later when ready to cook into a cast iron or any non-stick pan
2) Prepare and cook the chicken:
This involves two stages:
marinating the chicken - for anything between 20 minutes to overnight
cook the marinated chicken breast and chicken thighs cut into strips.
3) Prepare the vegetables and the salad for filling the egg chicken roll
chop, and cut into strips some salad like an iceberg, fresh herbs, and some veg (cucumber, tomatoes, or carrot) if desired.
4) Adding the egg to the paratha:
Lining the paratha with egg requires:
breaking the eggs into a bowl,
beating them, add little into a pan with a small ladle and
placing the already-cooked paratha over the egg. Cook for 2 minutes.
5) Assembling the chicken roll:
Take one egg-lined paratha flatbread or crepe, egg side up, and spread 1-2 teaspoons of tomato and chili sauce. Even more, if you like to do so. 
Drizzle or spoon some of your favorite sauce, the salad ingredients, or vegetables, place approximately 4-5 chicken pieces on each paratha, drizzle more sauce/sauces if you wish and wrap them. Finally, fold a strip of waxed paper on egg chicken rolls to make these secure.
Substitutions:
grated cheese
use different sauces like mayonnaise, sriracha, sweet chili sauce, green, sour cream, yogurt, or a mix of these as you wish.
use various vegetables or salads to stuff the roll such as iceberg salad, any salad you may like, sprouts, grated carrot, cucumbers, tomato slices, and spinach (cooked or raw).
Other names for Egg chicken roll
Chicken Kathi Roll
Kolkata Style Chicken Roll
Chicken Frankie
Cook's Tips
extra chilies and a few fresh curry leaves - chopped and added to the egg for extra heat and flavor optional but recommended if you like that green chili kick and the curry leaves unique flavor. I am a huge fan of both. 
water for the parathas should be cold if you want those crispier. Add oil, full-fat milk, or yogurt if you want the parathas to be moist. 
the chicken - the longer you will marinade, the better the flavors infuse delivering a really nicely flavored chicken. 
to cook the chicken - use a large bottom pan so the chicken doesn't stew but has enough room for the juices to evaporate fairly quickly.
to make the assembling process a swifter one, you may wish to mix the salad ingredients in a bowl (salad, cucumber, red onion, and fresh herbs) so all you need to do is grab a generous pinch of that in one go, so serving these rolls hot will be achieved. 
the lemon - wash it and zest it first and then cut it into two halves. Use half for the marinade and the other half to have it ready at the end for a quick squeeze over the salad before rolling the chicken rolls. 
FAQs
Can I replace the paratha in this Chicken Kathi Roll?

Absolutely, the paratha can be replaced with any flatbread whether that's homemade or store-bought, tortilla, thicker pancakes, or even with a pita bread pocket if you like.

Yes, it will alter the taste but if you are in a hurry just go for whatever you like or have. An easier-to-make option will be to make crepes which means you will need to make a runny batter using the same ingredients listed above but add more water. You can also buy the ready-made wraps, these will be great for a work lunch or a picnic.

For a super healthy option, a low-carb choice, you may even wrap the curried chicken in salad leaves (Chinese salad, gem lettuce, iceberg leaves) and serve.
Can I prepare this ahead?

Yes, the chicken can be prepared ahead and refrigerated in an airtight container for up to 5 days.

The parathas can also be made ahead and covered with clingfilm but mind due these might dry out after making so it is best to freshly make them when you wish to serve those.

By all means, you can add some form of fat (oil, butter or full-fat milk, yogurt so they will not dry as quickly. If you add some fats, parathas can be made ahead of time on the day and reheated when adding/ lining these with the egg, just before assembling the rolls.
How can I make a vegan egg chicken roll?

Substitute the chicken with hard tofu strips and the milk and yogurt (if using any in paratha) with plant-based ones.

To make it gluten-free substitute the regular flour with a gluten-free version.
Other chicken recipes you may like:
Delicious Egg Chicken Roll Recipe
Egg Chicken Roll has amazing flavours and it is one of those street foods made in your own kitchen a lot healthier, all made from scratch - pure wholesomeness that your family and friends will enjoy.
Print
Pin
Rate
Equipment
pan

Rolling Pin

deep pan

spatula

glass bowl

skillet or non-stick pan
Ingredients
For the chicken
500

g

chicken (17.64 oz)

1

tablespoon

curry powder

1

tablespoon

fresh ginger

paste 1 teaspoon or powder 1 tsp

¾

tablespoon

chicken garam masala

1

teaspoon

coriander powder

2-3

cloves

garlic

made into paste or grated on smallest holes

2-3

pods

cardamom

strongly recommend using this

2

tablespoons

olive oil

or any oil you like

1

teaspoon

turmeric

1

teaspoon

dried chilli and herbs powder

(optional)

1

teaspoon

turmeric

fresh or powder
For paratha
300

g

flour (2.4 cups)

I used equal amounts wholemeal and white spelt

180-200

ml

water ( 6-7 floz)

lukewarm

½

teaspoon

turmeric powder

¼

teaspoon

salt
Other ingredients
4

large

eggs

to line the parathas

salad

any salad will do - shredded

red chilli

for garnishing (optional)

2

tablespoons

sriracha sauce

1

cup

cucumber

sliced (cut julienne)

2-3

med

spring onions /scallions

5

tablespoons

fresh herbs

parsley or coriander /cilantro

½

lemon

juiced and jested
Instructions
To make the parathas
Add the flour, turmeric powder salt, and pepper to a clean glass bowl. Whisk slightly to mix this homogenously.

Add the water little by little kneading gently until all water has been incorporated and the dough no longer sticks to your hands. This should take 5-7 minutes. You will have a soft and smooth dough that has formed. When finished, cover with clingfilm and a kitchen towel and set aside.

After the 20 minutes rest, divide the dough into 10 equal amounts (use a scale if you wish to be really accurate). Form dough balls and place those on a wooden board or your clean worktop/ working surface.

Flatted the parathas with the help of a rolling pin by rolling each ball into a flat disk of approximately 17-18 cm or 7-8 inches. Roll as you cook them otherwise you will need a lot of extra space.

If you have the space, flour the surface and roll all 10 dough balls.

Place a cast-iron skillet or a non-stick pan over medium fire/heat. Cook all parathas and pile them just like crepes on a plate.
Prep and cook the chicken
Add the chicken cut into strips and all the marinating ingredients mentioned above into a bowl and set aside for at least 20 mins.

Add the oil to a deep non-stick pan or a cast-iron skillet and place over medium-high heat. add the marinated chicken and cook for about 15-18 minutes tossing occasionally. Cook until the chicken is well cooked and it starts to sizzle.
Getting the parathas lined with egg
Take a pan out, place it on fire, add a little brush of olive oil, and pour in some egg mixture using a small ladle. Place a paratha over the egg and allow it to cook for one minute or so until the egg is cooked. Do so with all the parathas.
Assembling the Egg Chicken Roll
Have all the parts needed to put the rolls together ready (sauce, salad, chicken and the parathas, garnishing chilies, and ½ the lemon)
Notes
the chicken - the longer you will marinade, the better the flavors infuse delivering a really nicely flavored chicken. 
to cook the chicken - use a large bottom pan so the chicken doesn't stew but has enough room for the juices to evaporate fairly quickly.
Nutrition
Calories:
228
kcal
|
Carbohydrates:
26
g
|
Protein:
11
g
|
Fat:
9
g
|
Saturated Fat:
2
g
|
Polyunsaturated Fat:
2
g
|
Monounsaturated Fat:
4
g
|
Trans Fat:
1
g
|
Cholesterol:
92
mg
|
Sodium:
180
mg
|
Potassium:
190
mg
|
Fiber:
2
g
|
Sugar:
1
g
|
Vitamin A:
420
IU
|
Vitamin C:
9
mg
|
Calcium:
35
mg
|
Iron:
3
mg