I need to mention my beloved grandma again, because this homemade flatbread recipe of hers definitely sends me back in time, in my lovely childhood.
When she was telling us she was going to make those we were over the moon, jumping up and down with joy.
Unlike nowadays, then, it didn't take a lot to make children happy … ??
This flat bread is easy to prepare, there is a little waiting/passive time, however this is not necessary so if you really don't have the time to leave it for few hours, place it somewhere warm or, in a sunny day, just place it where the sun might reach to give it a nice cuddle and just cover with a towel.
This will speed up a little the fermentation time. So I would say 45′ in a warm/sunny area will be equivalent to 1.5 h in a cooler place. Just do your best and do not worry even if that 45′ won't be there. They will still be delicious and worth a try. The taste is purely unique.
I have to say that kneading and bread making is one of my favorite areas. I love doing it. Stay put as I am beginning my bread making posts and recipes. I have not had the time to put any of my bread recipes in yet, this being the first one but, time has come for this so, stay tuned as there is plenty more to come.
I find home and hand bread making really rewarding as the results are always great!
I have to say I have ditched the habit of buying bread for a while now as I can make pretty much any type of bread but I have resumed my efforts to the healthier options and lately the spelt flour, is my absolute favorite. The sweetness and the nuttiness of the spelt flour is just so unique and to die for. LOVE it!
I am pretty sure I will convert you now into making your own bread and never have to buy one any longer but only on really lazy times ??
I'm not sure of the amount of bread you are having a day or per week but you can adjust this and make the right amount for a whole week or even two weeks and eat daily and feel like you've just made it. I will tell you how.
Well, this is how! :
I make my bread, let it cool for a few hours, slice it and freeze it. Yes! Freeze it!
I know you might be rubbing your eyes but don't!; you are reading the right thing ?.
By freezing the bread I assure you that it remains as fresh as this was when it went into the freezer. Just freeze it, slice it and toast it whenever needed. It's really the best.????
Let's get kneading! ??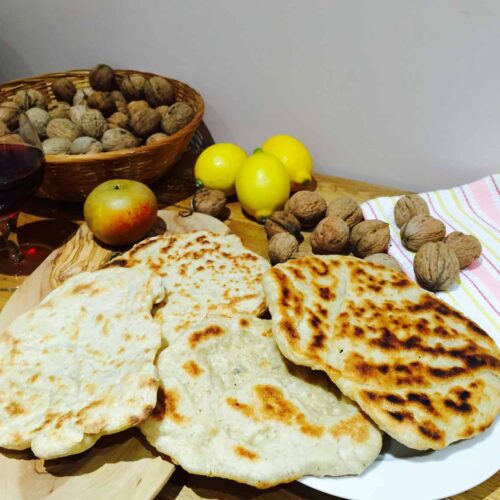 Ingredients
500

g

white flour

(organic)

150

ml

water

(lukewarm)

1

tsp

sugar

15

g

dry yeast

or 1 oz fresh yeast

2

tsp

salt

olive oil

(to cook)
Instructions
In a mug or a small bowl put the yeast and the sugar topped by 75 ml of lukewarm water. Mix well and place aside for few minutes.

Meanwhile, add the flour in a larger bowl together with the salt. Make a well and pour in the yeast mixture. Allow to rest for 20-30 min.

Mix all and keep on pouring the warm water gradually. Knead the dough for about 10 minutes until the dough no longer sticks to your hand and becomes really elastic and smooth.

Sprinkle some flour or drizzle some olive oil and shape the dough. Cover with a kitchen towel and place in that warm or sunny side of your kitchen. Allow this to rise till it gets about double in size. I would say 45' in a nice and warm place or 60-90' if cool.

When you are happy with the rising of the dough, place a pan on fire (ideally a cast iron one) with a few drops of oil or even without.

Pick up a small amount of dough (the size of a small orange and on a floured or oiled surface reshape the dough and flatten to a desired thickness (I suggest no thicker than 1/2 cm).

Cook on a low-medium fire till cooked on both sides.
Notes
You can use this dough to make little baked buns too.
Quantity wise, I use 1 kg flour and it lasts for 10 days for a family of 4 but, as I said, tailor the quantities according to your needs/consumption.
Enjoy these simple flat breads (especially warm) with houmous or a  yogurt dip.
Yumm, yumm , yumm!!!!!!