If you are one of these Yorkshire puddings (popovers) lovers that regularly buy them please don't buy them any longer! Try this easy and unbelievably tasty, fail-proof Yorkie puds recipe. I promise you will never buy them again!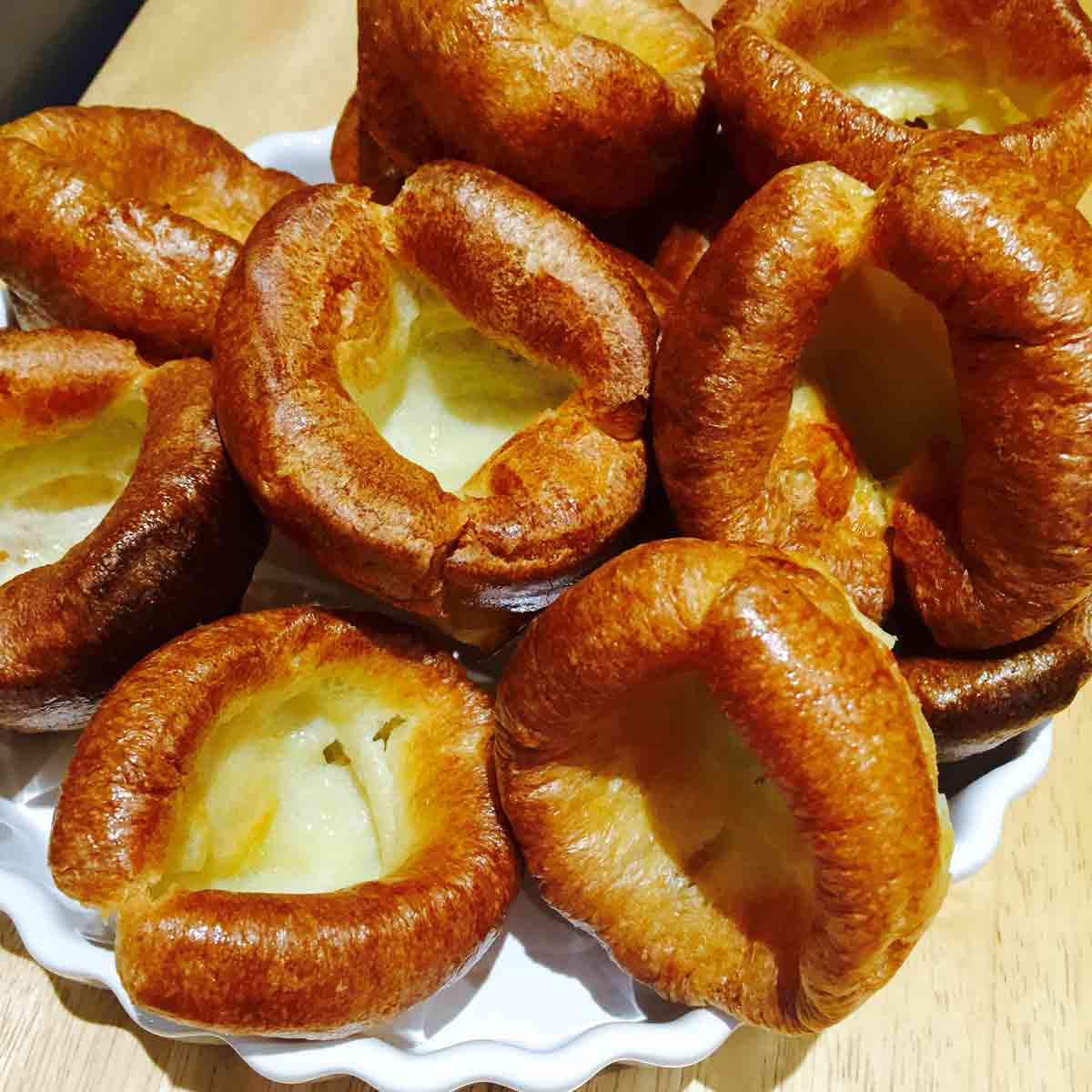 Jump to:
I love Yorkshire puddings but I always used to buy them. I did not even consider trying to make them at home. I always thought they are hard to make and there was no point in trying. I was so wrong!! One day when I just challenged that and I said to myself, oh come on, I must be able to make them. I eventually did give them a go one day just saying to myself .... what will be, will be.
The surprise did not fail to show! To my total bewilderment, they did come out amazing on my very first attempt!! These Yorkshire puddings were an utter success, and have never failed to be a success ever since. It is just a matter of doing things right and you cannot possibly go wrong.
Here are some examples to see people trying to make these - first attempts 😉 so you can see exactly what I am saying. People have made them, taken some pics, and commented. See for yourself!
That's why I always say to myself that I have to try something before giving up on the idea or even daring to say "I don't think I can make that". We are capable of doing a lot more than we ever believe and think ...
Here you have the proof and I'm sure this will get better by the end of this recipe when you will have success in front of you with some beautiful and puffy Yorkies.
I have heard many saying that they can never make Yorkshire puddings at home and I now contradict them all. Yes, you can! Just give my recipe a try! 😉
Truly, these are the easiest thing to do, almost as easy as taking the bought ones from the freezer and baking them.
There is some room for error but if you follow the little instructions thoroughly, there is no way these Yorkshire puds will fail to look and taste absolutely delicious.
When to make Yorkshire puddings?
Everyday! Haha! They are delicious so, why not?
But hey, a Sunday roast, a Christmas lunch or dinner, a Thanksgiving dinner or a New Year's party should never go by without these "puffy little guys"? , a few veggies like this chunky cauliflower dish on one side, a few mashed potatoes on the other side ... mmmm yummy! The Yorkshire pudding will make such a serious difference...
Just try it out, they taste a lot better than the frozen ones available in stores. Of course, they do, they have no additives in them, and they are homemade! Here is one idea for a meal there will be a treat to go with it, a roast it's all you need and the meat can be any you like. Needless to say, these do accompany perfectly a totally meat-free meal, they make such a great side to any vegetarian meal.
The difference between Yorkshire puddings and popovers?
Is there a difference? Well, Yes and no really.
In the United Kingdom, they are called Yorkshire puddings, in the United States, they are called popovers.
Both dishes are made from egg, flour, and milk batter and they look almost the same.
So, what is the difference?
It is the same batter but a different baking method.
Yorkshire pudding batter is poured into meat drippings or fat made into individual puds or one big one with sausages scattered around which is called toad-in-the-whole.
Popovers aren't made with beef fat, these are a light, buttery pastry and the fat used in making the popover comes solely from butter.
For a beautiful and totally vegan version of these puddings, you can keep your eyes peeled. My recipe is finally coming super soon after years of trials and quite a few errors. They do look and taste gorgeous, it is all I can say for now! The recipe will be up super soon.
FAQs
Can I Freeze Yorkshire puddings?
Oh, yes, they do freeze beautifully. You can make them way in advance, in bigger batches, and take out whenever and however many popovers you need. They are good in the freezer for a good few weeks or even longer - that is if they ever make it! 😉
What are Yorkshire puddings traditionally served with?
Yorkshire puddings have been and remained a staple of the classic roast dinner, they are still a traditional British delicacy.

Most households serve the puds with beef, as a Toad-in-the-hole, but occasionally they are served other meats such as roast turkey, roast lamb, pork, roast chicken, or a vegetarian roast. Versatile, I know, right?!

They accompany roast veggies too mainly root vegetables such as carrot, parsnip, celeriac, or even boiled or steamed veggies such as broccoli, cauliflower, or peas.
Tips on how to make perfect Yorkshire puddings
Rule no. 1: - Oil and the oven have to be hot, hot, hot!
Rule no. 2: - Avoid the temptation to open the oven door while baking the Yorkshire puds.
Rule no. 3: - Only use plain/all-purpose flour and no other flour types such as self-raising.
If you respect these rules, success is guaranteed! You see, I told you, it isn't hard!
Oh, I almost forgot to mention this essential bit:
Get some Yorkshire puds inflating in the oven!
If you have a glass door oven and have excited kids like mine, gather them around the oven, to watch those little puds puffing away in an instant. They will just love it, it's so much fun! My kids are bigger now and still enjoy watching whenever possible.
I will come clean and admit that I would never miss such a great moment either. We are 'fighting' on who's first to get to watch through the oven door, to observe the instant puffing and the great pudding 'inflation' and all that magic happening in that oven.
A few recipes Yorkshire puddings go well with:
Best homemade Yorkshire puddings
These Yorkshire puddings or popovers are such great fun making, they are super delicious and perfect to accompany any roast.
Print
Pin
Rate
Equipment
muffin tray

bowl

whisker or a fork
Ingredients
140

g

white flour (4.94 oz)

200

ml

milk (6.76 floz)

100

ml

oil (3.38 floz)

goose fat or beef drippings (for cooking)

4

eggs

1/4

tsp

salt

1

pinch

pepper
Instructions
Preheat the oven at 200°C/400°F.

Pour some ( 1Tbsp) oil/goose fat into a nonstick/silicone 12 holes muffin tray and place in the preheated oven for about 10-12 minutes until the oil/fat is fairly hot. The batter should be sizzling when poured in. This is very important! If the oil isn't hot enough the pud won't be right.

In a bowl, sift the flour mixed with salt and a little pepper.

Make a little well in the middle of the flour and put in the eggs. Using a whisking tool, whisk the eggs with the flour until it all becomes a lump-free thicker batter.

Pour in the milk gradually while still whisking constantly until the batter becomes smoother.

Pour the batter into a jug and set aside until ready to be poured in.

Carefully remove the tray from the oven, place it on a nice stable surface (super careful, it is very hot) and start pouring a little batter in each hole. Try and be pretty quick with this operation. When the batter is all finished, place swiftly but very careful, the tray back in the oven. Bake for 20-25 minutes until nicely 'tanned'. 

Watch how they puff up and take out when ready. Serve immediately.
Notes
The pudding batter can be made a day before (keep in the fridge overnight and take out 1-2 hours before baking) but it can also be made 5 minutes before baking them and it is as good. This needs to be shared as equally as possible into 6 portions. I would say it is going to be something like 60-70 ml each. I will measure the next time I make these and let you know.
The standard flour can be replaced with gluten-free flour. They also come out great.
The vegetable oil can be replaced with goose or duck fat, ghee or coconut oil for a little taste twist. Again, the oil level in each muffin cavity should be around a finger high, not higher. 
Having said all these, it's time to get those puffing up. Oh, and fully enjoy these yummy beauties!
Thank you for stopping by and I do hope you'll check my blog again to see what's new, all amazing cooking ideas and easy delightful family recipes. 
Have a wonderful and blessed day! 
Enjoy!
Nutrition
Calories:
80
kcal
|
Carbohydrates:
5
g
|
Protein:
2
g
|
Fat:
6
g
|
Saturated Fat:
1
g
|
Cholesterol:
31
mg
|
Sodium:
15
mg
|
Potassium:
30
mg
|
Fiber:
1
g
|
Sugar:
1
g
|
Vitamin A:
60
IU
|
Calcium:
16
mg
|
Iron:
0.4
mg
And if you didn't know, here are some fun facts about these perfectly delicious Yorkshire puddings!