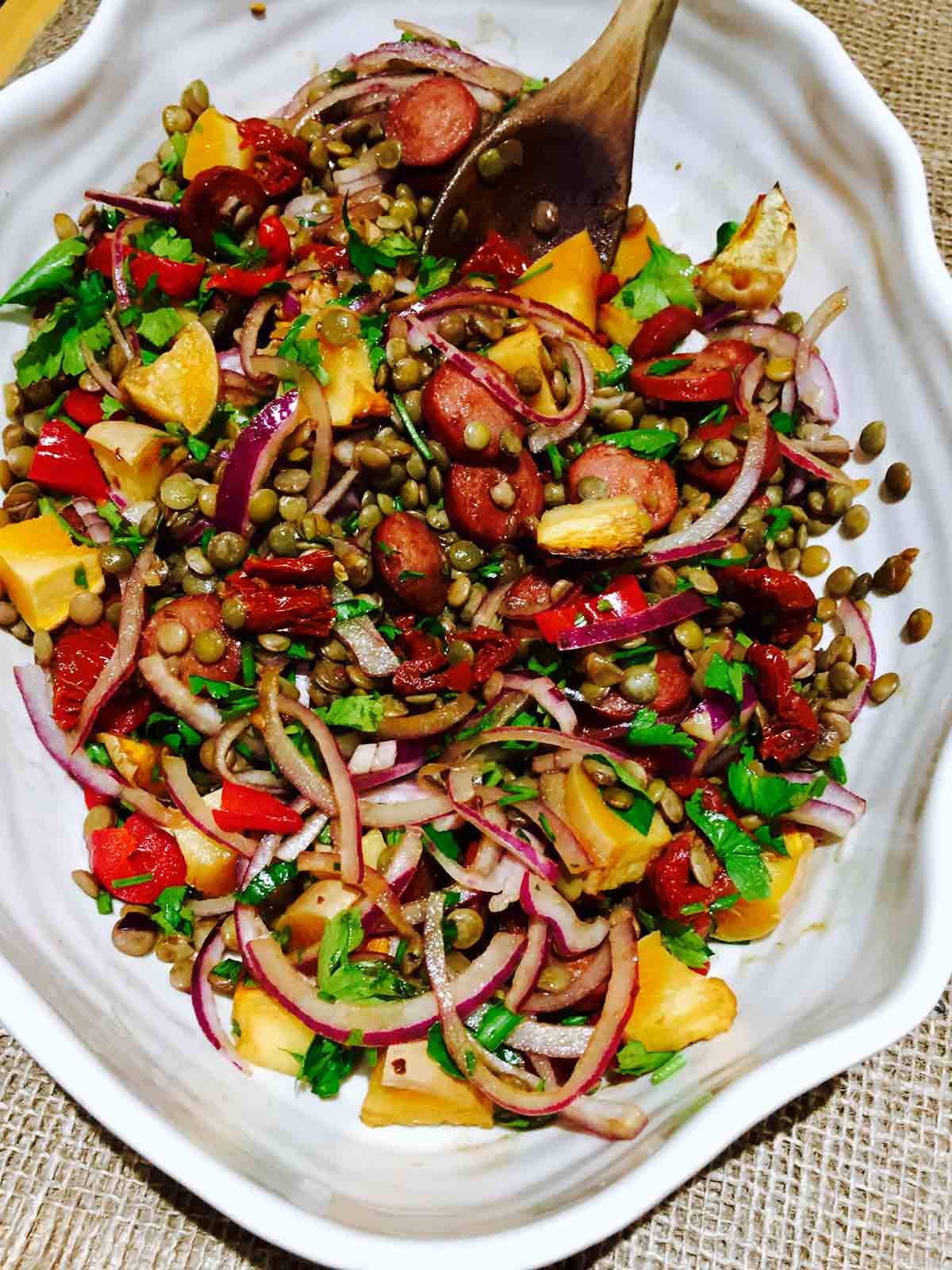 I did promise myself and my little family that we will be eating healthily, at least for a while, after all that Christmas binge eating. Pheww! I feel like I can almost be rolled over.
We ate and ate and .... ate as if we have not seen food for the whole of 2016!
I think you know the feeling but aren't holidays all about doing it the indulgent way?! Yes, they are,? especially winter holidays. Besides..., we do deserve it after a whole year of hard work that we have all been putting in, Christmas comes as a true relaxing blessing.
I have had an amazing holiday, with family and friends around all throughout and it was truly magnificent. I could not ask for any better.
Now... time to get back in shape and to the 'good' routines including the healthier eating as much as we can, whenever we can as sometimes our busy schedules do not always allow us all of this, but hey.... we try and do our very best.
Time is really important and spending a lot of it with cooking I'm sure many would agree, but as much as we'd love that .... we simply can't do it. For this reason, I feel most of the time that simple and quick recipes are a real bonus.
I am trying my very best and work hard 😉 at putting up recipes that are really easy to prepare but also recipes of dishes that could easily be carried around at work, recipes that can be cooked the night before and still enjoy its freshness the next day.
Sounds brilliant!
Here's to do just that- this lentils, chorizo and sun dried tomatoes salad recipe, one of those meals that you could prepare in real time, perfect to have as a nice lunch the next day.
Just refrigerate in an airtight container and the next day simply tuck in.
But, of course, and needles to say that if you work in an office with people around..... you would probably leave out the lovely and the healthy red onion and replace this with a few leaves of lettuce or a handful of salad, maybe some chopped cucumber or fennel whatever you prefer.
Since it sounds so good and promissing let's get started....So, here it comes the recipe!
Here are some other lentils recipes you may really enjoy:
Lentils, chorizo and sun-dried tomatoes
Prepare an easy lunch, choose this lentil, chorizo and sun-dried tomatoes recipe... Delicious, healthy, quick and yummy. It is all you really need in a meal.
Print
Pin
Rate
Ingredients
250

g

chorizo

250

g

lentils

(dry, continental version)

1/2

butternut squash

(baked)

1/2

red pepper

(pickled, or fresh)

10

sprigs

parsley

(or coriander) (fresh)

8-10

pieces

tomatoes

(sun-dried, oil drained)

2-3

tbsp

balsamic vinegar

1-2

tbsp

olive oil

(optional)

pepper

(freshly ground) to taste
Instructions
Preheat the oven at 190°C/375F.

Wash and chop the butternut squash. Of course, you can add other veggies too if you fancy. Place in a tray and roast for 20-25 min.

While the butternut squash is roasting, slice the chorizo and pan fry for about 8-10 min. Take out on kitchen towel and tap to remove most of the oil. Leave this out if you want it vegetarian.

Wash thoroughly the lentils and cook according to the pack instructions. Cook al dente as the lentils are extra nice if they are left a little crunchy. I don't like them mushy.

Peel and slice the onion. Place in the serving dish along with the sausages and the chopped sun-dried tomatoes.

When the butternut squash has softened, take out and add to the onion and the sausages.

Chop some parsley, add the cooked and drained lentils. Grind some pepper to taste, add some salt although I do not think there is need for any salt as sausages are fairly salty. We did say healthy, right?

Drizzle the balsamic vinegar (add some olive oil if you wish - I love the balsamic vinegar and olive oil combination to this type of salad-type food)
Notes
Lately, I have purchased from a wholefoods store mixed pepper corns. The best choice ever. The flavours.... oh, amazing ?.
Lentils- when it comes to those, there are quite a few options out there. This recipe asks for those ones that cook nicely and don't become all mushy like the red split ones which I love but wouldn't use in this type of recipe.
This is more like a salad type of dish and not a casserole so best to chose green or continental lentils. Split peas or the big yellow ones will also work well here.
You can replace the butternut squash with swede, carrots, parsnip, peppers, aubergines, cauliflower or even a mix of those.
Also, if you don't fancy doing any roasting, mushrooms, broccoli, spinach, kale, cavolo Nero or any leaves could also be used which you should pan cook rapidly.
A good tip here: whenever you roast veggies put few extra or if you have any leftover is a perfect scenario for a dishes like this.
Of course, you can leave the sausages out if you want this to remain a vegetarian or use a side dish to any meat.
It's quick and truly delicious. Take my word for it. 
Nutrition
Calories:
485
kcal
|
Carbohydrates:
51
g
|
Protein:
27
g
|
Fat:
19
g
|
Saturated Fat:
6
g
|
Cholesterol:
39
mg
|
Sodium:
759
mg
|
Potassium:
981
mg
|
Fiber:
21
g
|
Sugar:
5
g
|
Vitamin A:
10906
IU
|
Vitamin C:
45
mg
|
Calcium:
83
mg
|
Iron:
7
mg
SaveSave