We love miso aubergines and this recipe is the perfect one for this side dish that we always order in a restaurant. Now you can make it at home and it is really simple to prepare. This authentic miso aubergines recipe is exactly what you are looking for.
Making the veggies more exciting it's an exciting thing in itself, right, but I find aubergines to be one of those mysterious veggies, really versatile and fun to cook.
My first eating experience of a miso aubergine was obviously in a local restaurant that served Japanese dishes, way over a decade ago. I did like it immediately and since then, I have prepared it myself many times. It is a divinely delicious side dish, a real treat for anyone's tastebuds.
Since I've tried preparing it at home to the best of my abilities (my favourite 'activity' - eat a dish prepared by someone else or in a restaurant and try replicating it myself- love it!) it removes the desire of eating it in a restaurant (I occasionally still do of course). I do enjoy a lot preparing my food myself, in the comfort of my own kitchen but most importantly knowing exactly what goes in feels a lot more comforting too. I am weird, I know!! ;-))
My recipe's as close as you can get from the authentic version, but as I said, it's a result of what I've tried to replicate since I've tasted miso aubergines for the first time. The recipe suffered many implementations since the first attempt and this is definitely the best of all versions. It is the mastered version that I'm now always preparing. The only difference could be the miso paste as I don't always buy the same one.
What is miso paste?
Miso paste comes in a few varieties, but in this recipe I have used Genmai one which is an organic savoury paste produced by using traditional fermenting methods, made from organic soya beans, brown rice and sea salt. It is a salty paste, so adding salt in this recipe is not needed.
Miso paste is a fabulous source of nutrients and minerals (manganese, zinc, copper), with very high amounts of antioxidants, full of healthy benefits all around.
My kids (bless their hearts ♥️❤️ - very sweet of them) mentioned that my Miso aubergines version is better than the one they have in the restaurant, because "the restaurant one is way too sweet".
I will have to trust their judgement - they are my best critics and fairest judges -I admit - so I go with them, 100%. They know the stuff and have a real sense for good food.
Are aubergines good for us?
Aubergines are an excellent source of dietary fibre, a good source of vitamins B1 and B6 and potassium. Additionally, it is high in minerals like copper, magnesium and manganese.
Other recipes you may like:
Let's just get miso(ing)!
Miso aubergines
Experience the Japanese cuisine with these miso aubergines, marinated with a tasty miso paste and honey and some sesame seeds sprinkled over.
Print
Pin
Rate
Ingredients
The 'base'
2

aubergines

(medium to large)

4

small

groundnut oil

* (small drizzles)
For the miso sauce (marinade)
1

tbsp

Miso paste

*

1

tbsp

Indonesian soy sauce

(sweet)

2/3

tsp

Worcester sauce

(4 drops)

1

tsp

tamari soy sauce

(or any dark soy sauce)

2

tsp

honey

1

tsp

brown sugar

Sesame seeds

(or mixed) to sprinkle over

spring onion

(optional) to serve
Instructions
Wash and slice the aubergine in half lengthwise. Score in the flesh with a knife (see picture 1) cutting dip into in the flesh but making sure the skin does not get pierced. The diagonal cuts should be about 1.5 cm apart or not more than 1 inch (approx 2 cm). Repeat the same on the other side and with all the aubergine halves. Set aside.

Let's prepare the marinade by taking out a bowl and stir together all the marinade ingredients. Mix well until everything is nicely homogenised. If marinate is slightly too dense, add one spoon of water.

Take out a frying pan and put in a drizzle of oil which can be sesame oil, groundnut oil or even olive oil if you don't have any of the two.

Place as many halves of aubergines as you can fit into the frying pan and fry on each side for two minutes. Repeat this for all aubergines until finished.

Place all aubergine halves on the baking tray, which you can line with some parchment paper.

With the help of a brush, brush all the surfaces as well as inside the aubergines cuts so make sure they are all smeared well with the miso sauce marinade. Leave aside to marinade for about 20-30 min.

Preheat the oven at 190°C /375F and when the aubergines have marinated for at least 20 min, smear more marinade all over and place those in the oven. Bake for about 30 minutes until the flesh is becoming really tender and the tops are really dark and look well caramelised.

When all is ready, take out of the oven and scatter some sesame seeds as well as finely chopped spring onions (optional) over the aubergines

Serve when slightly cooled off alongside a nice egg fried rice, a nice stir fry or sushi.Enjoy!
Notes
For miso paste I use Sanchi organic Genmai miso paste.
For oil, as I mentioned, you can use groundnut oil, sesame oil or both but if you don't have any of those, olive oil or coconut oil will be fine.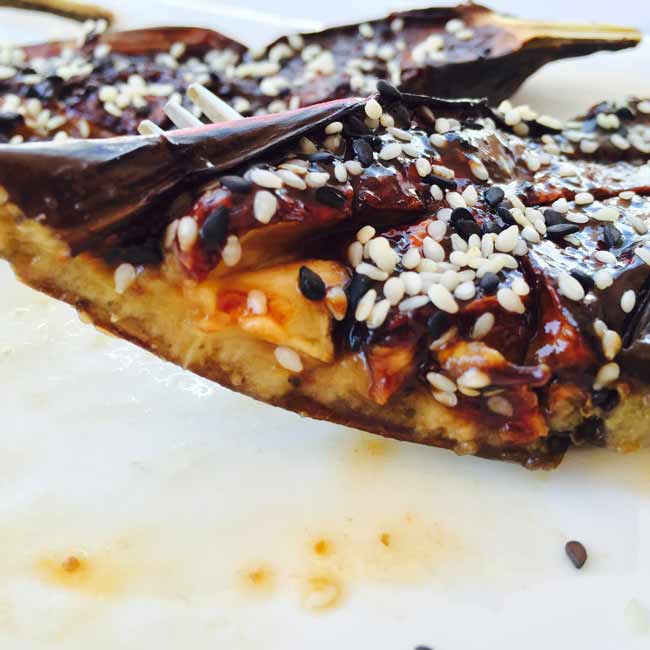 I sometimes use spring onions, sometimes I don't, but it's very nice both, with or without.
Nutrition
Calories:
108
kcal
|
Carbohydrates:
23
g
|
Protein:
3
g
|
Fat:
2
g
|
Saturated Fat:
1
g
|
Sodium:
338
mg
|
Potassium:
533
mg
|
Fiber:
7
g
|
Sugar:
15
g
|
Vitamin A:
53
IU
|
Vitamin C:
5
mg
|
Calcium:
21
mg
|
Iron:
1
mg