Are you one of those chocoholics like I am? When that craving for some chocolate desserts strikes, well.... we better be prepared.
Whether you've got a thirst for chocolate chip cookies, chocolate layered cakes, chocolate pie, or chocolate brownies, we've got a chocolate dessert recipe here for you. So, if your answer to my question is yes, then you've come to the perfect place!
These 17 Ultimate Chocolate Desserts for All Tastes will surely satisfy your chocolate hunger, yet will still leave you craving for more! Are you ready? A few are gluten free, a few are vegan too, all with natural ingredients and beautiful flavours!

The Ultimate Chocolate Desserts for All Taste Buds
1. Simple and Delicious Gluten-Free Almond, Sour Cherries, and Raw Organic Cacao Squares


Surely, this mouth-watering gluten-free almond, sour cherries, and cacao bites will take you to heaven and bring you back for more. On the plus side, you only need six basic ingredients to make this beauty. The title sounds amazing but wait and see untill you taste it. Aren't almonds and cherries a pairing that's just perfect? The addition of cocoa is definitely a stroke of genius I was told!
2. Intensely Sweet Basic Chocolate Truffles

Each single homemade chocolate truffle is a masterpiece. You might be tempted to save those truly tempting chocolate truffles for a special occasion. That's because these creamy, smooth chocolates are just divine! Perhaps a birthday, Valentines or a heavenly treat that you just deserve so badly. With only a few ingredients such as cream, dark chocolate, and cocoa powder, these truffles will be ready in a giffy! They're dead simple to make, and you won't even need a stove!
3. Double Coffee Lush Chocolate Cake – Bursting with Sweetness!
Raise your hands if you're a chocolate lover and a coffee lover at the same time! This double coffee rich chocolate cake from Ramona's Cuisine is a fudgy, moist, rich and incredibly irresistible. It is a delicious everyday chocolate cake infused with coffee flavor which you'll crave to have and make over and over again. Are you ready for our fourth chocolate dessert?
4. Outrageously Indulgent Tahini Swirl Vegan Fudge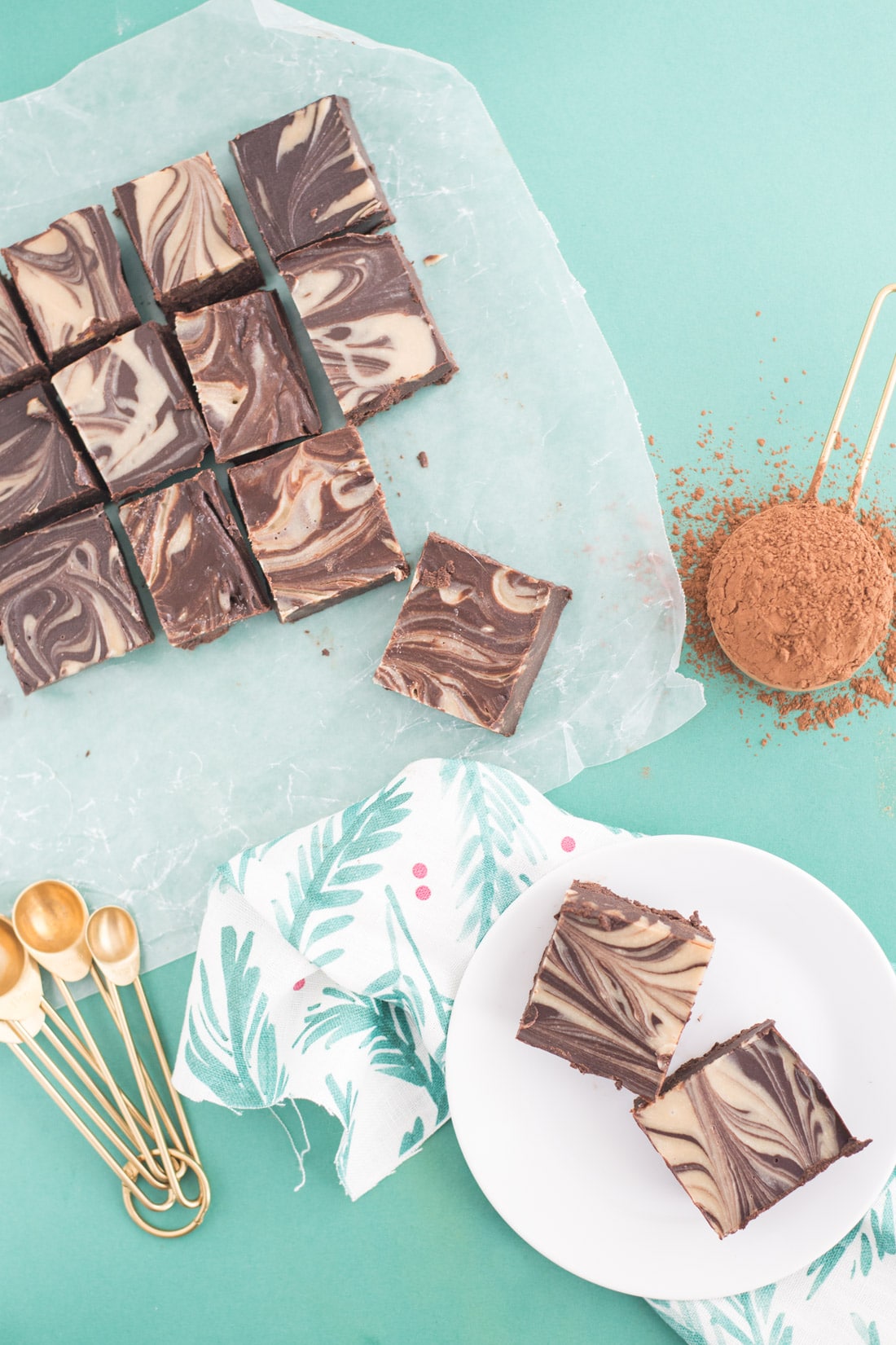 Who knew homemade vegan fudge could be so delicious and inexpensive – not to mention simple to make? There is a secret that not many folks know about. Making a vegan fudge it's quite a lot simpler than making a regular fudge! This vegan chocolate fudge recipe might be deceptively easy, but ...the end result is absolutely crazy tasty!
5. Reasonably Satisfying Vegan Chocolate Tarts with Avocado Chocolate Pudding
Can you imagine the world without chocolate tarts and chocolate pudding? Look at these beauties!! This recipe has everything one could ask for in a chocolate dessert. Creamy, rich and gorgeous, this vegan chocolate tart is guaranteed to make you an avocado-dessert convert. You will definitely love the mix with strawberries, but feel free to try other toppings too.
6. Dairy Free Brownies – Simple and Palatable
Are you looking for the best gluten-free brownies? This chocolate dessert from Hold the Moo is so gooey, fudgy and extremely simple to make! If you're in the hunt for some genious non-dairy brownies and desserts, look no further. You can easily make the best dairy-free brownies with 3 easy steps. Your baked goods will be exceptional even dairy lovers will crave. And just a little note: egg isn't categorized as dairy as some tend to believe.
7. Quick, Delicious, Nuts and Dark Cacao Brownies – Easy Fudgy Recipe
Have you ever fallen in love with something over and over again? Well, this chocolate dessert can make it happen. Those rich, chocolate brownies with fudgy, dense middles and crinkly tops will undoubtedly make you fall in love with brownies once again. This is just as simple as this Dark Cacao Brownies recipe. Cacao is almost similar to cocoa, but it's raw and isn't processed with extreme heated pressure. Thus, if you are in the mood for something a more chocolatey, these are surely for you!
8. Delicious Home Made Chocolate – This is a 6-Ingredient Chocolate Dessert!
Who doesn't love chocolate? But nothing beats the taste of a sinfully delicious homemade chocolate recipe. Chocolate is a rich, versatile, and delicious product which comes in a lot of forms. This recipe is a delightful filled chocolate dessert, which makes this a simple treat to make for any occasion! With just six essential ingredients, you are a few minutes away from snacking on a fudgy totally homemade chocolate, what a treat!
9. No-Bake Chocolate Ganache Tart (Vegan & Gluten Free)
This no-bake chocolate ganache tart recipe from Rebel Recipes comes together in just 20 minutes! And just to let you know that this recipe is filled with vegan-free and gluten-free chocolate ganache and topped with fresh and tasty raspberries for a decadent, guilt-free chocolate dessert. How stunning!
10. Flaxseed, Cacao, and Pecan Nut Cookies – A Super Healthy Recipe!
Do you love nut cookies? Look no further than this flaxseed, cacao and pecan nut cookies are stress-free to make and perfect served with a hot cup of coffee or a cold glass of milk. You can keep a log of this cookie dough in the fridge, slice and bake whenever those snack attacks or those last minute visitors arrivals!
11. Chocolate Granola Swirled Banana Bundt Cake - Food and Flair
Definitely cool and refreshing! This Chocolate Truffle Mango Ice Cream Cake is a true crowd pleaser. This ice cream cake is loaded with love and sweetness. Such a perfect delight to surprise your Valentine! This recipe features different layers like mango, rhubarb marmalade, dark chocolate, raw truffle and more! I don't know about you, but this chocolate dessert really excites me! A true explsion of flavours on anyone's taste buds.
12. Sweet Pull Apart Chocolate and Nuts Bread – Unexpectedly Rich Recipe
You can't go wrong with this chocolate dessert recipe from The Tortilla Channel. It tastes yummy as it looks. A delicious, moist, simple to make chocolate and nut bread. Made with choco nibs, cocoa and pecan nuts, this decadent bread is virtually guilt-free! Wow!
13. Freshly Baked Marbled Chocolate, Mini Marshmallows, and Peanut Bars
The holidays are just around the corner, and it is time for us to begin baking! Check out this yummy marbled chocolate sprinkled with peanut bars and mini marshmallows. This chocolate dessert is a no-bake, no brainer and can really get the kids involved. This chocolate peanut-marshmallow bars are lip-smacking and ready in no time, are the ideal ones, to begin with!
14. Strawberry Dark Chocolate Gluten-Free Brownie Bites – Absolutely Guilt Free!
Your best strawberry-chocolate mix is now finally here! I hope you adore them as much as I do because these chocolate desserts are filled with true yumminess, oh, all these strawberry and intense chocolate flavours... Definitely make that beautifully perfect and just ideal dessert for your special event!
15. Succulent and Satisfying Chocolate Dipped Pretzels
If you love the sweet and salty combo then I confidently guarantee you will love this Chocolate Dipped Pretzels recipe. They are so, so yummy, simple to make and so addictive. The combination of crunchy pretzels, slight saltiness and sweet chocolate is just... amazing and sublime! Attractive and so good for gatherings.
16. Gluten-Free Sugar-Free Flourless Chocolate Cake Recipe – A Candy to the Eye
If you have got some fantastic chocolate in your pantry and a few eggs in your fridge, get your whisker out now because this flourless chocolate dessert does it all. A totally flourless chocolate cake recipe which manages to be rich and light at the same time! Perfection!
17. Super Nutritious Choco-Clusters – Undoubtedly Pompous and Splendid
This chocolate recipe is everything you love in a chocolate sweet: a little crunchy, a little chewy and a lot of yumminess overload! These bite-size for a mini chocolate treat will surely bring a smile to your sweet and chocolatey cravings. Again something your kids could get very busy doing over these holidays coming. Enjoy!