Indulge in the crowd-pleaser of these beloved mango pancakes (Hong Kong Style)! This recipe was hot on TikTok sometime ago and I can see why. It impeccably captures authentic flavors. Delicately thin, pale yellow crepes envelop a luscious blend of cream and ripe mango, resulting in a culinary masterpiece. Widely regarded as the ultimate showcase for mangoes, it's hard to contest this statement. Why would one even dare to challenge such a delightful treat?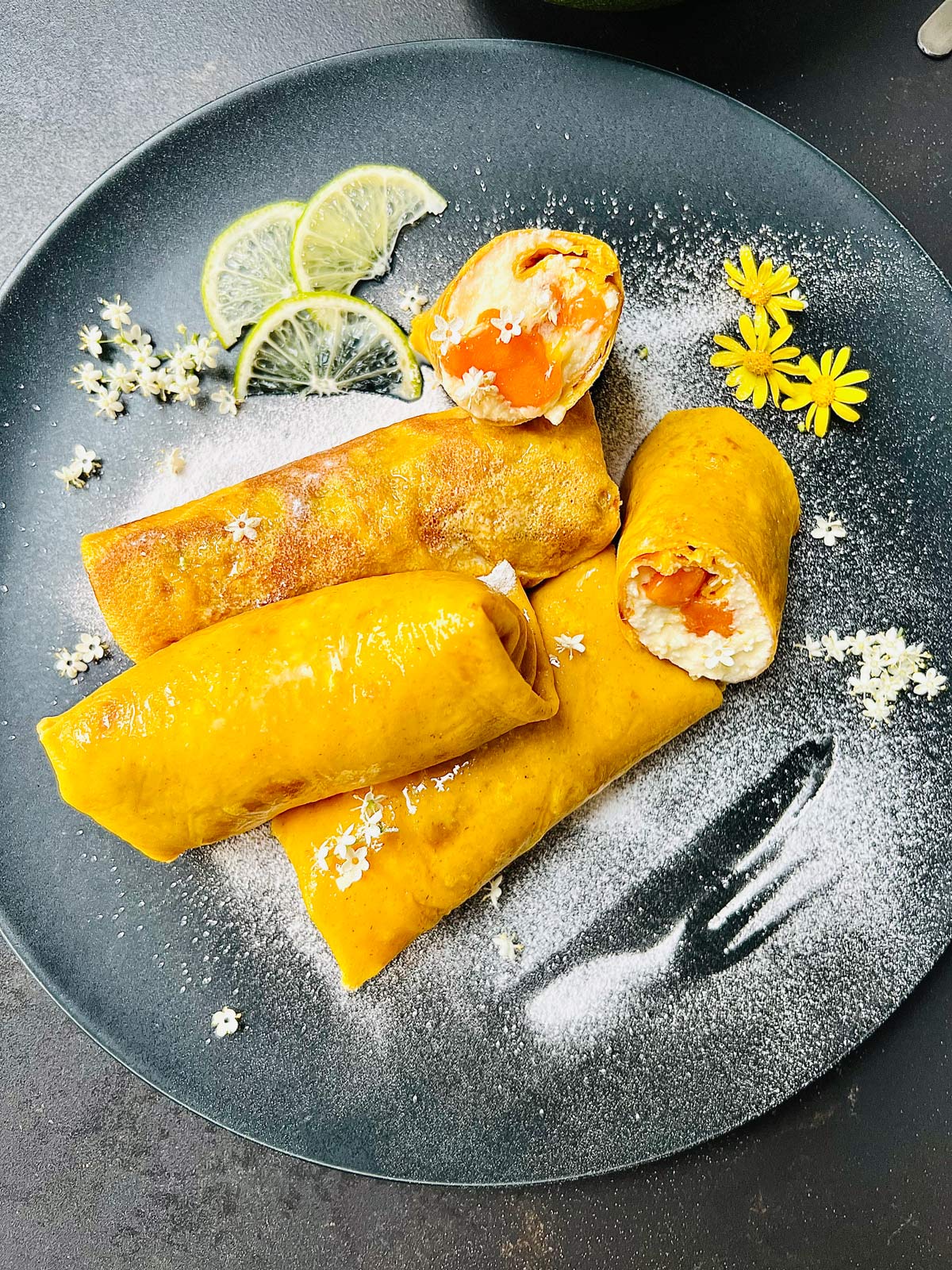 Jump to:
🥭 Oh, these mango pancakes!
Experience the sheer delight of this Hong Kong-style mango pancake, a truly delectable treat consisting of delicate, yellow crepes resembling tightly rolled spring rolls. Inside, you will find a delightful combination awaiting a nice and full bite of fluffy whipped cream harmoniously blended with a generous, juicy slice of a perfectly ripe mango. After indulging in an abundant lunch like this Teriyaki Chicken Egg Fried Rice With Vegetables or these Easy BBQ Chicken Kebabs, these light and fluffy mango pancakes could be that impeccable finale, leaving taste buds satisfied and our hearts and souls pretty content. This is all I can say at this point but also not to forget that they are so easy and fun to make too.
If mango is your fruit then you might also want to try this Refreshing Pineapple Mango Salsa or this Red Quinoa, Pineapple, Mango, Coconut, And Halloumi Cheese Salad, or maybe these delicious Ricotta Pancakes With Pineapple And Rum where mango could substitute the pineapple. Oh, I do love pineapple too. Hard one, don't make me choose.
🥘 What you need to make yum cha mango pancakes
You will only need 11 ingredients to make this wonderful recipe. These ingredients are easy to procure and most are ingredients that you would have in your pantry already.
I've organized the ingredients into 2 groups, okay 3 :
The pancake (crepe) batter
Whipped cream and mango filling
Toppings - optional
The paper-thin pancakes used for the yum cha Mango Pancakes recipe are actually crepes. They are thin, fairly floppy, and rubbery compared to regular American-style fluffy pancakes.
1) For the pancake batter:
Flour (plain white/unbleached) I always use white spelt flour
Corn flour /cornstarch
Eggs
Milk ( I used dairy)
Salt (kosher)
2) For the creamy filling:
Heavy cream (double cream here in the UK) and whipping cream will also work here
Icing sugar
Vanilla
Mango
3) For topping (optional):
Icing sugar
Maple syrup
Fresh thyme
See the recipe card below for the exact quantities.
👩🏻‍🍳 How to make mango pancakes
There are only a few simple steps (which you may already know) to achieve these super tasty yellow beauties.
Step 1 - Make the batter for the pancakes
The pancake should be made fairly thin, smooth, moist, and slightly elastic. I will give you a few tips to help you achieve the perfect texture:
Add the milk, turmeric, eggs, a mango chunk, and salt to a blender. Blend until smooth.
Begin to combine the wet ingredients with the dry ones to make the batter.
Mix all the dry ingredients (flour, cornstarch) into a bowl and mix until homogenized.
Mix well with a whisker until they are well homogenized and lump-free.
Step 2 - Cooking the pancakes
Add the pancake batter to a jug.
Pour some batter into a heated pan.
Allow the pancake to cook on medium heat.
Put all the cooked pancakes into a stack and allow to cool.
Step 3 - Prepare the filling
Whisk the whipping cream until firm.
Start putting the pancakes together.
Step 4 - Fold the pancakes
Bring the sides together to form and roll the mango pancake.
Fold the other side and roll to form the mango and cream-filled pancake.
Step 5 - Serve
Serve with a nice generous drizzle of honey, maple syrup, or a good sprinkle of icing sugar. Like so 😉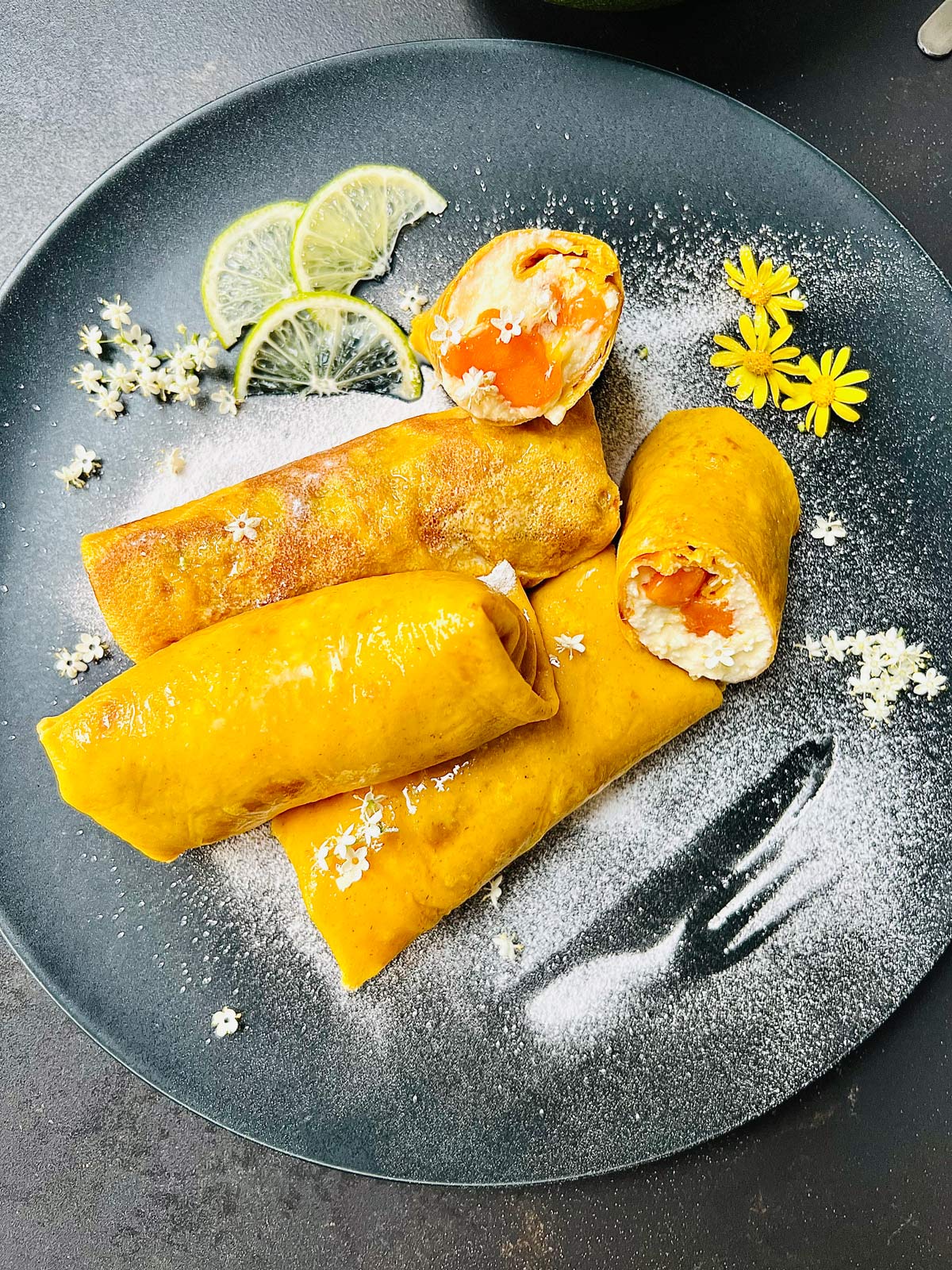 💞 Substitutions
Flour - use gluten-free flour as an alternative to regular flour to make it a gluten-free recipe.
Cream for filling- Use a plant base cream to keep these vegan
Eggs - substitute these with 1 tablespoon of flax or chia seeds per egg well soaked in advance
Milk - Substitute dairy milk for any plant-based milk to make these mango pancakes a vegan version
Mango - If you cannot find mango where you are or mango isn't your thing, use any fruit you like or have in hand. Strawberries, blueberries, pears, peaches, bananas, and apricots make a fabulous substitution. Ultimately, any canned fruits will also work perfectly, but drain these well before using them.
🤹‍♂️ Variations
These mango crepes or pancakes will also work well as a savory version, I know, a little crazy but just try this.
🍽 Serving suggestions
You really got me started here so here are a few more suggestions, ready? Haha!
Classic Style: Serve mango pancakes as they are, allowing the combination of soft pancakes, juicy mango, and whipped cream to shine.
Top with Nuts: Sprinkle chopped nuts like almonds, pistachios, or macadamias for added crunch and nutty flavor.
Drizzle with Honey: A drizzle of honey or a light syrup can complement the sweetness of the mango and add an extra layer of flavor.
Coconut Flakes: Sprinkle toasted coconut flakes on top to enhance the tropical vibe and add texture.
Mint or Thyme Leaves: Garnish with fresh mint leaves for a refreshing aroma and a touch of color.
Chocolate Shavings: For a decadent twist, add delicate chocolate shavings. It is a treat after all.
Fruit Medley: Create a medley of fresh fruits alongside the mango pancakes for a colorful and diverse dessert experience.
Ice Cream: Take it to the next level by serving a scoop of mango sorbet, vanilla, or coconut ice cream alongside the pancakes.
Caramelized Mango: Sauté mango slices in a bit of butter and brown sugar for a warm, caramelized topping. Oh la la!
Citrus Zest: Grate some citrus zest, like lime or orange, over for a zingy aroma.
Or, the ultimate test to your taste buds try topping them with this Chilli, Ginger And Lemon Rind Jam - such a great and crazy yummy addition to any sweet or savory version. Yes, I am addicted to this chillies jam.
Besides, remember, these serving suggestions are meant to inspire your culinary creativity. Feel free to mix and match according to your preferences and make the mango pancake experience uniquely yours.
📦 Storage
Feel free to roll these pancakes well in advance and keep them in the fridge ( in an airtight container) until ready to serve if it is just a matter of a couple of hours. If it is longer store these on a plate stack up and fill them when you are about to serve.
📍Top tips
Color - The color is achieved by not flipping the pancake in the pan. These are cooked on one side only. The top side that is not in contact with the pan will be the presentation side of these fluffy and yummy mango pancakes. Smooth and perfect!
The pancakes need to be totally cool when filling them up with cream
Whipping Cream Filling - If this is not cool or it is fairly hot in your kitchen whip this in a bowl that's sitting in a larger bowl 1/4 filled with fridge water and ice.
❓FAQs
Can I make these in advance?

Yes, I do recommend making the pancakes ahead so they are cold for the best results.
How to store the pancakes

It is best to stack those pancakes on a plate and when cool cover them with cling film. Place them in the refrigerator if you don't intend to serve them on the same day.
🍰 Looking for more dessert recipes, try these:
🥞 Other pancake recipes you may love to try
Let me know what you think of this recipe.
Please leave a 5-star 🌟🌟🌟🌟🌟 rating in the recipe card below and/or a review in the comment section further down the page. Thanks for stopping by!
🥞 Mango Pancakes (Hong Kong style)
Indulge in a Hong Kong-style mango pancake, a fusion of flavors—soft pancake, juicy mango, and smooth whipped cream - your whole family will love.
Print
Pin
Rate
Equipment
1 non stick pancake pan

any nonstick pan will work

1 spatula

1 glass bowl

1 smoothie maker

1 plate

1 knife

1 chopping board
Ingredients
For the pancake batter
2

extra large

eggs

or 3 regular size eggs

1

cup

milk (240 ml)

I used 1/2 fat

¼

cup

sugar (50g)

⅓

cup

spelt flour (50g)

or all purpose unbleached flour

¼

cup

cornflour (30g)

corn starch

½

teaspoon

turmeric

¼

med

mango

only if it is super ripe and juicy (optional)

1

tablespoon

butter (melted)

or oil (to grease the pan)
For the filling
2

medium

mangoes

perfectly ripe cut into chunks

1¼

cups

double cream (300ml or 10.14 fl oz)

heavy cream, whipping cream, thickened cream

1

tablespoon

icing sugar

2

tablespoons

lemon juice

1

sachet

vanilla sugar

any vanilla extract
Instructions
Make the batter
Place the milk, eggs, mango chunk, salt and turmeric in a smoothie maker.

Whizz until all beautifully homogenized.

Place the sifted flour and cornstarch into a bowl.

Add the eggs and milk mixture little by little and whisk until well combined and totally lump free. You will get a thin and fairly watery batter.
Cook the pancakes
Spray the pan lightly with oil then heat over a medium low fire.

Pour a small amount of batter onto the pan and swirl quickly to form a very thin pancake.

You will see little air pockets appearing under the pancake. That will indicate that the pancake is ready to be removed.

Place it on a plate to cool. Repeat the procedure until you finish the mixture. You should get 10-12 pancakes.
Make the filling
While waiting for the pancakes to cool, whip the cream together with vanilla, lemon juice and the icing sugar until it forms stiff peaks. (See Notes)
Assemble the pancakes
Lay one pancake on a flat surface with the clear, smooth side facing down.

Spoon a tablespoon or whipped cream onto the middle of the pancake, place one piece of mango over.

Wrap the filling from two sides of the pancake to form a burrito-like shape. Place it on a serving plate with the folded side facing down.
Serve and Enjoy!
Serve pretty much immediately with an optional drizzle of honey, maple syrup or a sprinkle of icing sugar. Enjoy! I am sure you will.
Notes
Pan 

I used a 18cm or a 7" non-stick pan 

Color

I always thrive to use natural so if you do not like or have turmeric, use saffron or any natural coloring. You can even replace the corn starch with custard powder.  You may use other colors too to make them more fun and use other fruits too. For example beetroot juice for a pink color and fill with cream and strawberries and matcha powder for green and fill with kiwi. Fun!!

Cream 

do not get carried away (like I almost did) and over whip the cream. It will become butter in no time! 

Rest or not the batter 

I tried both and the difference is unnoticeable. Rest it for 30-60 min refrigerated if you have time, don't if you don't. 
Nutrition
Calories:
252
kcal
|
Carbohydrates:
26
g
|
Protein:
6
g
|
Fat:
14
g
|
Saturated Fat:
8
g
|
Polyunsaturated Fat:
1
g
|
Monounsaturated Fat:
4
g
|
Trans Fat:
0.01
g
|
Cholesterol:
122
mg
|
Sodium:
51
mg
|
Potassium:
174
mg
|
Fiber:
2
g
|
Sugar:
16
g
|
Vitamin A:
1054
IU
|
Vitamin C:
16
mg
|
Calcium:
68
mg
|
Iron:
1
mg