These glute-free red lentil meatballs are a delightful Turkish classic made with red lentils and bulgur. Traditionally, mercimek köftesi is served with herbs and fresh salad leaves. This dish makes a great snack or even lunch or dinner. Filling and delicious!
I love Turkish cuisine as everything is made with fresh nutritious ingredients and these lentil meatballs are no different. The first time I had these was at a gathering a few years back when one of my friends introduced me to them. I cannot tell you how much I loved them. Instantly. Besides, you know I am a lentil lover so this is another red lentil recipe or dish that is utterly unmissable.
Jump to:
If you like lentils, just like I do, you will need to try my lentil bread another amazing lentil dish, or my lentil soup (dhal)
🤩 What is Mercimek Koftesi?
Mercimek köftesi also known as bulgur kofte is definitely a dish you must make especially if you love a good vegan red lentil recipe.
Mercimek köftesi or vegan Turkish lentil meatballs, or vegan lentil balls, also known as red lentil kofte is a common dish that's a staple in many Turkish households and it is considered a cold mezze.
I am sure you will love this lentil kofta just as much or even more, check this recipe out.
🥘 Ingredients
Here are the ingredients that you will need for these yummy vegan lentil balls:
Red lentils - red split lentils are widely available at any supermarket. They turn yellow and mushy once cooked.
Bulgur - Bulgur can be found coarse or fine but for this recipe, we need fine bulgur.
Olive oil - Like all Mediterranean recipes, olive oil takes an important part both for flavor and health benefits. I have used extra virgin olive oil.
Onion and garlic - a must in this recipe - both need sauteing and then combined with cooked bulgur and the red lentils.
Tomato paste - needed for color to the lentil balls and flavor less the juiciness of the tomatoes which we do not need here.
Parsley and spring onion/scallions - Both are ubiquitous in Turkish cuisine for adding freshness and flavor to these vegan meatballs. Use the parsley stems - they're full of fiber and flavor, I never throw these away!
Spices and Seasoning - You need cumin powder, baharat, salt, and black pepper.
See the recipe card below for the exact quantities.
🔪 How to make red lentil meatballs?
Cook the lentils as per package instructions (see FAQs below for more).
Sweat the onion and the garlic or caramelize if you like.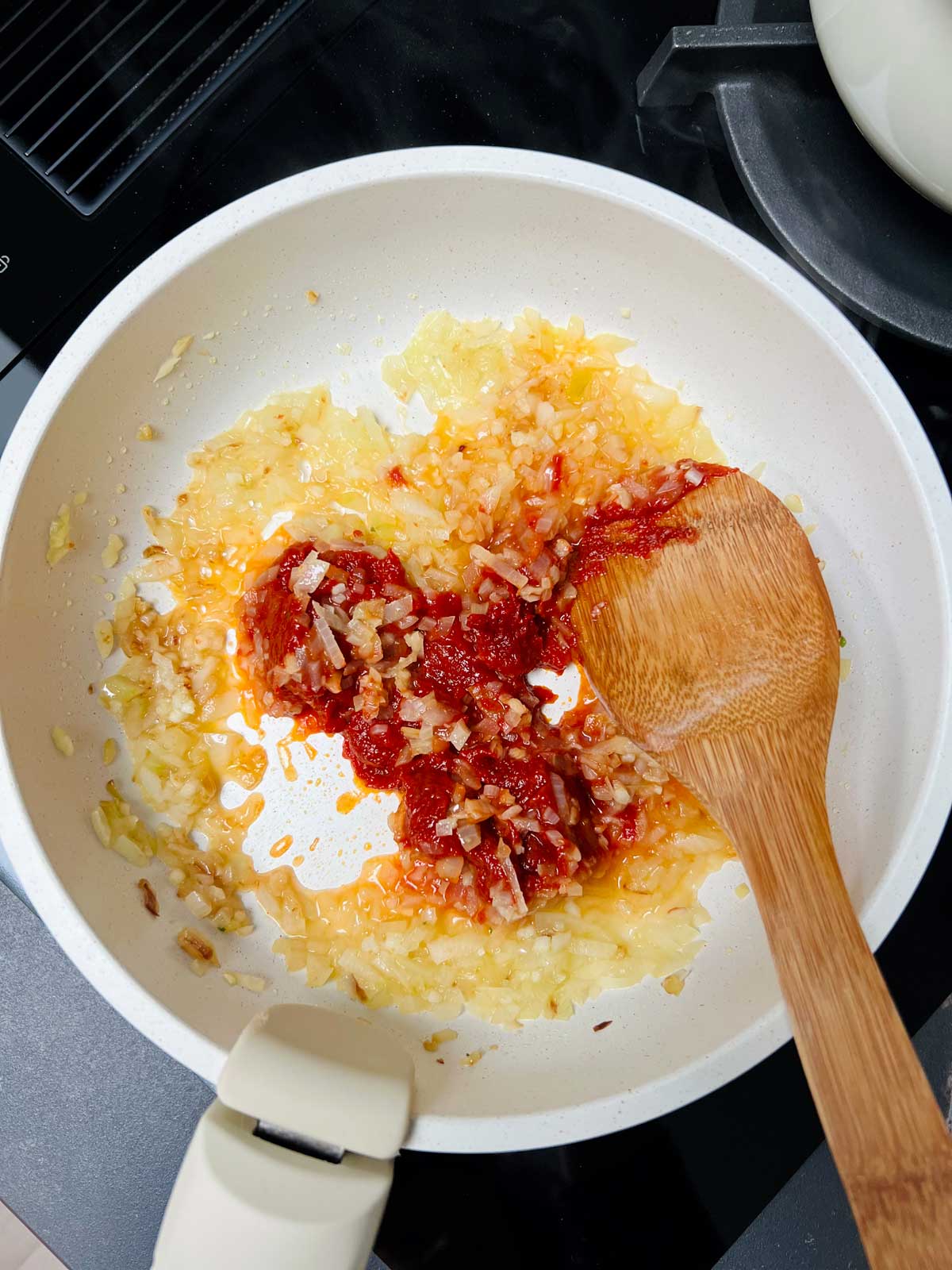 Add the tomato and pepper sauce and cook for a little longer.
Meanwhile, add the bulgur to the cooked lentils, mix, and cover. Allow resting for a minimum of 20 min.
Add all the ingredients into a glass bowl
Mix all the ingredients and form into balls
Hint: You can fry and caramelize the onion and the garlic if you wish, for extra flavor.
🍽 How to serve lentil meatballs?
With vegetable noodles such as a bed of spiralized zucchini and sweet potatoes.
Serve with pasta and if you are not watching your carbs, they'd be just as tasty over a bed of traditional pasta noodles.
❓How to cook red lentils?
On the stove
Usually, the ratio of red lentils to water is 1:3 so, for 1 cup of lentils you need to add 3 cups of water. So for 1 cup of red lentils, you'll need 3 cups of water. Add a dash of salt if you like. Alternatively, you could substitute the water for vegetable broth. Choose a large pot as the lentils will at least double in size once cooked.
Step 1: Rinse lentils with plenty of cold water until the water drains clear.
Step 2: Place the rinsed lentils and water in a large pan. Add a pinch of salt. Place on medium heat and bring to a boil uncovered.
Step 3: Reduce heat, and bring to a simmer. Cover and cook for 15 minutes, or until the lentils are soft. Suppose you prefer a firm (al dente) texture, cook for just 5-7 minutes. For mushy lentils, cook for 20-22 minutes.
Using a pressure cooker
Step 1: Place lentils in the instant pot, add 3 cups water and salt, and stir to combine.
Step 2: Secure the lid, set the valve to sealing, and cook time to 3 or 4 minutes.
Step 3: Allow the pressure cooker to release pressure for approximately 15 minutes naturally, then turn the valve to quick release to release the remaining pressure. Remove the lid once the steam has escaped.
🤹‍♂️ Variations and alternatives
We love eating them like this but these meatless meatballs are pretty versatile and here is what you could do:
Cook the meatless balls:
You may cook them but need to add a binder like soaked chia seeds (2-3 tablespoons) or 2-3 eggs
Cook them in tomato pasta or pizza sauce.
Bake or pan-fry them. Although pan frying might be more traditional for meatballs in general, I find the hands-off baking method to be just as effective, delicious, a lot healthier, and much easier too.
📦 Storage
Store the wet ingredients (lettuce, tomato, onion) separately from the dry ingredients (buns) in the fridge, and recombine when ready. Good for 3-5 days.
📍Tips
This recipe yields approximately 30 lentil balls and is enough for 5-6 people. You can store the leftovers in an airtight container and refrigerate them for up to 5 days.
Red split lentils get super soft and fairly mushy when they're cooked. It's important to make sure the lentils aren't too watery since the vegan meatball mixture needs to be sticky sufficiently so you can shape it into balls.
Make sure to use fine bulgur and not a coarse versuion. The finer the bulgur, the smoother the meatball mixture is going to be. Coarse bulgur will make the mixture hard to shape.
If the mixture is not sticky enough, add some olive oil, one tablespoon at a time while mixing the vegan meatball mixture.
If you wish to bake them add one or two eggs for binding or couple of spoons of chia seeds to keep this recipe vegan.
💭 FAQs
Are lentils gluten-free?

Yes, lentils are naturally gluten-free, low-fat, and a great source of protein. If you are following a gluten-free diet, these lentil meatballs are a great recipe option.
Can I make vegan balls ahead?

Yes, absolutely, these plant-based meatballs can be made ahead and kept refrigerated in an airtight container for up to 5 days.
Can I freeze lentil meatballs?

Yes, you can definitely freeze vegan lentil meatballs. They freeze well, making them a convenient option for meal prep or quick and easy meals.
To freeze vegan lentil meatballs, allow them to cool completely to room temperature. Once they have cooled, place them in a single layer of parchment paper and put them in the freezer for about an hour. This technique will prevent them from sticking together when you put them in a container or freezer bag.
Once the lentil meatballs are totally or partially frozen, transfer them to an airtight container or freezer bag.
Label the container or bag with the date and contents, and then store it in the freezer for up to 3 months.
To thaw the lentil meatballs, simply transfer them from the freezer to the refrigerator and allow them to thaw overnight.
You can also reheat them in the oven, microwave, or on the stove. Enjoy your Turkish vegan meatballs!
🥕 More vegan recipes
My favorite dishes to serve or pair the vegan lentil balls with:
🌡️ Food safety
Since there is not much cooking involved in prepping these lentil meatballs, there are only a few things you should consider:
Wash your hands thoroughly and even wear special thin gloves when rolling those;
Do not use utensils that were previously used or touched raw meat;
Wash hands after finishing.
📋 Vegan Lentil Meatballs (Mercımek Kofte)
Easy vegan Turkish Lentil Meatballs —Simple, healthy, gluten free, and protein packed! Perfect for a simple, filling meatless meal, appetiser or snack.
Print
Pin
Rate
Servings:
6
servings (30 balls)
Ingredients
1

cup

red lentils

red split lentils

½

cup

fine bulgur

brown

1

medium

onion

2

large

cloves garlic

1

tablespoon

olive oil

1

tablespoon

tomato and pepper paste

found in Turkish grocery store * (see notes)

15

sprigs

parsley (1.5 cups)

chopped

8-10

medium

scallions/spring onions

aka green onion

1

teaspoon

cumin powder

½

teaspoon

salt

½

teaspoon

black pepper

¾

teaspoon

baharat powder

optional
Instructions
In a sauce pan cook the lentils with 3 cups of water for approximately 20 minutes until they have cooked and are mushy in texture.

Turn the heat off, add in the bulgur and cover with the lid. Allow it to rest for minimum 20 minutes.

While the lentil is cooking, heat olive oil in a frying pan and saute onion and garlic for approximately 10 minutes until the onion becomes translucent and a little golden in color.

Add in tomato paste and cook for a few more minutes. Turn off the heat.

In a larger glass bowl, place the red lentil and bulgur mixture along with the onion mixture and mix. Add in the chopped parsley, green onions, cumin, salt, pepper and baharat spice.

Shape the vegan lentil meatballs into balls or cylinder shape and place them on a plate. Once all shaped, refrigerate them and serve with a drizzle of fresh lemon and salad or as I have suggested tucked in segments of fresh Turkish green pepper..
Notes
Baharat seasoning - is a specific Turkish seasoning suitable for vegan and vegetarian dishes. 
Tomato and pepper paste - if you cannot find this, use tomato paste 
Do you want to bake these lentil meatballs?
You certainly can but add 2 tablespoons of flour, chia seeds or corn flour, or 2 eggs before shaping. Shape and bake at 190ºC for 25-30 min. 
Nutrition
Calories:
187
kcal
|
Carbohydrates:
31
g
|
Protein:
10
g
|
Fat:
3
g
|
Saturated Fat:
0.4
g
|
Polyunsaturated Fat:
1
g
|
Monounsaturated Fat:
2
g
|
Sodium:
225
mg
|
Potassium:
469
mg
|
Fiber:
12
g
|
Sugar:
2
g
|
Vitamin A:
469
IU
|
Vitamin C:
11
mg
|
Calcium:
50
mg
|
Iron:
3
mg