If you are looking for an easy, delicious healthy fish pie you have landed on the right page. This is the perfect gluten-free fish pie recipe for everyone that fancies a good, healthy seafood dish that's ready in a jiffy.
Jump to:
Why does this healthy fish pie work?
This British fish pie is a one-pot dish that is super easy to make and can be budget-friendly to cook as you can use any fish or seafood you have on hand or can use any fish trimmings or scraps. Give it a try and ask your fishmonger for a selection of fish scraps They will charge you less than any supermarket.
I have been making quite a few fish dishes lately to make our healthy eating a reality, and this low calories and super easy fish pie recipe is the latest fish dish in the collection.
We particularly love this easy fish pie recipe as it is delicious, lower in calories, it's high in nutrients, and, the best part, of course, is that it's so, so easy to make. No pastry involved, no potato mash, no mess, no fuss.
If any leftovers make a great work lunch the next day, we all love a homemade cooked work lunch the next day.
🥘 Ingredients
Making this easy fish pie recipe is as you guessed, very, very easy, and here's what you need:
mixed fish (hake, cod loin, and haddock)
spring greens (I used collard)
butter
fennel
celery sticks
shallots
leek
garlic
milk
nutmeg
sea salt
pepper
grated cheddar cheese
fresh dill
For the topping:
potatoes - peeled (or not), thoroughly washed especially if the skin is left on, and sliced into super thin slices (as thin as you can make them - using a mandolin would really help);
some grated cheese to sprinkle over
🔪 How to make an easy fish pie recipe?
A bit of chopping, a bit of singing, a sip of wine, and... ta-da!
Step 1
Gather the ingredients and preheat the oven to 190C or 375F. Prepare one big or two smaller ovenproof dishes. You may slightly grease that/them if you like. To make this one pot choose a skillet and do all the cooking in that and then transfer it into the oven.
Step 2
Make the pie mixture with the fish and the vegetables and cook that.
Step 3
Top with sliced potatoes and some cheese and transfer into the oven. Place the pie(s) in the preheated oven and cook for 20 min at 190C/375F. Take out and add the grated cheese. Cook for a further 10 minutes.
🤹‍♂️ Variations
Give the pie a little crunch with some panko crumbs.
Add extra flavor to the sauce with some chopped tarragon or chives.
Add some boiled eggs by chopping 3 or 4 hard-boiled peeled eggs. Sprinkle the chopped eggs over the sauce mixture just before topping with the potato slices.
A sprinkle or two of dry white wine will add a fab flavor to the sauce. Just add this when cooking the veg.
🍽 Serving suggestions
Serve while hot along with a nice leafy salad or as it is. Goes well with some homemade rye and linseed bread.
❓What makes a good fish pie mix?
A fish pie is a pretty adaptable dish – as Jamie Oliver points out, I hardly ever make the same one again. You can certainly use any seafood you like. Starting with mackerel to mussels, so it's a good opportunity to experiment with other even totally new to you fish varieties.
Mussels are a great cheap and flavorsome option for those that like them (I do), and prawns or even scallops for real fancy and lush fish pie. I sometimes add anchovies too for extra flavor and saltiness.
The most important bit is to get the base to be a nicely flavored one, any firm white fish, like cod, pollock, or coley to make it more sustainable.
Having a chunk of something smoked is definitely a must as far as I like it, it brings a real depth and richness to the dish as well as (again!) making it more sustainable since we have really good smoked fish available to buy online or in supermarkets like haddock or salmon.
💭 FAQs
What to have the fish pie with?

We love it with a nice salad like this red cabbage and carrot salad
Peas, sweetcorn, mange tout, and snow peas are fabulous side options to this fish pie.
We love it with simply cooked or boiled green beans, kale, broccoli, asparagus, or boiled/baked carrots too.
Or with these best and simplest flat beans - oh, so delicious!
How can I store fish pie?

Refrigerate leftover fish pie in an airtight container for up to 3 days.
Can I freeze it?

Yes, absolutely! You can freeze the whole pie or any leftover pie in the actual baking dish or an airtight container. It can be kept in the freezer for up to 3 months.
Thaw the frozen fish pie in the refrigerator overnight. Bake it covered in a preheated 190C/375F oven for about 30 minutes, or until it's piping hot.
📖 Other pie recipes you may enjoy
If you are a pie lover, here are some more pie recipes you may like:
Open fish pie - lovely and pretty unique;
Lime, dates, and walnut pie - a healthy dessert to die for;
Cinnamon roll apple pie - a true delight
Apple and walnut pizza or pie - my all-time favorite!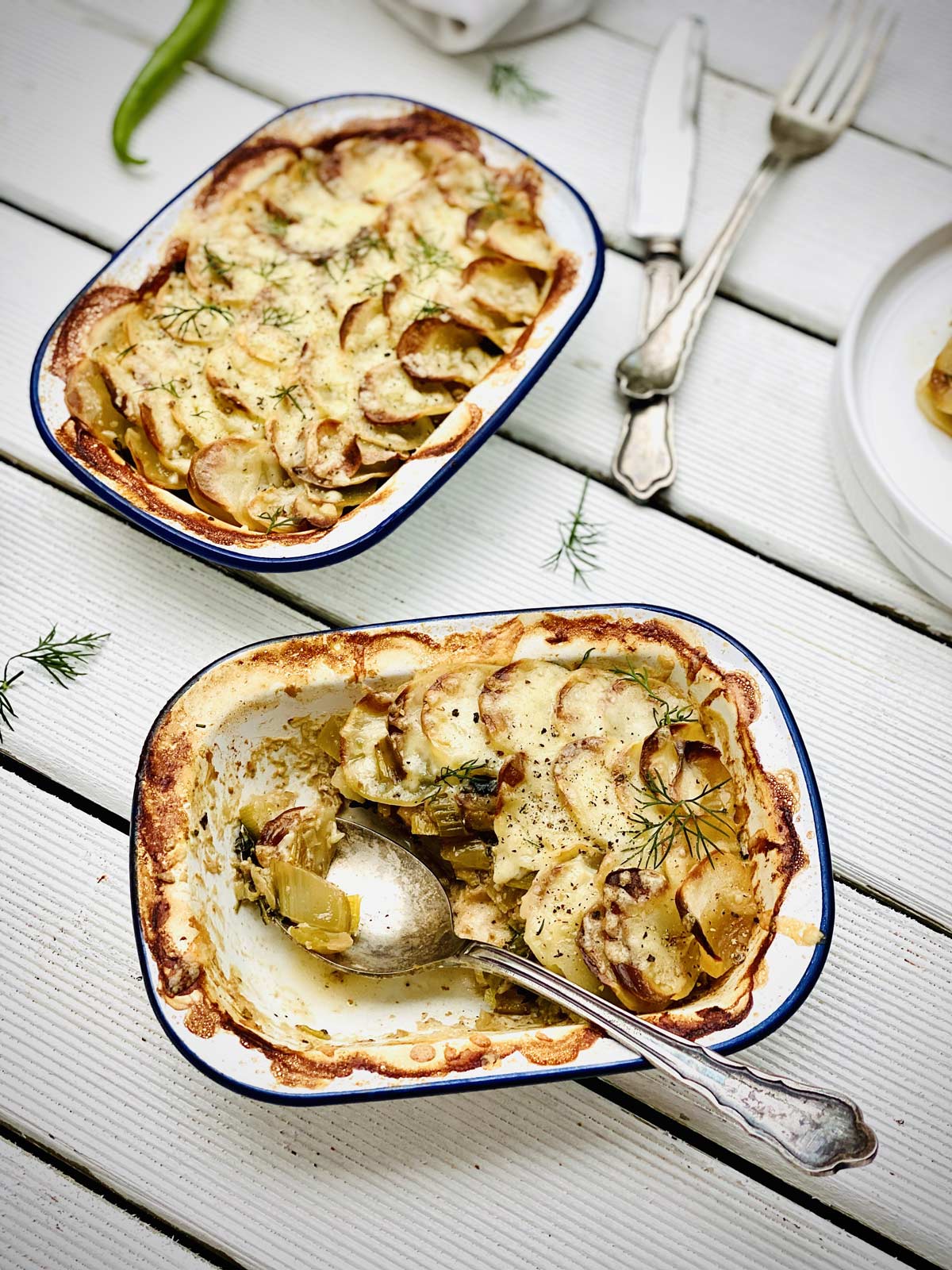 📋 Easy Fish Pie Recipe
Definitely one easy fish pie recipe to make and share with your family or friends, delicious and nourishing, packed with beautiful vegetables and flavours.
Print
Pin
Rate
Equipment
ovenproof dish

chopping board

knife

spatula
Ingredients
450

g

mix fish (2 cups)

Hake, cod loin and haddock

3

small

shallots

1

teaspoon

coconut oil

or butter

1/2

medium

fennel

5-6

leaves

spring greens

I used collard

3

small

celery sticks

1/2

medium

leek

2

cloves

garlic

200

ml

milk (6.76 floz)

1

pinch

nutmeg

3

tablespoons

fresh dill

freshly chopped

1/4

teaspoon

salt

sea salt or Himalayan

1

pinch

Pepper

freshly ground

60

g

grated cheddar cheese ( 2.12 oz)

4

small

potatoes

thinly sliced (for topping)
Instructions
Preheat the oven and prepare one big or two smaller ovenproof dishes. You may slightly grease them if you like.

Place a pan on medium fire, add a tablespoon of coconut oil, or butter, add the roughly chopped shallots, crushed and chopped garlic, and a pinch of salt Cook for 2 min.

Add the chopped leeks, celery, and fennel, and cook for 2 more minutes.

Add the spring greens chopped and cook for 1 or 2 more minutes stirring in occasionally.

Pour in the milk and cook for 1 further minute. Add the chopped dill. Turn off the heat.

Split the raw fish pieces into two and place those at the bottom of the ovenproof dishes. Sprinkle some salt and freshly ground pepper. I used two dishes but you can just use one.

Split the vegetables and layer those into equal amounts over the seasoned fish.

Using a mandolin slicer, slice the potatoes and layer those over the fish pie.

Place the pies in the preheated oven and cook for 25-30 min at 190C/375F.

Take out and add the grated cheese. Cook for a further 10 minutes.

Serve while hot along with a nice leafy salad or as it is. Goes well with some homemade crusty bread.
Notes
Choose non-oily, fleshy fish such as salmon, cod, monkfish, smoked haddock, and coley (aka pollock), which is similar to cod. Mix some shrimp or prawns, too.
Nutrition
Calories:
595
kcal
|
Carbohydrates:
41
g
|
Protein:
81
g
|
Fat:
11
g
|
Saturated Fat:
5
g
|
Polyunsaturated Fat:
1
g
|
Monounsaturated Fat:
2
g
|
Cholesterol:
192
mg
|
Sodium:
8207
mg
|
Potassium:
2695
mg
|
Fiber:
6
g
|
Sugar:
7
g
|
Vitamin A:
1285
IU
|
Vitamin C:
49
mg
|
Calcium:
432
mg
|
Iron:
5
mg